The Big Bang Theory Season 8 Episode 22 Review: The Graduation Transmission

Ashley Bissette Sumerel at . Updated at .
Who knew Leonard Hofstadter would be able to offer such a moving commencement speech?
On The Big Bang Theory Season 8 Episode 22, Leonard nearly misses his chance to give a commencement speech at his old high school because of a flight cancelation, but Penny arranges for him to give the speech virtually.
The result is the most honest, moving speech about high school imaginable – with plenty of funny moments, of course.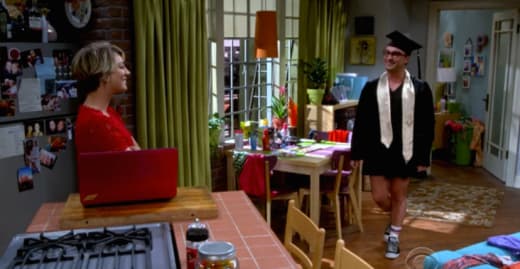 I'm glad we get to see more of Penny and Leonard's relationship in this episode, and it seems that more and more often, Penny is becoming an anchor for Leonard. He is quick to give up when the flight is canceled, not motivated to figure out another way to give the speech.
Penny, on the other hand, takes action to see to it that Leonard has the opportunity, arranging for him to give the speech over Skype. She even brings Leonard a cap and gown from a costume shop – it's too short, but hey, it works.
Leonard is surprisingly confident as he gives his speech, offering the standard sort of motivational words that you'd expect to hear. Halfway through it, though, he realizes how every boring the speech is.
What happens next likely has a lot to do with the fact that Leonard is in the comfort of Penny's apartment, rather than standing in front of all of those students in person. He takes off his cap and begins to speak honestly about his experiences in high school. He says he was lonely, and the high school was basically the worst time of his life.
Then he speaks directly to those students who he imagines feel just like he did, giving an inspiring, honest speech that turns out to be a little emotional.
That speech actually speaks to the heart of this show – these characters were never popular. They were bullied and picked on, and even now, they still struggle in social situations. But now, as grown adults, they live interesting lives where they are happy and successful.
Meanwhile, Sheldon, Howard, and Raj try to get their new toy drone to work. Howard is put to the test with his engineering abilities, and all of the guys are shocked when Bernadette suggests tech support.
The laugh out loud moment of the night comes when the guys finally do give in to call tech support, and Howard comments that a foreign person with the same manual will probably be the one to answer the phone. At that very moment, Raj's phone rings.
It's actually Raj's father on the phone, and the guys end up waiting for a long time for tech support to respond. As they wait, the drone takes off on its own, flying completely out of control.
One of the reasons this episode works so well is because it really only follows two storylines, which means there is enough attention spent on both. Raj does have a bit of a separate story, but it dovetails with the story of the drone as he pits his parents against each other.
What did you think of this episode of The Big Bang Theory? Share your thoughts in the comments below!
Need to catch up on past episodes? You can always watch The Big Bang Theory online right here via TV Fanatic!
Ashley Bissette Sumerel was a staff writer for TV Fanatic. She retired in September 2017. Follow her on Twitter and on Google+.