After thousands of years of being untouchable, Klaus Mikaelson has met his dagger.
On The Originals Season 2 Episode 19 Elijah used the weapon Kol and Davina created to take his brother out of commission.
What repercussions with the siblings face now? And how will they save Hope from Dahlia? The TV Fanatic Round Table panel, consisting of Amanda Steinmetz, Paul Dailly, Amanda Wolf and Miranda Wicker sound off on that and more!
Check out their answers and then join in below with your own...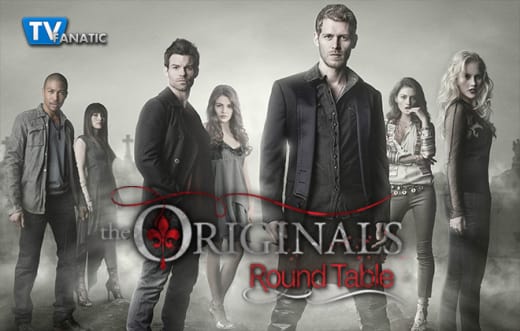 What was your favorite quote or scene from "When The Levee Breaks"?
Amanda: I loved the final scene between Klaus and Camille. Klaus' logic can be so messed up at times, but Joseph Morgan's delivery is always perfect. I also loved the scene when Dahlia killed Aiden. What a brutal and heartbreaking moment. 
Paul: I really liked the scene with Dahlia taunting Hayley. It's not often Hayley is frightened, but she sure was at that point.
Amanda W: I have to agree with Paul. Dahlia taunting Hayley was pretty intense. Hayley had every reason to be terrified, especially while holding Hope in her arms.
Miranda: Because it was absolutely gut-wrenching, Josh and Davina finding Aiden in the alley broke my heart into a million little pieces. No one really expected Josh to last after he transitioned, much less growing into this lovable character. His reaction to seeing Aiden's body was heartbreaking and beautiful. 
What, if anything, disappointed you?
Amanda: It can be frustrating sometimes when Klaus self sabotages, but it's a part of who he is. Also, Aiden's death was pretty predictable. There was no way Josh and Aiden were going to ride off together into the sunset. 
Paul: I agree about Aiden's death being predictable. His fate was sealed when he confessed his love to Josh.
 Amanda W: It is the most frustrating thing when Klaus self sabotages. The most disappointing thing it's still Dahlia. 
Miranda: I'm growing pretty weary of Klaus trusting no one and believing he's the best at everything and everyone else is doomed to failure. Would it kill the guy to be a team player every great once in a while?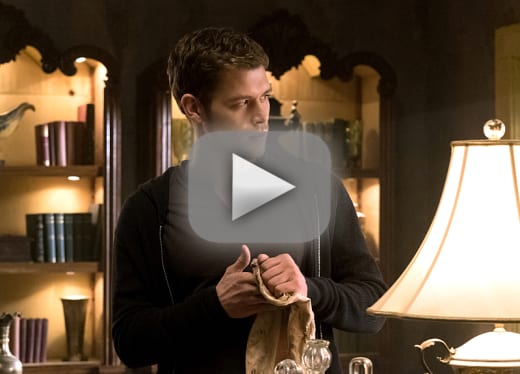 Is trusting Freya going to come back to bite Elijah and Rebekah?
Amanda: I'm not sure yet. I want to believe she has good intentions, but Klaus was right when he told Camille you can't help but be the child your parent raised you to be. There must be more of Dahlia in Freya than she may realize. 
Paul: Yes! Something isn't right with her. She is going to pull the siblings apart. 
Amanda W: I think she has her own motivations, upbringing and goals. Even if she isn't planning to betray them she just might not see it coming. 
Miranda: Absolutely. Nothing good can come of trusting the sister who magically appears after a thousand years of believing she's dead only to have spent those thousand years under the tutelage of the scariest and most evil witch anyone has ever met. Nothing at all.
Is Dahlia's motivation for fulfilling this bargain simply power or is there something more?
Amanda: The bargain itself doesn't really make much sense in terms of power. Maybe Dahlia couldn't have her own children and for some reason feels the needs to rip them away from other members of the family. 
Paul: I'll go with power. She just seems like a power hungry mess. She doesn't want anyone to be happy because she isn't.
Amanda W: Maybe she will face some magical repercussions if she doesn't get Hope. 
Miranda: I really, really get the sense that Dahlia wants to collect the children for more than just their power. The way she talked to Hayley about how it would be different with Hope than it was with Freya because Hope is a baby with no memories of her family yet just made my Mama Senses tingle.
Say goodbye to Aiden:
Amanda: Farewell Aiden. Your relationship with Josh provided a beacon of light and hope in a city of betrayal and misery. You got caught up in a family war and paid the price for it. May you become the Alpha you always wanted to be in the great, big werewolf pack in the sky. 
Paul: RIP Aiden. You chose the wrong path by helping Klaus out, so you pretty much killed yourself, but you realized in the end you were fighting on the wrong side. 
Amanda W: Dear Aiden, you were always living a dangerous life as a secondary character. I liked you but I was afraid to get attached to you... And I was right. 
Miranda: Aiden, your character had some serious potential. Unfortunately, trusting Klaus and listening to your own ego ended up being your downfall. You'll be missed.
Were the siblings right to dagger Klaus?
Amanda: Yes! I think we can all agree that Klaus is not the most reasonable person to work with. He was convinced he was the only one capable of protecting Hope, which just isn't true. They also believed he killed Aiden, so emotions were running high. However, they will have to undagger him at some point, and that will probably be when they've gotten in over their heads and need his help. 
Paul: Yes, he is way too unpredictable and that could get them in trouble. Now, they can deal with Dahlia without him doing something to screw it all up.
Amanda W: I want to agree that they were right, but the number one reason not to dagger Klaus is because of the wrath he will have when he wakes up. 
Miranda: I'm really, really unsure about this, actually. As much as I don't want Klaus to be right that he's the only one who can protect Hope from Dahlia, I'm pretty scared that he is and that they just made a grave error in taking him out of play.
The Originals Season 2 Episode 20 airs Monday night at 8/7c on The CW. To say goodbye to Aiden for yourself, watch The Originals online to relive his final moments.
Miranda Wicker is a Staff Writer for TV Fanatic. Follow her on Twitter.