The Real Housewives of Beverly Hills Season 5 Episode 20: Full Episode Live!

Christine Orlando at .
The ladies hit the sofas in The Real Housewives of Beverly Hills Season 5 Episode 20 as the reunion show begins. Despite the designer gowns and shoes, no one looks particularly happy to be there.
Kim Richards admits that she hasn't spoken to her sister Kyle in over three months and that it's fine with her. Her life is happy. She's friends with Brandi Glanville and she's not looking to change anything. Kyle appears heartbroken. 
Yolanda's dealing with another relapse of her Lyme disease and traveled to South Korea for stem cell treatment. She says some people in her own family refuse to believe she's ill and that's more hurtful than what any blog post will say. She ends up leaving early due to her health concerns.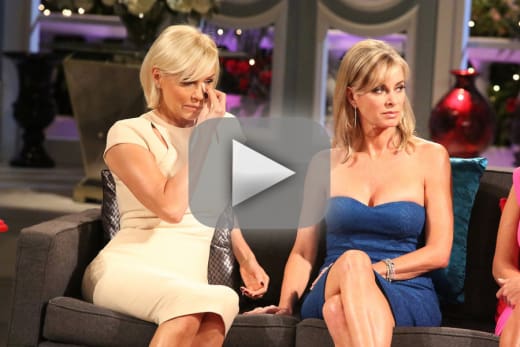 Lisa Rinna admits she made over $1 million by doing that Depends ad. Eileen Davidson jokes that she'd wear one on her head for that much. Kim Richards says she has more pride than to do anything for a dollar. Lisa Rinna points out that Kim did Diving With the Stars.  
Don't miss a minute of the drama, watch The Real Housewives of Beverly Hills online any time right here at TV Fanatic. 
C. Orlando is a TV Fanatic Staff Writer. Follow her on Twitter.