The Real Housewives of Beverly Hills Season 5 Episode 21: Full Episode Live!

Christine Orlando at .
The ladies continue to do batter from their sofas on The Real Housewives of Beverly Hills Season 5 Episode 21 as Brandi Glanville calls Lisa Rinna out on her 20 year old hair style. That must be some sort of a crime in Beverly Hills.
Kim and Kyle Richards continue to clash as Kyle breaks down in tears, worried that her sister will disinvite her to her daughter's wedding and ban her from the children's lives.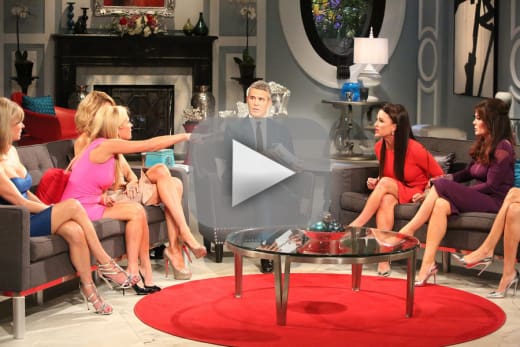 Kim eludes to Lisa Rinna's husband, Harry Hamlin's supposedly deep, dark secret but when Lisa pushes her to tell all, Kim won't do it, saying it's much too personal for her to say. 
Eileen Davidson says Kim's never apologized for calling her a beast in Amsterdam and Kim admits that when she's angry, she doesn't always know what she says. She also claims that taking her ex-husband's pain medication was not a relapse or a slip and she's fine. She's tired of hearing Lisa Rinna going around telling people she's an addict and needs an intervention. 
If you missed a minute of the drama, you can watch The Real Housewives of Beverly Hills online any time, right here at TV Fanatic. 
C. Orlando is a TV Fanatic Staff Writer. Follow her on Twitter.