The Real Housewives of Beverly Hills Season 5 Episode 21 Review: Reunion Part Two

Christine Orlando at . Updated at .
Tears were shed and hair styles were criticized on The Real Housewives of Beverly Hills Season 5 Episode 21. We recap all the fights and snipes in our +/- review. 
A lot of fingers got pointed across those sofas tonight, some in accusation and some just flipping off another housewife.
Lisa Rinna even came up with her own dance to make sure she got her point across. Plus 22.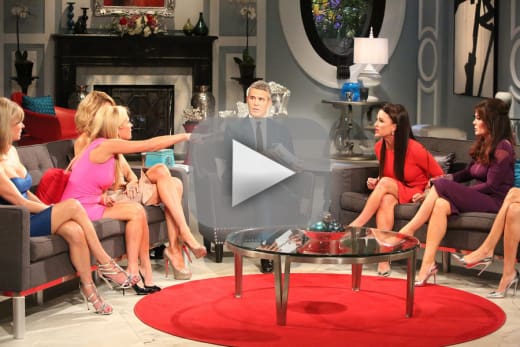 Brandi made her point in typical classy way in this The Real Housewives of Beverly Hills quote...
You need to change your Depends because you're so full of sh*t.

Brandi Glanville
Brandi Glanville and Kim Richards were the new besties taking on the rest of the Housewives world. Brandi's gone through all of her other Housewives friends. Let's see how long these two last. Probably as long as they're angry at everyone else. 
Kim swore that taking her ex-husbands pain medicaton wasn't falling off the wagon or a relapse. Minus 13. What else would you call it? Kim can't recall how many days she was in the hospital or the incredibly nasty things she says to people when she's angry. Whether it's substance abuse or something else, the woman needs help!
Kim once again eluded to Lisa Rinna's husband's deep dark secret. Plus 25 to Andy Cohen for pointing out that Lisa really did fly off the handle when Kim first mentioned it at the restaurant. Is there a story there?
if there is we may never know. Lisa challenges Kim to spill all but Ms. Richards refuses, suddenly citing that it's too private for her to tell the world. But it was okay to elude to some horrible rumor to begin with? Minus 43!
Kyle looked to be on the verge of a breakdown as she cried that Kim was looking for an excuse to disinvite her from her daughter's upcoming wedding. Kim can be so nasty, it's hard to say what she might do. 
Andy Cohen asks the ladies how they try and keep their kids from becoming "snotty little assh*oles" growing up in Beverly HIlls. Kyle finally has her college age daughter doing her own laundry but it was Lisa Vanderpump who had the best answer...
She's making Max work his way up from the bottom at her restaurant. When a viewer cried that she should pay Max's electric bill, Lisa retorted that if she's working her arse off every week he can do the same, and if not he can take cold showers and light a candle. Plus 50. 
Episode total = +41! Season total = -378!
Check back next week for the final part of the reunion and if you can't wait you can always watch The Real Housewives of Beverly Hills online now, here at TV Fanatic. 
C. Orlando is a TV Fanatic Staff Writer. Follow her on Twitter.