Agents of S.H.I.E.L.D. Season 2 Episode 20 Review: Scars

Henry A. Otero at . Updated at .
So that's what Theta Protocol was all about!
Like many Marvel fans, I walked out of Avengers: Age of Ultron no closer to understanding Theta Protocol than when I walked in. Sure, there were some connections, but I think the real answers came during this week's installment.
We said adios to another character on Agents of S.H.I.E.L.D. Season 2 Episode 20. I doubt many fans will be upset by who they killed off.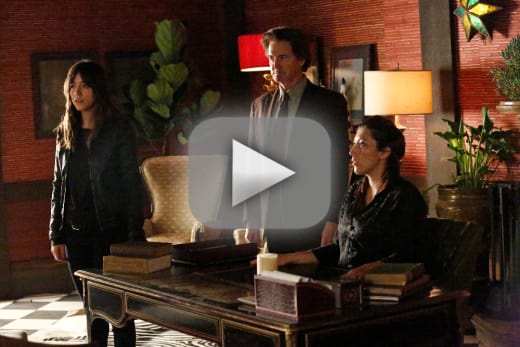 I'm still not a fan of the Koenigs, but the Star Wars bed sheets were a fun display of corporate synergy. I couldn't possibly be more excited for Star Wars: The Force Awakens, but back to Agents of S.H.I.E.L.D.
While last week's episode led directly into Avengers: Age of Ultron perfectly, Theta Protocol remained a mystery. In the opening moments of this installment, we learned the resources Coulson had been moving around for over a year were to build the Helicarrier that appears in the film. Nick Fury doesn't mention Coulson by name, (since the Avengers think he's dead) but it was great to finally understand this connection.
There were also mentions of Sekovia and Ultron, all this helped tie the show into the events of the movie. I will say, though I enjoyed Ultron, the movie itself didn't really reference the series. That's okay though, there was plenty going on in Ultron and you don't want to confuse fans that dropped the TV Show in the first season.
Lincoln wasn't too pleased to see that S.H.I.E.L.D. logo when he woke up.
Lincoln: Skye where are we? No.
Skye: It's okay, you can trust them. They're my friends, they helped save you.
Lincoln: You never should have come for me.
Skye: I had to, Jiaying wouldn't allow it if I...
Lincoln: There's a reason for that. The only thing that's kept us safe all these years is that we were a secret. Now S.H.I.E.L.D. knows we exist, and they won't stop until they find Afterlife.
Jiaying made a major move this week, and there are hints at a power struggle in the Inhuman camp, as well. Will Raina divide the folks at Afterlife and make off with her own followers? That's certainly the impression I got. Knowing what Jiaying was about to do, it seemed Raina was attempting to diffuse the situation. I'm still not sure about her, but things sure are getting interesting as we head into the finale.
It wasn't a surprise Raina and Gordon popped on to Gonzales' ship. Another ongoing mystery was Gonzales' secret cargo. It turns out the ancient stone is Kree and dangerous to the Inhumans. Which reminds me, Skye finally said the magic word!  
Our ancient ancestors called themselves Inhumans and we just want to be left alone.

Skye
The meeting between Coulson, May and Skye clearly proved the newest S.H.I.E.L.D. agent had chosen a side. Can you believe she threw the Bahrain incident in May's face? I still believe Agent May made the right call. A tough call, but the correct one nonetheless.
Once Skye told Coulson that Jiaying was her mother, I knew the Director would work toward peace. Of course, Gonzales was still very much anti-Inhuman and I had a feeling he had to be taken out of the equation. I do admit Jiaying's actions took me by surprise. I wasn't expecting her to kill him during their meeting; were you?
Now that Fury reappeared in Avengers: Age of Ultron, it will be interesting to see if S.H.E.I.L.D's "Index" comes into play in Captain America: Civil War. That film will deal with a government act regulating superhuman (or Inhuman) activity. Well, Lincoln's been indexed now and that can't be good. Give us some character tie-ins in the films next time around. How about some cameos from Skye, Raina, or Lincoln?
Skye: How'd it go?
Lincoln: The indexing? They just asked a lot of questions. I'm sure you guys already have my blood from when I was out, right?
Coulson: It's protocol.
Lincoln: Hydra said the same thing.
Coulson: I know you've been through a lot, but you can trust us. You'll see.
Ultimately, Gordon teleported Skye and Lincoln back to Afterlife and a meeting was set. However, as soon as Raina mentioned quinjet's raining fire down on Afterlife we knew things would go badly. Will S.H.I.E.L.D. learn that Jiaying killed Gonzales and retaliate against the Inhumans? They've proven to be a threat now without a shadow of a doubt.
I wondered why Jiaying agreed to turn Cal over to S.H.I.E.L.D, but once I saw the vials it was clear she unleashed the monster. Will we see what he turns into next week? That's something I've been waiting to see.
Though the fight between Bobbi and Kara was great, it seemed a bit random. How did Agent 33 escape anyway? When last we saw her, S.H.I.E.L.D. was locking her up. I guess Ward had to be brought back somehow. When he shot Bobbi in the head, my first thought was "there goes the spin-off," but he was holding a Night-Night pistol.
Side note: Bobbi sticking up for Coulson and Mack leaving meant very little to me. Honestly, I don't care for any of this season's characters enough to follow them on a new show. My vote is for an Agent Carter renewal, there's nothing like that series on TV. I'd love to see more of Peggy's adventures and the 1940's setting.
Didn't it seem like Gonzales was attempting to make peace? His meeting with Jiaying was the first time I liked the guy a bit. Are we supposed to fear the Inhumans now? Or was this scene setting up Cap 3 as I mentioned before?
What did you think of "Scars"? Did Jiaying's actions surprise you? Are you glad Gonzales is gone? What did you think of the movie tie-ins this week? Your turn, please share your thoughts with me in the comments below. Look for our Agents of S.H.I.E.L.D. Round Table later this week.
As always, you can watch Agents of S.H.I.E.L.D. online via TV Fanatic at any time. Make sure to catch up before the 2-hour season finale next week.
NOTE: Agents of S.H.I.E.L.D. Season 2 Episode 21 and Agents of S.H.I.E.L.D. Season 2 Episode 22 are titled "S.O.S." and air back-to-back on Tuesday, May 12.