There's no turning back for Psycho Norman.
Everything Norman had done prior to Bates Motel Season 3 Episode 10 had a glimmer of innocence wrapped around it, but something about Bradley's murder just felt different.
Perhaps it was because Norman wasn't blacked out, but acting on behalf of sultry Norma, who he becomes ever more frequently. Is there even enough of Norman left to push back? Maybe not.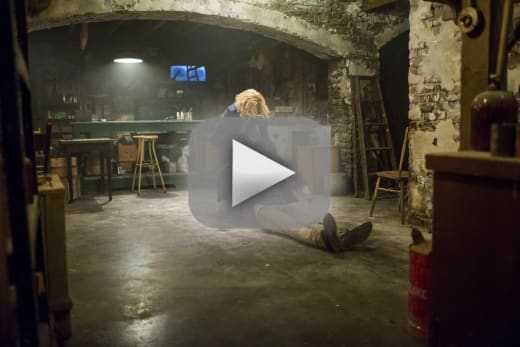 Despite Norman making what felt like the final step into full on Psycho, the finale didn't hold up to the rest of the season. It felt as if we knew where we were going, making the steps perhaps a little too logical. 
Don't get me wrong, it was brilliantly played and a perfect setup for Bates Motel Season 4 (which I expect will happen despite the lacking announcement), it just didn't WOW me. Were you on the edge of your seat in expectation?
Romero's story took the next logical step, which was doing for Norma what he could and shutting up Bob Paris. It certainly didn't hurt that Paris egged him on with just the perfect notes.
You know, right now, you are more like your dad than you ever had been. This is about you and what you want. How does that feel? To have spent your whole life trying to get away from someone you hate, only to turn into them? [BANG BANG BANG BANG -- Romero shoots him four times]

Bob
Some people are really so stupid that they fail to think anyone will ever get one over on them. They push and push and BANG BANG BANG BANG!! They finally see the error of their ways. 
This puts Romero on a more even keel with the woman he has has fallen for despite his most desperate attempts to remain at arms length. The heart wants what the heart wants and you protect who you love, even if it means doing something that goes completely against that for which you stand. 
Dylan was understandably upset about his uncle daddy leaving town, but he had happy news to counteract that. A set of lungs has come in for Emma and despite some of her darkest fears coming to light, she knows she has to take them. 
It would be really hard being ill your entire life and seeing the light at the end of the tunnel. What if you come this close and your body fails you? Wouldn't that glimpse of happiness being ripped away be worse than knowing what lies ahead? Not when the future may hold a life with Dylan. Let's be honest, right?!
Then we have the saga of Norma and Norman. Poor Bradley got caught in the middle of that. The timing of Norma seeking help for Norman and then telling him about it, even when she couldn't afford to get him the care she was investigating, was pretty bad for Bradley.
Learning about it set Norman on a one-way course for disaster. With every gentle touch Bradley attempted to give Norman, it was impossible not to cringe, knowing it was driving a bigger wedge between sultry Norma and Norman.
You had to love the look on Dylan's face when he told Norma that Norman wasn't crazy for seeing Bradley at the motel because, ummmm, she really wasn't dead. So much could have been averted if she had at least known that. 
But then Norman wouldn't have been driven over the edge.
The thing is, it didn't even take much, in the end. By the time Norman and Bradley were driving away, anything Bradley said would have done the trick. The way Norman became Norma, first emotionally and then physically, and killed Bradley was a foregone conclusion. (While I appreciated Vera stepping in, I do SO love Norman's portrayal of the way he sees Norma that I wish he had been acting as Norma in the scene.)
Driving Bradley to the quarry and dumping her body, in her own trunk, was an homage to the original Psycho movie and a warning that there's no going back. Full speed ahead, Norman!
With the announcement of the Damien series, A&E mentioned that it was a perfect companion series for Bates Motel. That led me to believe it was only a matter of time before Bates was renewed. HOWEVER, if they were so rude as to not renew it, this hour would serve as a fine ending to the story, as well. We know what's coming and how Norman got there. That's about as much as you can as for in an origin story.
Which does not mean that we don't want so, so much more.
What did you think of the finale? Was it all you expected or were you hoping for a little more punch? Hit the comments!
Don't forget, you can watch Bates Motel online any time if you missed any of the fun stuff!
Carissa Pavlica is the managing editor and a staff writer for TV Fanatic. She's a member of the Broadcast Television Journalists Association (BTJA), enjoys mentoring writers, wine, and passionately discussing the nuances of television. Follow her on Twitter and email her here at TV Fanatic.