Halt and Catch Fire Season 2 Episode 1 Review: SETI

Sean McKenna at . Updated at .
The way Halt and Catch Fire Season 1 ended worked on a level that could have capped everything off as a series finale. And I would have been OK with that.
I was certainly interested to see the next step of the characters' journey, but Joe, Gordon and Cameron were ultimately successful in bringing their Giant computer to market, even if at the cost of innovation and their team.
Of course, Halt and Catch Fire Season 1 Episode 10 also set the various players, including Gordon's wife, Donna, on their respective new paths, so it was no surprise to see Halt and Catch Fire Season 2 Episode 1 pick up with the characters still adjusting to their new directions.
Unfortunately, the season premiere wasn't quite the kick-off I was hoping for, feeling a bit slower than I would have liked.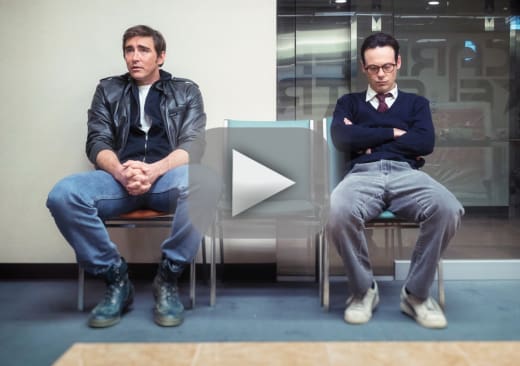 Luckily, I've seen the first four episodes of Halt and Catch Fire Season 2, and things definitely pick up, but this hour really focused on setting up the characters in their respective roles (right before the wheels start turning) and wrapping up that previous chapter.
One of the most standout aspects of the freshman season was Lee Pace as the cocky, arrogant and visionary Joe, but seeing him during this hour, he was definitely a changed man. Not only was he in a relationship, which seemed far more about love and not some form of manipulation, but Joe was also far more calm and content.
It was also sort of weird to see him not in his trademark snazzy suits and causing a firestorm but instead chatting by a fireside with "friends."
What's more, he was uncomfortable in returning to collect his check after Cardiff was sold and potentially seeing the people he had left behind.
I enjoyed the conversation between Gordon and Joe, though their seeming complacency at how things had turned out was unsettling. And I think in a way, it was unsettling for them.
At least Gordon got a payout (Joe wound up with his torn up), but it was clear that Gordon seemed to be just drifting along with the success of their PC and its follow-up version.
And yet, that spark was missing, that clear visionary innovation the team had been able to pull together. It really made me feel as if those two characters, though dormant in their endeavors, are secretly itching to do something more. To get back in the game.
Though, the most interesting part of the hour was seeing the mess/success that Donna and Cameron have created with Mutiny. They are clearly on a roll with their gaming work and the connection of chat rooms to go along with that gameplay on that early form of the Internet (it's always neat to see something in its base form knowing what that will eventually become in today's society.)
Obviously things aren't going perfect, but it's great to see both Donna and Cameron getting their hands dirty, really going at something they love. There's a bit of clashing between the two, of course, but they are determined to figure things out. Donna certainly wants to step outside of her "mom" role.
So it makes it quite exciting that the series is shifting focus and placing the two female characters at the forefront, and I'm especially looking forward to where those two and their growing company go. It's no doubt that even as Donna and Cameron battle, the two will still be dealing with that male-dominated tech industry and more. There's plenty to explore with these two and what they are trying to do, and the following episodes really ramp things up for the show not just for them but for all the characters.
It was also a fun little ending seeing John Bosworth get out of prison, picked up by Cameron. It's going to be interesting seeing how he fits into everything, especially with Mutiny.
While the going felt a little slower than I would have liked for a premiere, it really puts Halt and Catch Fire Season 2 onto a new path. Knowing what comes next, that the gears really get turning on this show, almost a sort of reboot, makes the sophomore season ultimately something worth sticking around for. Game on.
What did you think of the premiere? Are you excited to follow Mutiny's journey? Sound off below, and be sure to watch Halt and Catch Fire online to catch up on this AMC series!
Sean McKenna was a TV Fanatic Staff Writer. He retired in May of 2017. Follow him on Twitter.