Things got ca-razy on Reign Season 2 Episode 21 and I couldn't be happier. The performances tonight were top notch and had me utterly enthralled. I'm going to break the episode down into my royal rants and raves. Let's get started.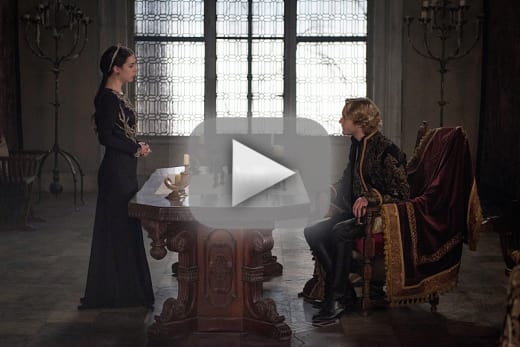 Rants: 
I started off very concerned, especially as Mary asked Francis a lot of really stupid questions she absolutely knew the answers to. In season 1 we saw that this queen has a sharp mind for politics and strategy and yet here she is asking why Francis thinks Conde's a threat. Seriously? Yes, that could've been a ploy by the writers to clue in the viewer, but if so that was a poor choice because it's made Mary look dumb, ineffectual and weak. 
I had this hinky feeling in my gut about Delphine and I was right! She's looking kinda bat-shit bonkers and that means poor Bash is screwed again. Come on, give the poor man a break.
More creepers in the passageways? 
Horse meat. 'nuff said. Shudder.
Raves:
Narcisse and Lola! May I have some more, please?!? He knows he's taking a big chance to go see her and yet he just has to confess his feelings. And that kiss! Craig Parker and Anna Popplewell are positively combustible together.
I'm saying that should anything happen to either of us I hope that you'll remember me not as the man who lied or betrayed you, I hope you'll remember me as the man who would have cherished you if he'd had the chance.

Narcisse
Smart Lola. She's been a bit absent of late, but tonight she was at her best. I love that she believes Narcisse is capable of being so much more than he allows himself to be and that she knew exactly why he'd humiliated her in the first place. 
Leith and Claude. Rose Williams is amazing as the petulant, flirty and entitled Claude. She plays her with such sass and aplomb, but sometimes the theatrics are wearing. I'm enjoying the softer and more mature side that Leith brings out in her. 
Horse meat. Sure, it's absolutely "ew!" But that Catherine would do something so cruel and diabolical to keep Narcisse was just delicious. (Okay, maybe that's a poor choice of words.)
Crazy Catherine. She professed her love, admitted to doing this heinous thing and then basically threatened Narcisse's life should he ever try to leave her or betray her again. She even told him it's all his fault as he's the one who made her love him. That's right, she went full on Fatal Attraction and outdid Glenn Close. Rabbit schmabbit. 
Narcisse and Catherine. I could've watched that dinner scene between Craig and Megan Follows over and over again. They were ELECTRIC! Passionate and poisonous. They truly are equals. Watching the actors go toe-to-toe in this scene, seeing the give and take between them, they are the true royalty and this scene was one of the greatest in the series.
Rant or Rave - that is the question?  
You know what this brings me to...that final scene with Mary. Now you might expect me to be crazy upset by her seeming betrayal, but I'm going to hold any judgment until next week. It's my hope that this is actually some kind of ploy she's using against Conde, to save Francis for a change. 
Why do I think so? One, she seemed shocked and moved that despite everything Francis had been willing to give up his reign and his life for her. Two, she said, "And real love never fades, not truly." 
And real love never fades, not truly.

Mary
I know she said those words to Conde, but I think she was speaking them about Francis. Next week should reveal the truth.
If you missed the craziness that was "The Siege," make sure to watch Reign online.
So what do you think? Did Mary betray Francis yet again? Is she really pregnant? Would you ever eat a meal with Catherine? And is Bash in deep doo-doo? Drop your comments and predictions below. 
Terri Clark is a staff writer for TV Fanatic. Follow her on Twitter.