Who's ready for a new psychological thriller to keep you entertained this summer? 
M. Night Shyamalan recently spoke to the press regarding his new series, Wayward Pines, about a secret service agent who finds himself stuck in a mysterious town with no apparent means of escape. 
I've seen the first episode which was also directed by Shyamalan, and this is one mystery that will suck you in from the start and get you asking questions.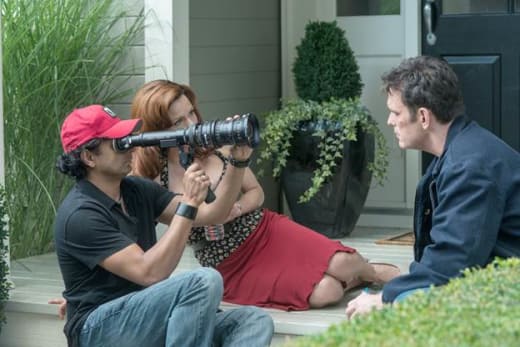 Wayward Pines is based off of a book series by Blake Crouch. I haven't read it, but for those of you who are wondering if the series will follow it, Shyamalan has an answer for you: 
"We had Blake's first book, which was fantastic, and they wrote the pilot and the information from the first book was basically in the first five episodes, maybe a little bit into the sixth episode. Book two came out well into our shooting and book three, so he started to evolve the world. So to some extent, we were parallel creating our world post Episode 5-6." 
The all star cast of this series is phenomenal and Melissa Leo as Nurse Pam especially stands out in the first episode. Shyamalan mentioned that though Matt Dillon was cast first, the rest really came together after Leo. 
"I was struggling with the tone of the cast and then when I heard her name I was like oh my God let's get her. And then when we got her, I went wow, now I know what the rest of this cast is. Because the role that, for me, I was worried about was Nurse Pam because it needed to be handed really deftly, otherwise it becomes a caricature."
I bet some of you are wondering what drew the famous film director into the realm of TV. According to Shyamalan, "because I write films, it's a big gap between movies to me, talking to my audience and having an opportunity to tell stories to an audience." 
He continued, "this is a great opportunity for me to tell more stories in between the movies and hopefully develop a strong broad relationship with them during that time, so they can get to know the stories that interest me and I can get to know their tastes as well."
What does Shyamalan hope will resonate with viewers?
"I do believe that it has, hopefully, a cinematic quality to it. And by that I mean maybe an attention to the camera work and a pacing that might be more akin to what you see in film."
He went on to say "I think our format is really unusual. The thing that I think is really amazing for audiences is that the show changes genres half way through the season. I don't even tell you what genre you're watching for a long time and that's exciting." 
Shyamalan also went on to mention that we find out the answers half way through the series before changing genres for the second half and that there could possibly even be a third genre for the last couple of episodes. 
Be sure to watch Wayward Pines Season 1 Episode 1 tonight at 9/8c on Fox! 
Stacy Glanzman is a staff writer for TV Fanatic. Follow her on Twitter.