Hannibal Season 3 Episode 4 Review: Apertivo
Robin Harry at . Updated at .
Well, it seems that the "Somebody Help Will Graham" mantra is here to stay.
The good thing, though, is that Hannibal Season 3 Episode 4 showed us that there are people willing to do that.
This episode deals heavily with the aftermath of "that night" at Hannibal's house, and we're finally getting to what I've wanted to know all along. Who have these people become after Hannibal?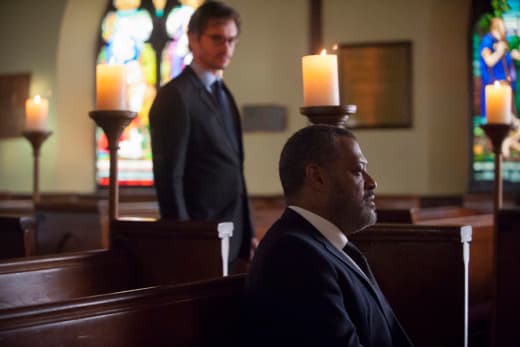 I want to talk about Alana first, since hers was the only person whose fate was still undetermined. Alana survived, but as all the others, she has been broken both physically and mentally. She was left walking with a cane after being defenestrated, but her emotional wounds are even more profound.
Kudos to Caroline Dhavernas, who was incredible in this episode. I absolutely loved her work here, and I can't wait to see more of her this season. Dr Alana Bloom was once gentle, hopeful, demure. However, the Alana Bloom we met today was manipulative, vengeful and calculating.
Alana is out for Hannibal's blood – a fact made more poignant by the red imagery that surrounds her now. She was willing to play the game with both Frederick Chilton and Mason Verger to get that.
I'm so happy that Frederick Chilton is back that I can't even stand it. He quickly became one of my favorite characters back in Hannibal Season 2, and I'm delighted to see him again. Raul Esparza nailed it this week, as usual.
Chilton's agenda is a little more self-serving than revenge; no surprise there. He wants the honor of having Hannibal the Cannibal (trademarked and copyrighted) in his hospital. However, as self-serving as he is, Chilton was the only one who seemed to realize early on that Will Graham was a mess.
He knew that Will had gotten sucked in to Hannibal's darkness, and that Will's fascination with Hannibal would end up in his death. Chilton wanted to use Will to his own end, knowing that Will would inevitably find Hannibal. He did, however, seem slightly concerned about Will's well-being and did want Jack and Alana to help Will.
Will really was a mess. I had been convinced that when Will called Hannibal that night, he was concerned about Jack. I honestly thought that phone call was meant to make Hannibal run so he wasn't there to kill Jack when he arrived.
So imagine my utter disbelief when Will admitted differently.
Jack: You told him we knew.
Will: I told him to leave because I wanted him to run.
Jack: Why?
Will: Because...because he was my friend. And because I wanted to run away with him.
Will had come to accept Hannibal as a friend and was willing to overlook the fact that he was a cannibalistic serial killer who killed his surrogate daughter and let him live with encephalitis – because Hannibal understood him. Will was convinced that Hannibal saw the worst in him and liked him anyway. Goodness. I'm starting to think these two deserve each other.
Most of Will's conflict in Hannibal Season 1 came from him being manipulated by Hannibal into someone he knew wasn't. He had trouble putting his finger on reality, not because he wasn't aware of himself, but because he was hyper-aware and all evidence he could see pointed to something different from what he knew.
In Hannibal Season 2, it was exhilarating watching him play the game, certain of who he was as he manipulated Hannibal and everyone around him. However, this version of Will Graham doesn't know who he is. He's lost sight of the moral gravity that kept him grounded, and he only wants to see himself as Hannibal does.
Will has been at his most interesting – and at his most sympathetic – when he's been sure of who he is. I'm sorry, but I don't really enjoy him this way. I want the Will Graham back who knows with certainty that one should not have cannibals for friends.
Thankfully, Jack Crawford was left mostly sane (at least as far as we know), and cares enough about Will to be truly concerned. That said, I couldn't blame him at all for temporarily turning his back on all that to spend time with Bella as she died.
Laurence Fishburne and Gina Torres really tugged at my heartstrings. Bella's death was a beautiful scene, and I could feel Jack's grief as he remembered her alive.
Lastly, Mason Verger. Mason has a one-million-dollar bounty out on Hannibal's head and has managed to get Alana Bloom to help him find Hannibal. Mason doesn't just want Hannibal dead, though. He wants to eat Hannibal alive, so much so that he got reconstructive surgery to get teeth to do so!
Hannibal wants to eat Will, Mason wants to eat Hannibal. Goodness, this show; making a strong case for vegetarianism every week.
OTHER NOTES:
My favorite visual of the episode was Alana standing in her bright red jacket, front and center of the greyscale Verger mansion/castle. That was striking.
The conversation Will had imagined with Abigail was actually partially had with Frederick Chilton.
Hannibal sent Jack a condolence note. As last week – I can't even.
I miss Aaron Abrams and Scott Thompson.
Like Will Graham, I missed Hannibal this week. The lack of cannibalism puns is disturbing.
However, in the absence of cannibalism puns, we have Chilton's snark making the quote of the week:
Alana: You cannot see what you will not see.
Chilton: Until it shoves you out a window.
This episode was something I had been looking forward to. I had been itching to learn who these people had become after being Hannibal's victims. They each have their scars, and they're each affected differently. However, I'm not enjoying who Will is becoming.
What did you all think? Are you okay with the road Will is on? What do you think of the new Alana? Remember you can always watch Hannibal online.