Major Crimes Season 4 Episode 1 Review: A Rose Is a Rose

Jack Ori at . Updated at .
No series weaves personal and procedural dramas together better than Major Crimes.
Tonight's episode was no exception, as the crime of the week served as a backdrop for Sharon's fears for Rusty, Rusty's attempts to grow up and the changes in the squad room since Sanchez was suspended 5 months ago.
Throughout Major Crimes Season 4 Episode 1, people kept talking about protection, so if you're a fan of subtlety, this episode may not be for you. Nevertheless, I really enjoyed the way the stories were put together to reflect this theme.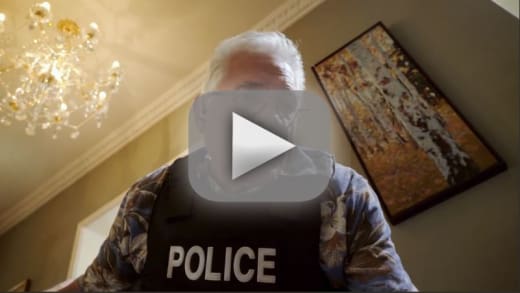 The most obvious participant in the protection meme, of course, was Sharon. When Rusty showed her a photo of the person he thought was following him, I thought it looked a lot like the detective that was supposed to be Sanchez's temporary replacement.
While that was probably a coincidence, I was not surprised at all when it turned out that the "stalker" was one of Cooper's men, who Sharon had hired to keep an eye on Rusty. I forgave the obviousness because I really liked what Cooper had to say.
When do mothers decide their children are out of danger?

Cooper
Cooper is 100% right; Sharon can't protect Rusty forever. She seemed to have learned that the hard way by the end of the episode, when her reaction to Ashley's killing her mother was to decide to put away the photo of Philip Stroh for good and give Rusty the space to live his life. This was very nicely juxtaposed with Rusty's decision to follow Buzz's advice.
You don't have to wait for someone at college to tell you you're part of the media. There are hundreds of ways to tell a good story.

Buzz
The message is clear: Rusty is growing up and finding his own voice, so Sharon is going to have to let go. I wonder if this will be a season-long dilemma for her.
Sharon and Rusty's personal drama was nested inside the murder of the week, which revolved around a double homicide set up to look like a home invasion.
Apparently Major Crimes has been investigating a string of similar home invasions, where the perp gained access to the house by pretending to be a flower delivery person, then tased, bound and gagged the victim before helping himself to their stuff.
The double homicide was different enough from the home invasions that it set off alarm bells, and Provenza wasn't convinced that Major Crimes should even be looking at it. It took a screaming 16-year-old to convince him that he should put his energy into doing his job instead of into making his trademark wisecracks and trying to rush back to the office to greet Sanchez.
Okay. Now it's a major crime.

Provenza
Soon after, the case became pretty confusing. It involved the parents of 16-year-old Ashley, who was completely distraught over the loss of her mother. Once the real home invasion crew was ruled out, Sharon quickly focused on Pete, Ashley's brother who had bought a stun gun shortly before the murder. That's when things got messy.
Pete fingered Raul, Ashley's abusive ex-boyfriend, who was arrested after a dramatic chase (why do TV criminals always think it's a good idea to assert their innocence by running from the cops???). But Raul said Ashley was behind the killings.
Ashley seemed afraid of Raul...yet her showing up at the scene of his arrest with her hands cuffed together and the same scream for help that started off the episode was a bit coincidental. Raul's story turned out to be true, and Ashley was arrested, leading to more anger on Pete's part.
Did anyone else find this whole thing awfully confusing? The crimes on this show are never really straightforward, but this one seemed to jump around from suspect to suspect a bit too much for my liking, and when Raul was caught with 20 minutes to go, I knew the story was far from over.
Nevertheless, these scenes were pretty entertaining, mostly because of the emotional arc. Two moments I really enjoyed were Pete's discussion of his mother with Rusty.
My mom's dead and you didn't tell me?

Pete
I also loved Sharon's insight into what went wrong with Ashley, which led her to tell Pete to stop protecting his evil sister.
You have done all you can to protect her. And I think she is too dangerous to be free. I'm sorry.

Raydor
The only disappointment in this episode, really, was Sanchez's return. I was expecting it to be driving force behind the hour, but other than some bickering between Flynn and Provenza, it was far too quiet. Sharon accepted Taylor's edict that Sanchez stay in the building, and Sanchez was apparently fine with it, too.
I wish Sanchez's return was centered more on Sanchez adjusting to being back in the squad and was less about Flynn and Provenza's opinions of how quickly he should be reinstated.
What was your favorite story arc "A Rose is a Rose"? Let us know in the comments!
Do you need to refresh your memory about last season? You can watch Major Crimes online at TV Fanatic.
Jack Ori is a senior staff writer for TV Fanatic. His debut young adult novel, Reinventing Hannah, is available on Amazon. Follow him on Twitter.