Charmain Tully finally gets to hit the streets, but it ends in tragedy on Aquarius Season 1 Episode 9.
After two of her fellow officers are killed, she must confront the prejudice against her head on. But securing the respect of her fellow officers forces her to compromise her own morals.
Meanwhile, Shafe decides to cover up Lucille's execution of Jimmy Too so that he can get to Guapo and shut down the heroin ring. Karn and Manson resume their affair, and Manson continues to seek revenge against Hodiak.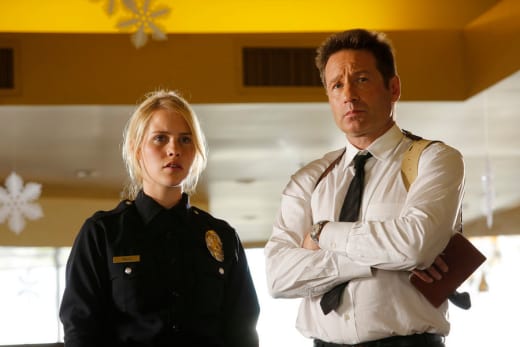 "Why?" was the most cohesive episode of Aquarius so far. It brought together almost all of the major players, focusing on a single crime. Some attention was paid to the larger arcs of Shafe's drug case and Manson, but the majority of the hour was spent on the executions.
I really liked how centered the hour was. There was nothing mentioned about some of the lesser arcs, like Walt's AWOL status, and I didn't miss it. The core elements of the show were there, and it pulled together social issues in a more organic manner than we've previously seen.
Yes, the point that the LAPD was sexist (and racist) was a bit in your face, but the slurs and derogatory comments felt natural to the work that we've seen so far. What was really interesting was how internal politics were affected by an attack from the outside.
While the two beat cops both face forms of discrimination before the shooting (even if it's mild), their male peers are fully dedicated to catching the shooter. But Tully is even more ostracized than she was before, with one detective outright blaming her for the incident. 
It's Hodiak who seems to change the most throughout the installment. He begins by defending Tully to their fellow cops, calling them out on their sexism. His snarky response is a perfect an example of what we love about this character.
If you can't at least be decent human males, at least be funnier.

Hodiak
His initial reaction to the shooting is to Tully and to us. He comforts her in the immediate aftermath, snaps her out of shock and (most importantly) believes her accounting of events instead of dismissing her as a "hysterical female" as others in the department are wont to do.
Despite his cavalier whatever-it-takes style, so far he's used those powers for good. He may have skirted the law a few times, but his asking Tully to lie is disillusioning.
This isn't a fairytale, Charmain. Decide now. You going to stop trying to be one of us, or are you going to be one of us?

Hodiak
This shouldn't be a surprise; it's been alluded to since the premiere that Hodiak plays fast and loose to get things done. We may feel Tully's disappointment, but in the long run, it's better for her to see Hodiak as a flawed human being instead of the savior/mentor she had set him up to be.
Tully wasn't the only officer being asked to compromise himself. Shafe faced a tough decision in the wake of Jimmy Too's death: prosecute Lucille for his murder, or let her go free in order to get Guapo for the heroin ring.
Personally, I think he made the right call – there's no statute of limitations on murder, so they can always bring charges against her at a later date. Shafe's put in a lot of work on this drug ring, and I want to find out where it's all headed. It's hard to believe it's unconnected to the other plots.
Karn is back with Manson and disturbingly unconcerned with his daughter's disappearance. For a guy who was willing to emancipate his child to avoid scandal, even visiting Spiral Staircase seems like a unnecessary risk, let alone resuming his sexual relationship with Manson.
Of course, Manson has some creepy insight on people making poor life choices.
Everybody in the world is living in a prison they built. They are the They're the wardens, inmates. Razor wire, chains, tower guard.

Charlie Manson
Manson is still obsessing over Hodiak, and the last scene leaves us with disturbing foreshadowing for Aquarius Season 1 Episode 10. I thought stalking his house was sinister, but a smiley face of LSD dissolving in a margarita really elevates Manson's creep-factor.
Watch Aquarius online, and share your thoughts in the comments!
Elizabeth Harlow was a staff writer for TV Fanatic. She left the organization in October 2018.