Things are looking up, guys!
Extant Season 2 Episode 3 continues to move along the plot of the much-improved second season of the show, introducing new developments and characters along the way -- and shedding a few more as well.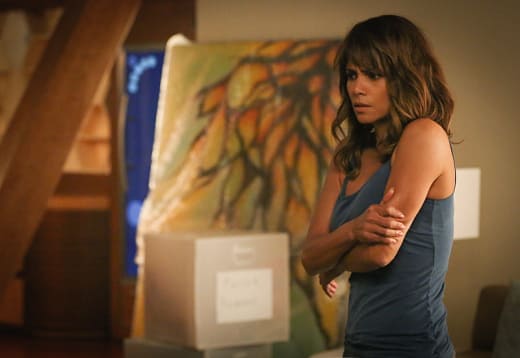 The most intriguing new development Extant Season 2 by far is the new Humanich, Lucy. I am especially enjoying the tension between Lucy and Julie, and Lucy's relationship with her "little brother" Ethan.
Lucy's rebellious behavior is variously disturbing and hilarious: disturbing in that she has been bred to be a super-soldier, and unhesitatingly agreed that she would blow up a school full of children to take out a terrorist; and hilarious in that she took a dress out of her "mom's" closet and insists on flirting with "mom's" potential boyfriend (basically the most stereotypical "teenage daughter" behavior ever). So far, she's overall a really complex and riveting addition to the show.
Julie has been having a tough time of it so far this season, and while I don't particularly enjoy her character, I think that they are making strides in developing her as a secondary protagonist.
The tension between Julie and Lucy is very humanizing for Julie's character, and I enjoy the Charlie/Julie relationship. I also like that he knows all of her dirty secrets and still loves her, despite what he claims otherwise.
Speaking of Charlie/Julie -- what a kiss! That was a great moment, and I think Grace Gummer and Tyler Hilton have really good chemistry (nothing near that Berry/JDM connection, but still pretty good).
I'm looking forward to seeing their relationship be tested by Lucy's obvious crush on Charlie. Is it really a crush, per se, or is it merely part of a pattern of rebellious behavior designed to mess with Julie's head?
Regardless of the improvements on Julie, I was very glad that the consequences of her re-write of Ethan's memory started cropping up almost immediately. Ethan is going to be furious when he realizes what she did.
I wonder whether Ethan will somehow regain his full memories of Molly or if, once Molly reclaims him, they will need to develop a brand new relationship. I think the latter would be better for plot purposes.
They need to do something about Anna. She is clearly very important because she's been featured a ton the last few episodes, but she is embarrassingly badly written. Her presence should either be toned down or she should be given some depth or some interesting motives, because at the moment she's a walking cartoon of an uninteresting villain. Hilarie Burton is definitely not that wooden of an actor; she is clearly just being given absolutely zilch to work with.
Was anyone else hugely creeped out by that near-kiss in the opening moments between Molly and her alien son? Granted she stopped herself before anything actually happened, but it was still very weird and seemed unnecessary.
I'm glad JD got the full story out of Molly and even more that they didn't drag it out longer into the season. Now that they are both aware of the full story and now that Toby is out of the way, I'm looking forward to JD and Molly being equal partners in teaming up to take care of Earth's alien invasion.
I'm also glad we got more of JD's sad history. He summed it up pretty well in that scene with Shayna: he has problems with authority and also hated the war he was involved in.
Molly: Find yourself another case.
JD: You know I would take that advice. I really would. The problem is, big brother not only took my case but he also took my license.
Molly: Really?
JD: Really.
Molly: I'm so sorry
JD: Sorry doesn't keep me in beer and cowboy boots.
JD's dialogue continues to be excellently-written, though I think Jeffrey Dean Morgan could read a phonebook and probably make it sound simultaneously sexy, super interesting and important.
And talk about a double-whammy of a cliffhanger! New character Kelsey, JD's grown daughter, was introduced and revealed that she's pregnant. Ten-to-one that baby is "Adu's," a product of the Offspring's insemination marathon.
Which would kind of make JD and Molly in-laws in a not-literal way? Freaky.
Molly, shaken by her encounter with her alien son, accidentally shot (and killed? He looked pretty dead) Toby. Shayna is NOT going to be happy about this; she repeatedly warned Toby off Molly, and this whole shot-him-to-death thing proved her very, very right in the end. She's going to have it out for Dr. Woods.
I wasn't feeling the character of Toby, so I won't be too upset if he winds up being truly dead. This is also going to provide an interesting complication for Molly vs. the human race/US government. She'd just decided to side with the human race, against her alien offspring, so it's ironic that her accidentally-homicidal action is definitely going to pit the humans against her.
The Offspring: Hello, Mother. Is that what you want? To kill me?
Molly: What I want is to know what the hell is going on here. Why you're here and what you want.
The Offspring: You wanna know why I'm here? I'll show you. Or you can just pull the trigger. Killing people isn't the nature of my mission.
Molly: Then what exactly is your mission? Because people are dying, Adu.
The Offspring: You don't understand, Mother.
Molly: What more is there for me to understand?
The Offspring: So very much. See for yourself.
Halle Berry's acting really shone in that ending scene with Adu, where he revealed that he is basically on a mission to populate the earth with other alien life-forms like himself. She went through so many emotions in that scene -- sadness, horror, guilt, disbelief.
Plus, she and Henderson Wade, her Offspring "Adu," play off of each other fantastically.
What did you all think of this episode and the new plot developments and characters? What is in store for Molly in next's week's Extant Season 2 Episode 4, now that she has killed (or probably killed) Toby? What about JD and his probably-alien-babymama teenage daughter? What is Julie going to do about her Lucy problem? her Anna problem? Her Ethan problem? (Wow, Julie has a lot of problems!)
Chime in with your thoughts in the comments below and remember to watch Extant online right here at TV Fanatic!
Caralynn Lippo is a staff writer for TV Fanatic. Follow her on Twitter.