Sex&Drugs&Rock&Roll Season 1 Episode 1 Review: Don't Wanna Die Anonymous

Sean McKenna at .
Denis Leary's return to television (and FX) was highly anticipated for me.
While he was a writer and executive producer for the short-lived comedy Sirens, I was looking forward to seeing him front and center on the screen instead of just behind it.
He certainly had a hit with Rescue Me, so I could only hope that Sex&Drugs&Rock&Roll would follow suit.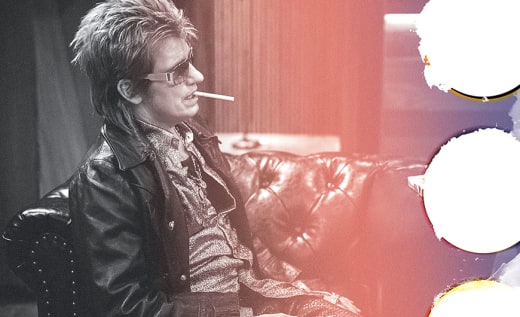 I wasn't sure if Leary as lead-singer of The Heathens, Johnny Rock, would feel far too similar to Rescue Me's Tommy Gavin, and at times during Sex&Drugs&Rock&Roll Season 1 Episode 1, you could see the fictional firefighter perhaps making similar rants as the singer.
But there was enough different from the look, especially, to the drug problems to dealing with a long-lost daughter named Gigi who might just wind up being a bigger star, to set Rock apart from his predecessor.
Really, it's sort of about Leary bringing his brand and personality to the series, and it helps that he stars, writes, directs and produces.
At the same time, Leary surrounds himself with a solid cast that includes John Corbett as Flash, the band's guitarist; Bobby Kelly as Bam Bam, the drummer; John Ales as Rehab, the bassist; and Elaine Hendrix as Ava, Johnny's longtime girlfriend.
There's good chemistry between the cast, and the speedy banter between their characters stands out, like when the bandmates discuss what code words to use when describing certain parts of Gigi's body or Johnny trying to convince Flash to help him out. Guess it was lucky that Johnny had that sexy photo of his daughter to help really get Flash on board.
While I'm really interested to see Flash – who just so happens to have found success as a guitarist for Lady Gaga when she's on tour – get into it with Johnny, I was impressed with Elizabeth Gillies as Gigi and seeing her go toe to toe with Leary.
From the banter to her charisma, Gillies brings a certain spark to the character that will be fun to watch throughout the season. Gigi turning out to be a talented singer was a nice way to top off the episode, having Johnny a little worried, and setting up the direction the series will go.
Though having her introduction involve Johnny trying to make out with her without knowing she is his daughter certainly set the stage for the craziness that will follow.
The episode was really about setting up the characters before throwing them all into some wild situations. I loved the use of documentary to reveal their past – their quick rise and fall – before jumping into the present.
The songs The Heathens sing add some authenticity to the fictional band and happen to be rather catchy. But the episode feels cut short, almost like there should be another half-hour to give you more time to really get into the series and the characters.
That said, I want to see more from the band, more from the cast, and more of whatever crazy shenanigans Leary and company have cooked up in this half-hour comedy series.
There's just something about the ragtag group, the down on his luck singer, and the raunchy blend of comedy and drama that should wind up having viewers looking for an encore performance after the complete set of Sex&Drugs&Rock&Roll Season 1.
Missed the big show or want to see Leary and The Heathens in an encore performance? Watch Sex&Drugs&Rock&Roll online right here at TV Fanatic.
Note: Sex&Drugs&Rock&Roll Season 1 Episode 2, "Clean Rockin' Daddy," airs July 23 at 10 p.m.
Sean McKenna was a TV Fanatic Staff Writer. He retired in May of 2017. Follow him on Twitter.