Is it me, or are things moving a little too quickly?
While The Astronaut Wives Club Season 1 Episode 6 continues to offer compelling stories and interesting characters, it tries to cover a little too much ground.
That's not to say there isn't a lot to love about "In the Blind." In fact, it's the opposite. There's so much to love that I want to spend more time on each and every bit.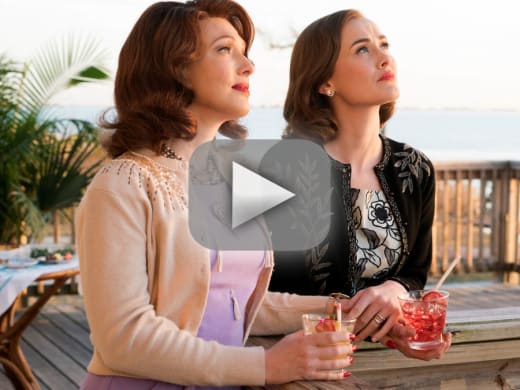 I've been feeling this way more and more each week, but with this episode in particular, I feel as though we're being whisked through a series of events in hopes of reaching a definite finish line.
There's room here for more character development and more details, but instead we've jumped eight months since Kennedy was shot at the end of The Astronaut Wives Club Season 1 Episode 5.
Now, eight months later, Rene is helping Annie by speaking on her behalf as John runs for office (because Rene is amazing). Even when John has a fall that keeps him from attending an event, Rene is happy to step in, and finds herself answering some tough questions with incredible grace.
When President Kennedy set our sights on the moon, he did more than set a national goal. He helped us to dream.

Rene
Louise is proving to be totally loyal (notice that Max has not returned), as Alan deals with a health problem. Alan has, for the most part, been a pretty unlikable character, but now it's hard not to feel sympathy for the weakened astronaut.
When he finally collapses on stage while giving a talk, he gets the tests done that he previously refused, and learns that he has Ménière's disease. He's told he'll never be able to fly again.
Meanwhile, Scott has plans to discover a new frontier. He's passionate about the SEALAB project and wants to focus his attention there. That means walking away from NASA, as well as uprooting his family yet again to go to Bermuda.
While living in Bermuda may sound amazing (seriously, sign me up), it isn't what Rene wants. We know that Rene is motivated and has goals of her own, so following her husband yet again and setting those aspirations aside is going to be difficult.
She tries to make the move work, but by the end of the episode, it's clear it isn't going to. Scott can tell she isn't happy there, and it seems like they'll be parting ways.
Rene: I've never been to space, Scott. I don't know what's out there.
Scott: So what are you going to do?
Rene: I'm gonna find out.
Then there's Ed Dwight. We've only barely grazed the surface of race issues on this show, so it's frustrating that this particular storyline is also one that we don't get to spend enough time with. Gus asks Ed to meet with him, and Gus believes that maybe he'll finally get the opportunity he deserves.
Instead, he's called in to sit down with the same young boy Gus met early on, who has his own dreams of being an astronaut some day. Ed tries to offer encouragement to the boy, who believes that he'll never have a chance because of the color of his skin. Ed's encouragement falls a little flat, though, as he's currently suffering his own disappointment.
Other Thoughts:
Gus is being stalked by a crazy woman who thinks she's his wife. Can we lease find out more about her soon?
I love how Betty has become a mentor to the newest astronaut wives.
There are more and more reasons to love Jo each week. She offers one of my favorite quotes from this installment:

Pat: Oh no, I don't drink in the day.
Jo: But half your life is in the day.
What did you think of this hour of The Astronaut Wives Club? Share your thoughts in the comments below!
Need to catch up on past installments? You can always watch The Astronaut Wives Club online right here via TV Fanatic!
And don't miss The Astronaut Wives Club Season 1 Episode 7 next week. Same time, same place!
Ashley Bissette Sumerel was a staff writer for TV Fanatic. She retired in September 2017. Follow her on Twitter and on Google+.