Things really hit the fan this week, right?!
UnREAL Season 1 Episode 7 picked up from where we left off and then continued at a crazy pace, with many blink and you'll miss it moments. Yes, it was THAT crazy. 
We knew that it wasn't looking good for Mary and it sucks that she had to die, but it really opened up a lot of new directions for the show.
We got to see some interesting dynamics with the network stepping in and let's face it, they only stepped in so they didn't get bad press against them.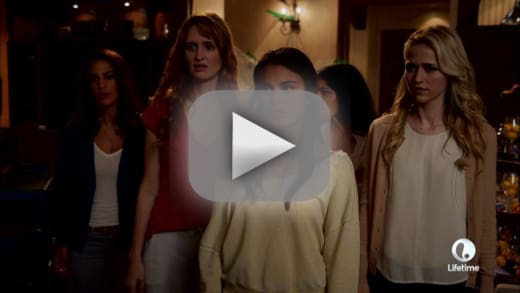 Brad was almost as conniving as Chet. The way the guy spoke to everyone on the set of Everlasting like he knew more than them, really ticked me off. He never even knew who Mary was. That speaks volumes about how much he cares for the people lower down the ladder than him.
Quinn absolutely owned him and I found myself hoping that she would continue to tear him down. Maybe in the future he'll think before throwing abuse. 
They want the truth like I want pube lice.

Quinn
Quinn knew she had a duty to save face for the show and that's why she set out to conceal Shia's involvement in Mary's downfall. I don't think she should have gotten away without any penalty.
I may have been a little tough on Shia last week, but after witnessing Quinn's rationale that we don't really know if it really was the change in meds that made her go crazy, I changed my opinion. 
Quinn: We could be talking murder charges.
Shia: I wanna go home. I think I need a lawyer.
Quinn: No. No lawyers. You are in no condition to speak to a lawyer. I'm going to fix this for you.
Shia made a mistake that she'll never be able to forget. She has to live the rest of her life fully aware that she may have caused someone to commit suicide. The way Quinn let her go at the end makes me think she'll return in some capacity. We haven't seen the last of her yet. 
Shia wasn't the only one that got brownie points from me tonight. Chet finally made the decision to end things with Cynthia. Although I have been against his pairing with Quinn, I can overlook it if he really does make her happy this time, but I'm reserving judgement until we see how he is with her in a few weeks.
Will Quinn even take him back? Most likely.
The remaining contestants really came into their own this week. They all reacted in the most natural way possible. They knew it could have been any one of them. One thing  that annoyed me was Maya complaining that the show is exploiting them.
Surely she would have known that when she signed up. It's a reality TV show. They need to get their fill of drama from somewhere and for that, I'm ecstatic that she departed. 
Rachel felt a lot of guilt this week and I understand why. She has made many stupid decisions in such little time. Adam was right to refuse to be part of the video. The show was covering it's own ass and not taking anyone else's feelings into consideration.
Rachel's mind never ceases to amaze me. While all of this was going on, she was thinking of ways to win over the public, 
She's worth five crashed ferraris.

Quinn
Jeremy needs to decide who he wants soon. I can't believe that he got hot and heavy with Rachel and ran back to Lizzie. Rachel must have been really confused and that's what ultimately drove her into Adam's arms. I can't fathom whether Adam and Rachel's relationship will ever stray from friend status. 
I'm all for them hooking up, but he might be better to her as a friend. She needs someone she can vent to when she's had a bad day and Jeremy just isn't the person for that. 
"Savior" was another solid outing for this Lifetime drama. I can't wait to see what crazy things come next. The acting, writing and directing on the show continues to be first class and there hasn't been one episode that has bored me. Lifetime is on to a winner with this one. 
Remember you can watch UnREAL online, right here on TV Fanatic. Get caught up now. 
What did you think of the episode? Who are you shipping? Should Lizzie dump Jeremy? Hit the comments below!
Note: UnREAL Season 1 Episode 8 airs Monday July 20 at 10/9c on Lifetime.
Paul Dailly is a staff writer for TV Fanatic. Follow him on Twitter.