Why did Joe have to do that?
On Humans Season 1 Episode 6, just as things were turning around for everyone, Joe had to be a complete idiot and call the police on the synths. It led to heartbreak. 
Max has been a really interesting character and deep down, it's clear all he wants is to have a family. He may have always looked happy, but he clearly was not. It was a nice gesture for him to sacrifice himself to save Leo, but I'm left wondering how this will affect the rest of Leo's clan going forward.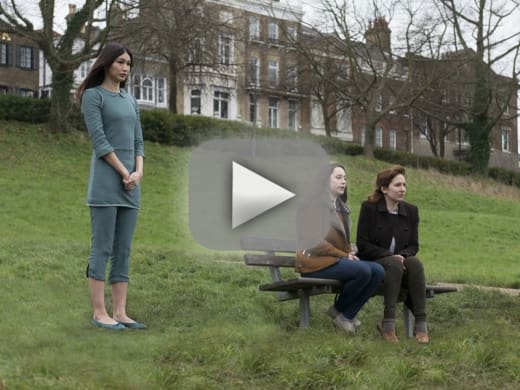 I do hope that the Hawkins family realize what happened and shun Joe, because quite frankly, he does not deserve his family. Sure, it might seem like Laura is keeping things from him, but we know now what really went on with her. 
It was interesting that she came clean to Mattie. I always thought it would be Anita for some reason. How do you tell your daughter that her presumed dead grandmother is actually very much alive? I don't think Mattie knew the full extent of Laura's heartbreak because of the way she reacted to finding out she had a grandmother. 
Laura has been going through A LOT, and I even thought she was cheating, so this change of events for her character is so sad to witness on screen. I hope she manages to move on and put the past behind her. 
Did anyone else love the scene when Mia came out to play and how scared Laura and Mattie looked? This show is really playing with our emotions.
Mattie found out quite a few deep, dark secrets tonight, right? Leo also came clean to her about his family and why he is part synth. I'm really digging the friendship between these two characters and hope they continue to share screen time for the foreseeable future. 
This band of super synths only have each other in this world. I can't begin to imagine how they all felt when their father chased them all away and committed suicide. He was the only father figure they had and his passing affected them a lot. 
Karen has been a rather wildcard character to date. Sure, we know she's a synth, but she's hiding something really bad, and I can't wait to see what the truth is. She put a lot of trust in Pete, but he is sick to death of synths, and I can't blame him. One practically stole the love of his life from him. 
The fact that Pete ran away when she told him, will just speed up Karen's descent even further. I don't see this ending well for her at all. 
"1.6" was another excellent outing for Humans. There are a lot of interesting characters in the fold, and the storyline appears to be coming full circle, so I'm eager to see what comes next for these characters. I'm also happy to know that Humans is renewed, so we have a lot more time with these characters. 
Remember you can watch watch Humans online right here on TV Fanatic. Get caught up now!
Note: Humans Season 1 Episode 7 airs Sunday August 9 at 9/8c on AMC. 
Paul Dailly is the Associate Editor for TV Fanatic. Follow him on Twitter.