Life is full of disappointments and many from 15 Division fell them in Rookie Blue Season 6 Episode 8. 
Oliver spent the day drinking after a visit from Commissioner Santana who offered him a high paying corporate security job if he chose to retire quietly and if he didn't, Internal Affairs would rip his life apart. The entire affair left Oliver inconsolable.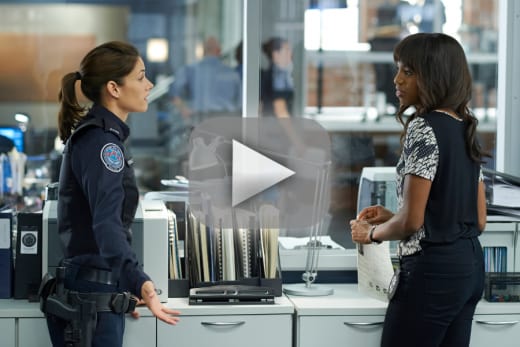 But Andy, Sam, Dov, Gail, Nick and Juliet weren't about to give up on him. The implemented an "Integrity Test" in order to out Commissioner Santana as a dirty cop. Using Duncan as a patsy, they got word to Santana that an old friend of Ted McDonald's had come forward.
He had duplicates of Ted's hard drives stashed away in a warehouse.
Would Santana take the bait? Would they be able to catch the Commissioner in the act or is this the type of man who doesn't get his own hands dirty but sends one of his lackeys to get the job done.
And when Andy is the one at the scene, will things end badly for her in the process.
Want to know who ends up in cuffs? Then you'll have to watch Rookie Blue online here at TV Fanatic. 
C. Orlando is a TV Fanatic Staff Writer. Follow her on Twitter.