Public Morals Season 1 Episode 5 Review: A Token of Our Appreciation

Elizabeth Harlow at .
And another one bites the dust.
Public Morals Season 1 Episode 5 continued to wrack up the body count in Hells Kitchen. At least Smitty got a chance to enjoy a taste of the good life before he was shuffled off the mortal coil. Between Rusty and Richie, will anybody be left standing by the end of Public Morals Season 1?
While the mob worked out it's own internal politics, the PMD struggled with a non-compliant gamester. Latucci's need for approval has been complicating the arrangement with Tadesco, and making Latucci look extra suspicious to boot. Further complicating business is Bullman, who is looking to become a pro-bono pimp.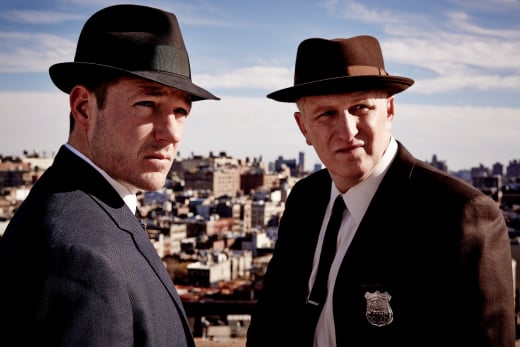 The strongest storyline going has to be the internal workings of the Irish Mob. Besides working as a metaphor for the generational strife of the 60's, this is where the big personalities get to really shine. They are unrestricted by the law, and the one-up-man ship between Rusty and Richie makes great TV. 
While I pretty much guessed that Smitty (RIP) was going to bite it from the moment he was given a fur coat instead of a black eye, I still thought his story was well executed. Showing us his home life and building up that suspense only made his death more impactful, which is saying something since his death by belt was an intense, intimate struggle. 
I love Neal McDonough, especially in this role, but I have to say that Rusty was pretty dumb to knock off Smitty. His death pretty much disproves two of the leading theories – that Smitty himself killed Mr. O in order to take over the business, or that Patton had Mr. O killed for talking smack. 
Not only will the murder renew police interest, but Patton is sure to be displeased. Rusty may think that he's tough enough to take on his dad, but he's clearly playing checks while his dad's playing chess. His impatience and impulsivity make him scary, but they also make him weak.
My father hasn't approved of a thing I've done since my mother died giving birth to me.

Rusty Patton
Of course, the bad guys aren't the only ones making bad decisions. Latucci has clearly been the dirtiest member of the PMD from the get-go, and apparently even the cops have cottoned on to that. I was actually a little disappointed that Muldoon didn't come to the conclusion that Latucci is "stealing" from the other PMD cops on his own.
Besides Latucci's flamboyant style, Muldoon knows from dinner at the Russian Tea Room that Vince isn't exactly discrete about the unit's dealings. His protection of Todesco initially had me thinking that he was running a deal on the side with the Italian gamer, but now it seems that he's more concerned about his old friend's approval than anything else.
That may have something do with young Bernadette, who (thankfully) is not the teenager I previously imagined her. I hope we'll be seeing more of this character, in part because the female characters are a little sparse on this show, but mostly because she has me intrigued with her whole "I wanna be a gangster" routine. 
Fair? Fair? She's a hooker, Bull. Fair exited her life a long time ago.

Capt. Johanson
Bullman's lady problems aren't quite as dire for the rest of the PMD, at least for now. We've only see the cops discuss their deals with bookies and the like, but despite Charlie's ignorance of how cathouses work, I'd imagine that the division would have a similar arrangement with madams. Having Charlie rep a girl probably wouldn't go over too well with them. 
This story feels a little predictable, but it also endears Charlie to me, so I'm willing to let it slide. The only thing I'm not liking about it is that after meeting his daughter, the relationship feels a little sleazy. I know nothing's happened between the two of them yet, but it's obvious where he'd like things to go.
My favorite part of "A Token of Our Appreciation" had to be all the sniping at Jimmy Shea. It was not a big part, and didn't even warrant it's own dedicated scene, but that made me love it even more. That story is building in the background, and being handled masterfully. 
You want me wipe your ass for you too, you prick?

Vince Latucci
You watch enough television and things start to become predictable. So the fact that I have absolutely no idea what is going on with Shea except a gut instinct not to trust him thrills me. He's such a study in contrasts. I know part of the reason I haven't figured him out is lack of screen time, but I feel like he'd be just as enigmatic after an entire hour focused on him. 
And he may be building tension in the department, but he's also providing comic relief. The snarkiness of the other officers to him is hilarious, and he gives as good as gets, albeit quietly. Even though I don't trust him as far as I could throw him, I totally identify with him muttering comments under his breath as his superiors walk by. 
Charlie Bullman: Hey, hey, look who's here, the Yankee Clipper. Thought they transferred your ass by now. Must need you for the softball team, no?
Jimmy Shea: (muttered) Nice to see you too, hump.
Muldoon's family and work lives look like they may be intersecting even more than usual on Public Morals Season 1 Episode 6 when his father takes Mr. O's investigation into his own hands. The fallout from Smitty's murder will have to be handled, and I can't imagine that it doesn't impact the official investigation as well. Personally, I'm looking forward to Deirdre's return. 
Watch Public Morals online and let us know what you thought about it in the comments!
Elizabeth Harlow was a staff writer for TV Fanatic. She left the organization in October 2018.