The Good Wife Season 7 Episode 2 Review: Innocents

Christine Orlando at . Updated at .
Bond court bagged Alicia more than her $135 fee on The Good Wife Season 7 Episode 2, as her newest client destroyed a photo in a museum with a hammer and threatened to do it again. 
Why? The photo was of him, naked, at 8-years-old and taken by his mother.
The mother made me queasy throughout the case. Not so much that she took the photos but that she was happily willing to gain profit and publicity from something that obviously made her son so uncomfortable, not to mention had pedophiles stalking him at school!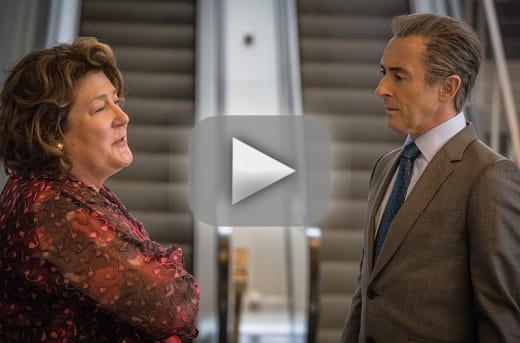 From publicity to child porn and finally child labor laws, Alicia and Luca never quit. Speaking of Luca, I was thrilled Alicia decided to work with her on this case. Luca is resourceful and quick on her feet, even with the judge and his stomach growling. 
I couldn't believe it when Nancy pretended not to know Alicia after, as Alicia pointed out, they'd argued 12 cases against one another! 
I wasn't sure about the new investigator, Jason Krause, at first. I thought he was a crazy man in his interview and wondered why Alicia was letting these strangers into her home. Then it appeared as though he was undressing Alicia with his eyes. I'm pretty sure that was actually the case. There's certainly an attraction between these two. 
Jason is smart, funny in a sardonic sort of way, and it could be a lot of fun seeing him work with Alicia. 
Grace asked for a salary and I really couldn't blame her. No one can say she's not working and Alicia needs to be careful or her own daughter could sue her years later for back pay. 
Over at Florrick, Agos, Cary took on Howard Lyman who may sleep most of the day in his office with his pants off, but he's certainly not going down without a fight as he told Cary in this The Good Wife quote…
I think you try to move me out and I'll cut your balls off.

Howard
Apparently he wasn't kidding as he messed with Cary's cases. I loved how Cary sic'd Howard on Diane and her Emily's List friends. That was brilliant. 
Will Howard actually walk out the door if they don't fire Cary? If so, David Lee was right…
Did he just issue the easiest ultimatum in history?

David Lee
Elsewhere, Eli helped Alicia along on the path to rehabilitation by having her sit down with the man who stabbed her in the back and ruined her career, Democratic Chair, Frank Landrieu. 
Why didn't Alicia tell Eli about Frank's ultimatum? Did she accept it? I'm very intrigued. 
Eli may have won the first round with Ruth Eastman, but I can't imagine she's going to simply make nice and work together no matter what she told Peter. Because in the end, Alicia was right…
Peter: You're being used.
Alicia: I know. Who isn't?
Check back later this week for our The Good Wife Round Table and then next week for our review of The Good Wife Season 7 Episode 3.
And if you can't wait until then, you can watch The Good Wife online here at TV Fanatic.
C. Orlando is a TV Fanatic Staff Writer. Follow her on Twitter.