The Strain Season 2 Episode 13 Review: Night Train

Henry A. Otero at . Updated at .
That was by far the best hour of The Strain Season 2. Shame it took so damn long.
The finale had a real sense of urgency, it did not stall for a second, unlike so many of the previous filler episodes. The stuff that preceded The Strain Season 2 Episode 13 was basically setup, but there wasn't a season's worth of material in the first half of Book 2. At least this final hour raised the stakes. R.I.P. Dr. Nora Martinez.
Now that the worst is behind us, I have a feeling the juicy stuff is coming next season.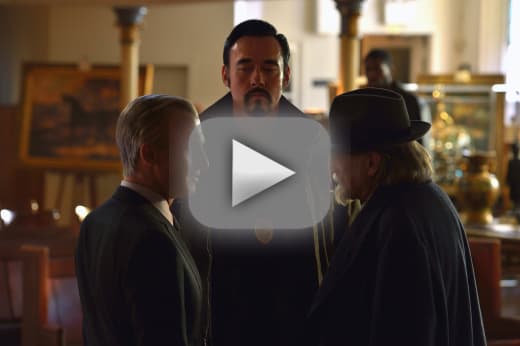 Eichhorst's evil smile as he entered the room with the meat hooks and cages was priceless. Richard Sammel has been consistently brilliant on this series; he's my MVP. If the writers ever decide to kill him off, I might just abandon the show for good.
Anyway, apparently that animal processing plant is what humanity has to look forward to next season. Eeek! Here's hoping Nikki finds her way into one of those cages.
Fet was busy building a cage of his own. Good thing he strigoi-proofed the bread truck, otherwise he and the old man would be down for the count. I loved that moment when Eph gathered everyone up for a photo. Setrakian's face cracked me up, and I'm glad he softened up in the end. Nice to see Fet hug Zack too, he's just a big teddy bear.
Considering how long it took Abraham to track down the damn Lumen, the auction was over in the blink of an eye. It was irritating to realize early on that book and Kelly's mission were pretty much it for this year. Again, there just wasn't enough story in the first half of Book 2.
Quinlan proved himself a badass yet again, by snapping that dude's neck.
Today you fight for one tribe; humankind. It no longer matters what color you wear. What color your skin is. All that matters, is the color of your blood. Red versus white.

Quinlan
Though Eph, Nora and Zack boarded the train without incident, it was obvious the strigoi would attack. What was the significance of Rudyard Fonescu sitting with our heroes on the train? Were we supposed to believe he was holding the real copy of the Lumen and Creem had a fake? I'm honestly not sure why we needed to see that character again. Any clue, guys? Meanwhile, Dutch was M.I.A. again.
Creem turned out to be a big player, which I did not expect when we first met him in The Strain Season 1. How exactly he acquired his own island I'm not sure, but I had a feeling the auction scene would prove memorable. Coco's statement was our hint Palmer would assert himself during the auction. Can you blame Eichhorst or the Master for being upset? I might have done away with the old goat, as well.
Setrakian and Eichhorst's confrontation was intense. When the Master's lieutenant claimed he had no weapons my first thought was, "Oh yeah what about the stinger"? Setrakian's got a set of brass ones, man, taunting Eichhorst about Bolivar.
Eichhorst: Were it up to me, I would suck you dry and snap your neck denying you one final time. But do you know that the Master has a plan for you? Yes, he wants you to turn. To bear witness to that which you have been fighting against for so long.
Setrakian: Never. I will release you, Eichhorst, to die like the soulless appendage you are.
Anyway, the bidding escalated ridiculously quickly to $300 million. While we knew Palmer had the funds, the Ancient's providing $323 million was a nice surprise. Wasn't it great when Creem approached Eichhorst with the Lumen, and he backed away?
Of course, then Palmer rescinded Eichhorst's access to the funds. I liked that Creem said he was rooting for Setrakian. This was one of the few times we've seen Eichhorst lose his cool. There was no doubt retaliation was coming, and Creem drove the point home by mentioning the helicopter.
Though Setrakian had no intention of giving the book to the Ancients, it's a good thing Quinlan and his "hungry wolves" showed up to save the day. Did anyone think for a second Gus died in that explosion? Convenient the truck stopped directly over a manhole, right?
That was such a silly "Strain" moment. The shootout was a blast though, as was Eichhorst and Quinlan's face off. We finally got a chance to see The Silver Angel wearing his luchador mask. He was just one of several characters underused this season.
Palmer's such a pompous ass. Did he really think pissing off the Master was a good idea? Even at the end, I never really understood Coco's motivation. Apparently, she was not a gold digger and fell for the guy. I did enjoy that Palmer saved her heart as Setrakian had done with Miriam's all those years ago.
Eichhorst: You humiliated me at the auction. You cost us the Lumen. But the most grievous crime was betraying the Master.
Palmer: Please, it's Setrakian. My security team can have the book back in our hands before he's translated the title page. But only if you and your master pay me the respect I deserve.
Eichhorst: How dare you?
The Master sacrificing all those strigoi to stop the train was insanely cool. I've got to say, aside from Quinlan's Ancient Rome flashback, that was one of my favorite moments of the entire season.
Nora running off with Zack, on the other hand, was not. That was a truly asinine move that cost her dearly. I'm curious to see how many fans of the books are pissed off about this deviation from the text. Personally, I'm not sure how I feel about Nora's death yet, but I think the character deserved better. Though she was never given much to do, I'd trade Eph for Nora any day. Did Mía Maestro want off the show? I'm sure we'll learn more about the situation in the days to come.
Zack willingly walking away with his strigoi mother was preposterous. Perhaps the original actor was switched out because he came across like a little genius.
I'm telling you, The Strain Season 1 Zack would not be that dumb. Can you believe the kid actually cost Nora her life? He's going to have to live with that moving forward. Honestly, it's a real shame it wasn't Zack that got stung there at the end.
Setrakian, Fet, Gus, Angel and Quinlan finally all came together. The images inside the Occido Lumen were pure Del Toro, beautiful stuff really. Will Setrakian have a chance to translate the ancient text? Does it truly hold the key to the Master's demise?
While I'm glad the series was greenlit for another season, I think the writers desperately need to tighten up the storytelling. Stop giving us the run around, and follow through on things like the strigoi bioweapon. Thirteen hours for Setrakian to get his hands on the book was overkill. It also took Kelly a lame number of attempts to catch up with the kid.
We TV Fanatics have so many options these days, we demand to be dazzled not strung along. The Strain should not be a DVR show, and yet it is because it's not appointment television. Change that for Season 3, guys, I believe in you.
What did you think of "Night Train" Strainiacs? Was this episode worth the wait? Did Nora's death shock you? Can you believe Zack walked off with Kelly? Let me know what you thought of the finale by sounding off in the comments below.
Relive the entire season again, watch The Strain online now via TV Fanatic!