It's the semifinals!
The competition has never been more intense, and Dancing With the Stars Season 21 Episode 11 is no exception.
With one couple withdrawn from the competition, the remaining couples were required to compete in three different rounds for the semi finals. I'm exhausted from just watching them all.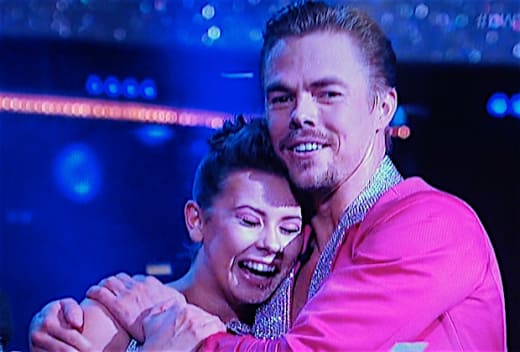 Unfortunately, Tamar has been hospitalized because of blood clots in her lungs. That's after rushing back from the emergency room on Dancing with the Stars Season 21 Episode 10 just in time to perform in the second round of the night.
We were all impressed that she did it, and did it so well. What we didn't see was that she returned to the hospital immediately afterward.
Should Alexa and Mark have been able to return to the competition? That's got to be the question on a lot of people's minds. It's on mine, anyway. Instead, with only four couples remaining, they were all forced to fill some time with a dance off that really just wasn't necessary.
Don't me wrong, it's a fun round, but in this instance, it just felt like filler.
As for the other two rounds, it's not surprising that these were some of the best performances we've seen. Alek, in particular, stepped up his game to earn his first perfect score.
The trio dances were the ones that really knocked our socks off, though. Naturally, Derek chose Mark to be a part of the Trio with Bindi. Their routine was edgy, creative, and totally amazing.
Nick and Sharna's trio included Peta, for a perfect-scoring Salsa that got Nick back in the game after a few rough spots.
At the end of the night, we were once again rushed through another elimination ceremony. At this point, these aren't even really ceremonies, but this one was focused all on the drama.
In the bottom two, supposedly, were Bindi and Derek and Nick and Sharna. For just a few dramatic moments, we were sure one of these two couples, both who SHOULD end up in the finals, were going to be sent home.
But hey, this is reality television, and they have to take advantage of suspense where they can get it. Tom announced to the two worried couples that actually, since Tamar had withdrawn, no one was going home. All four couples would be heading to the finals.
What did you think of this week's Dancing with the Stars? wWo do you hope will win the mirror ball? Share your thoughts in the comments below!
Here are this week's scores!
Bindi and Derek
Salsa: 27
Jazz (with Mark): 30
Alek and Lindsay
Waltz: 30
Argentine Tango (with Emma): 27
Carlos and Witney
Contemporary: 28
Charleston (with Karina): 29
Nick and Sharna:
Tango: 24
Salsa (with Peta): 30
Ashley Bissette Sumerel was a staff writer for TV Fanatic. She retired in September 2017. Follow her on Twitter and on Google+.