The Grinder Season 1 Episode 5 Review: A Bittersweet Grind (Une Mouture Amer)

Stacy Glanzman at . Updated at . Comments
Dean is looking for love on The Grinder Season 1 Episode 5, but does he find it? 
Stewart's idea to set him up with someone who knew him before he was famous is a good one, but sadly in the end it doesn't work out. 
Christina Applegate's guest appearance as Dean's ex was great. Too bad she won't be sticking around a little longer.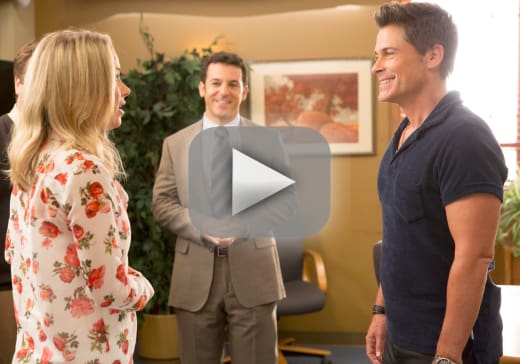 It's not surprising that Dean would have a hard time finding someone who liked him for who he is in Idaho. If he were still in California, he'd at least have the option of dating other famous people if that's what he wanted. In Idaho, this is something that will probably always be in the back of his mind. 
He doesn't necessarily need to find someone who doesn't know he's famous though. He just needs to find someone who is honest with him. Gale's mistake was lying right from the start.
Not only that, but she took the lie too far. Lies are more believable when they're simple. You can say you've never seen the show without having to go as far as saying you don't own a TV and then have to cover up your wall mount with a painting. 
The scenes with Dean talking about Gale at the office in front of Claire were funny. They couldn't have been more obvious in that they were showing that she's actually someone who doesn't care at all that he's famous. She's also currently not interested in him, but that's something that's likely to change eventually. 
Now it makes a little more sense why Dean is interested in her even though he doesn't really know her. At first he was just pursuing her because she was unattainable. At least now I can see that he might be interested in her because she's not interested in his fame or fortune. 
The double standard between Lizzie and Ethan was interesting. The argument that Ethan was allowed to date over Lizzie was just that "he's Ethan" with no other explanation. Stewart sees him as a young version of himself, but soon finds out he's really a mini version of Dean. 
While I can see the point of the double standard, letting your young son invite a girl over to watch a movie at your house while you supervise is different than letting your teenage daughter go out on a date. I liked Stewart's solution that they could both watch a movie at home, though maybe he could have let them do it on separate nights. 
It was funny that Ethan turned out to be the one to take advantage of the situation. I'm sure Lizzie felt justified even as her boyfriend was being thrown out of the house. I don't think either of them will be allowed to date again any time soon. 
What did you guys think? Do you wish it would have worked out a little longer with Gale? Are you rooting for Dean and Claire to eventually get together?
Don't forget, you can watch The Grinder online any time!
Stacy Glanzman is a staff writer for TV Fanatic. Follow her on Twitter.