Brooklyn Nine-Nine Season 3 Episode 10 Review: Yippie Kayak

Stacy Glanzman at .
Who would have thought Boyle would be the one to save the day on Brooklyn Nine-Nine Season 3 Episode 10?
Jake sacrificing himself to let Boyle be the hero was the best Christmas gift he could have given him. 
While Jake admitted to being selfishly focused on Amy, he selflessly gave up his chance to star in his own real life Die Hard moment.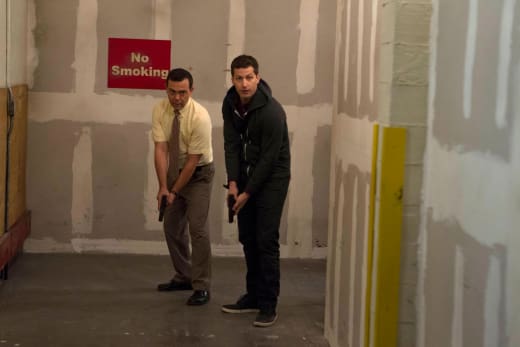 Of course, he's a little bothered by Boyle botching the catch phrase, but we can't always have it all, right? 
I loved how disappointed Jake was to find out the bad guys were Canadian and that one was named Matt. His excitement over what should be a scary situation really made the episode. Plus, his fake Canadian accent was awesome. 
It was Jake's quick thinking that set up Boyle for his heroic moment, crashing through the vents and taking out the bad guy. If it had been left up to Boyle, who knows how long it would have taken for him to get cold. 
Charles: How are we going to get past them without a gun fight?
Jake: I'll tell you how John McClane would do it, the vents.
Charles: Blast the A/C, they get chilly, they leave to find sweaters.
Jake: No, we're going to climb through them.
Charles: Even better, classic use of vents.
Gina was hilarious as always. She finally got to try out her hairspray flame thrower idea, but too bad she couldn't have used it against one of the robbers. Maybe that is for the best, as she potentially could have burnt the entire store down in the process. 
As soon as Terry told everyone not to contact him, we all knew that's exactly what would happen. I think he'll choose his words a little more carefully when answering the phone in the future. At least this was a real emergency, and not just Scully butt dialing him 49 times. 
The Vulture returned to take over the hostage situation, but thankfully Terry disposed of him and let Jake and Boyle handle things on the inside. Terry seriously did not deserve to be suspended for that, but hopefully he feels it was worth it. 
The polar swim could have been funnier than it was. It was not surprising that Amy chickened out and then was forced to run into the water anyway. If Amy gets cold so easily, maybe she should consider moving to a warmer climate. New York might not be the best city for her. 
Amy: You guys are doing a polar swim, why didn't you ask me?
Captain Holt: We didn't think you'd be interested.
Rosa: You're always cold, you brought a blanket to a Mets game in mid-July.
Also, for the record, July 18th totally counts as mid-July. 
Amy has not given up on trying to find a way past Holt's no gift policy. Her present causing a bomb threat was pretty hilarious. 
Your turn, what did you guys think of "Yippie Kayak"? Was it everything you hoped for out of a Die Hard Christmas episode spoof? 
Brooklyn Nine-Nine will be back in January, but you can watch Brooklyn Nine-Nine online online any time until then!
Stacy Glanzman was a staff writer for TV Fanatic. She retired in March, 2019.