Shadowhunters Season 1 Episode 1 Review: The Mortal Cup

Lisa Babick at . Updated at .
Unlike many of those who watched Shadowhunters Season 1 Episode 1, I have not read any of Cassandra Clare's books on which the series is based.
Okay, I read part  (literally seven chapters) of the first book, which gave me just enough knowledge to better understand what I was watching in the premiere. Other than that, I had a pretty clean slate going into this new series.
And I have to say, I'm impressed.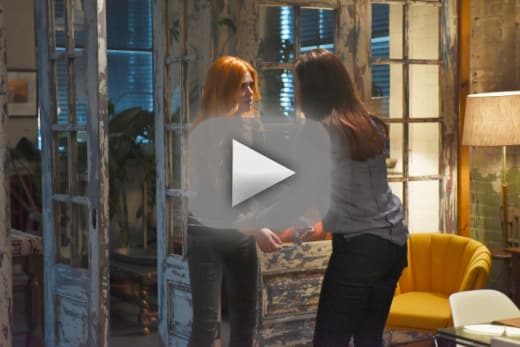 It's not perfect by any means. There are some dialogue problems, character issues, and other flaws, but overall it kept me interested and entertained. I also noticed a pretty strong Supernatural vibe, though that isn't surprising since the premiere's director, McG, served as executive producer of The CW series for seven seasons.
So, color-changing eyed demons who disappear into wisps of embers when struck by special swords felt familiar.
We are introduced to the main character, Clary Fray (Katherine McNamara), on her 18th birthday. Her day starts out great as she gets accepted at a prestigious art academy, but things start turning dark as the day progresses.
She starts seeing people that others can't see, creatures start revealing themselves to her, and her mother gets kidnapped. Then, she learns she is a Shadowhunter. Pretty heady stuff for an 18 year old. Yet, through it all, she pretty much maintains her composure. Almost too much.
When a really hot guy (Jace, played by Dominic Sherwood) bumps into her outside a club and she discovers that her friends can't see him, she decides to chase him. If that happened to me, I might be a little freaked out. Clary isn't.
Or when her mom's employee, Dot (who is supposed to be Madame Dorothea from the books), turns into a demon, she doesn't even bat an eyelash. I would probably just go into shock or at least start screaming hysterically. Clary doesn't.
Clary is a very likeable heroine. She's poised, smart, beautiful, but she needs to be stronger. It felt as if she was holding back, trying to contain a sass lurking just beneath the surface. And just because she doesn't overreact to the strange things happening to her doesn't mean she's strong.
When she puts on Isabelle's (Emeraude Tobia) outfit after being saved once again by Jace, I was hoping the leather would transform her. It didn't. 
It's not that she lacks depth, she just needs more layers, more emotion. Hopefully, she'll get some oomph to her as the season develops. Maybe being around Isabelle will help that along.
Her best friend Simon (Alberto Rosende) is pretty composed too. When Jace reveals himself (I absolutely loved the whole glamor rune shtick), Simon doesn't seem that shocked. Maybe it's because the dead guy appeared first. But the difference between Simon and Clary is that Simon is at least questioning what is going on. Clary is just accepting everything as fact. 
But maybe that's the way she's supposed to be. After all, would we really want four episodes of Jace trying to convince her that it's all real? With that, I can buy Clary's acceptance of everything. And besides, all she really wants to do is find her mother, so that may be why there's a wall.
Simon is very sweet and affable. He's also protective of Clary. And it's obvious he has a crush on her. The triangle created at the end was intriguing. I know which way the 'ships are supposed to go in Shadowhunters, but wouldn't it be an interesting twist if it was Simon and Clary who ended up together?
Of course, that's probably not going to happen. The heat between Jace and Clary is already developing and quite evident from the moment he bumped into her.
Jace himself is a badass, as are his cohorts, Isabelle and Alec (Matthew Daddario). They really kicked ass when fighting the demons in the Pandemonium. The only problem I had with the fight scene was that the background music didn't fit. The music really needed to be heavier and more lively.
We also got to meet the big bad, Valentine (Alan Van Sprang), who doesn't really seem all that bad yet. But, then again, he's living in a lab in Chernobyl, so that has to mean something. 
But the best character of all so far was warlock Magnus Bane (Harry Shum, Jr.). His ability to chokehold that Circle member guy with just two fingers made me love him immediately. Darth Vader, anyone?
Overall, "The Mortal Cup" is an intriguing introduction to the Shadowhunters series and gives fans of the supernatural genre lots to chomp onto. I definitely enjoyed myself and look forward to Shadowhunters Season 1 Episode 2.
What did you think about the Shadowhunters series premiere? Was it all you expected? Are you disappointed it didn't follow the book exactly?
Hit the comments below, let us know your thoughts and watch Shadowhunters online if you need to catch up!