The Magicians Series Premiere Review: Magic Is Real
Elena Zhang at .
The double episode premiere of Syfy's The Magicians was a whirlwind of characters, visual effects, and mystery. 
The Magicians Season 1 Episode 1 and The Magicians Season 1 Episode 2 introduced the audience to a fantastical world where magic is real, and secrets lurk around every corner.
Based on the best-selling novels by Lev Grossman, The Magicians follows protagonist Quentin Coldwater as he is pulled from a dull reality right into Brakebills University, a school for the magically-inclined.
It's easy to draw comparisons to another popular series about a wizarding school, and certainly many people have described the show as Harry Potter for grown-ups. Yes, there is a school of magic. Yes, there is an ominous magical villain. But the similarities pretty much end there.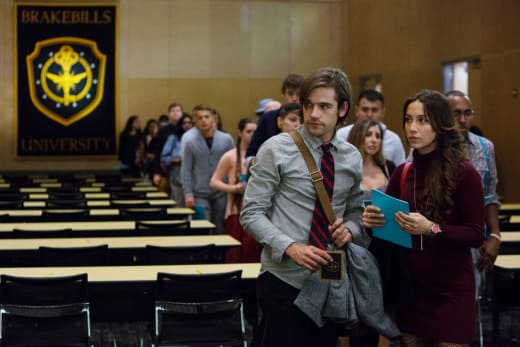 For one thing, it's fairly difficult to root for our main hero, Quentin. He appears to be a typical young adult living in New York, dealing with crises of loneliness and isolation. These are definitely relatable traits, but Jason Ralph plays Quentin with such mopiness and self-pity that it's hard to find him likeable. 
Life is raw. Everybody medicates.

Quentin
Quentin does have some moments of levity, like the great visual gag when he passes out after performing magic, or when he was wondering if magicians can or cannot eat Oreos (they can). These comedic bits will be essential going forward in making Quentin a hero we can get behind.
Dean: Snuck a box of Oreos.
Quentin: Magicians can't eat Oreos?
Dean: Diabetics can't eat Oreos.
I actually feel more drawn to his counterpart, Julia, who was rejected from Brakebills and is currently trying to forge her own magical path in the real world. Initially, she seems like the annoyingly positive friend who just wants Quentin to grow up and let go of his fascination with magic.
But once she discovers that magic is real, her entire world view comes tumbling down, and she is driven into desperation to become a magician by any means possible.
The other supporting characters are pretty uneven. Kacey Rohl is fantastic as Marina, imbuing her character with tons of charisma, charming you even though her motives are unclear Both Dean Fogg and Eliza add an authoritative presence to the show, which is sorely needed when most of the characters are immature youths.
Penny, Kady, Alice, and Eliot, on the other hand, play their stereotypes to a fault, which is one of the show's biggest weaknesses. The students are all supposed to typify the listless and disaffected nature of young adulthood.
Penny is a tough guy from the streets. Eliot is effeminate and loves to party. But the writing and acting don't do the characters any justice, and they end up coming off as one-note personalities that are tiresome and uninteresting. Hopefully they become more fleshed out in the future. 
Syfy seems to be trying too hard to emphasize the "grown-up" aspect of the show, wanting desperately for viewers to forget the childish connotations of magic and fantasy.
But a floating sex scene and a gratuitous and unnecessary near-rape incident aren't the way to do it. The sole purpose of those scenes were to titillate the audience, and instead came off as distasteful and pointless. 
It's also unclear if the show is trying to treat Quentin's depression as merely a symptom of feeling purposeless, instead of being an actual medical condition. Again, I'm hoping that the show will treat these mature subject matters with a little more care and attention in the future.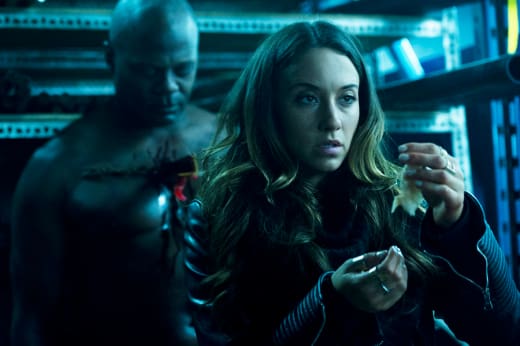 While the characters leave plenty to be desired, The Magicians excels in its visual effects and world-building. The contrast between the bucolic Brakebills campus and the grungy streets of New York is effective in creating these two realities.
The show also does a good job in capturing the wonder of discovering magic for the first time, from hovering cards to galloping glass horses. I was blown away by the look of The Beast, who appears as a terrifying moth man. The strange gestures he made with his hands to perform magic were eerie and disconcerting.
The various mysteries presented in these two episodes were also really intriguing. It seems like Eliza has some sort of connection to The Beast, which is fascinating. I also really liked how even in the world of magic, the Fillory tale is treated like childish fantasy.
And what exactly is Julia getting herself into with Pete's off-grid club of magicians? Like Eliza said, everything is connected, and I'm looking forward to unraveling these secrets.
What did you think of The Magicians? Did the premiere live up to the hype? Does the show stay true to the books? Leave us your thoughts in the comments below!