Just how DOES Jimmy McGill come up with the tales he tells? For better or for worse, Better Call Saul Season 2 Episode 2 just introduced a new term into the slang lexicon:
Squat Cobbler.
Does anyone have an over/under on how long it'll take for this to show up in Urban Dictionary? (If it's not there already. I'm too scared to look.)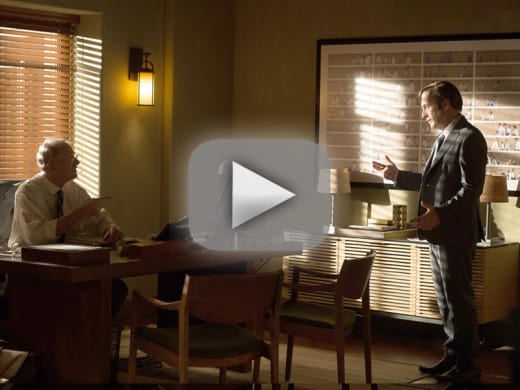 All it takes for Jimmy to make questionable decisions is a run-in with big brother Chuck, the whack job in a space suit. Ugh. Chuck. i really dislike that guy.
There's little doubt that growing up in the shadow of his ultra-successful, ultra-perfectionist older brother caused Jimmy to turn to the life of hustling he lived before (and after) becoming an attorney. We need look no further than the two latest sibling encounters for proof.
When Chuck walked into that meeting just to "bear witness" I wanted to reach into the conference room and slap his smug face. WITH A CELL PHONE. (Gives new meaning to the term "Palm Pilot" somehow. Or maybe I'm just exhausted.)
Jimmy and Kim are great, in my opinion, because there's such a balance between them. She's career-driven and sometimes afraid to let her hair down. He's carefree and doesn't want to live a stuffy, bored, boardroom kind of life. 
But he's not going to be able to hang on to this if he doesn't make better decisions, and since we know based on Breaking Bad that he's not with Kim then, something will inevitably happen which breaks them up for good. 
That something will either be his descent into Saul Goodman or losing her will cause him to accept his life as an ambulance-chasing, yarn-spinning criminal defense attorney.
Hopefully after he helps the sweet old people at Sandpiper and makes a few thousand dollars. (How else can he afford those billboards and bus bench advertisements one day?)
It's so interesting to watch this very conflicted man living the life of a high-powered attorney with access to flashy company cars and corporate lodging and anything his heart desires (just about) and all he has to do is ask while deep down he can't see himself as anything other than a hustler. And that's really what it all comes down to.
Jimmy is a hustler and that's what he knows. When he's pulling a hustle, he pretends to be the kind of person he is as an employee of Davis & Main. The person he is as an employee of Davis & Main isn't how he sees himself. 
There are so many layers to the character and how he sees himself which play into how we as the audience see him. It's really well done writing and development. Not that we'd expect anything less from this creative team, but still.
As far as Mike goes, I truly hope this is the last we've seen of Wormald. His yammering about baseball cards annoyed me as much as it did Mike. There's far more compelling storytelling that can happen with Mike and Nacho and (maybe) Tuco Salamanca, and I can't wait to see the relationship between Mike and Jimmy grow. 
Right now they know each other, but by the time Breaking Bad rolls around, Mike is Jimmy's right hand man. How many hustles will the work together for that relationship to develop? How many clients will Mike toss Jimmy's way? 
How many more times will Jimmy be able to spin a story about "squat cobbler" to get the police to stop sniffing around a client? 
At this point, Better Call Saul asks as many, if not more, questions than it answers, but the beauty is in watching everything unfold. 
What will be the catalyst for Jimmy to go full-Saul? Hearing even more damaging commentary from his brother? Losing Kim? I want to hear your thoughts! Jump into the comments below and don't forget you can watch Better Call Saul online!
Miranda Wicker is a Staff Writer for TV Fanatic. Follow her on Twitter.