The Good Wife Round Table: Should Alicia Consider Diane's Offer?

Carissa Pavlica at .
This week we're breaking down The Good Wife Season 7 Episode 16 and discussing Alicia's relationship with Jason, the possibility of an all-women firm and whether Cary deserves to know and the benefits (or lack thereof) of Alicia's marriage to Peter.
Join TV Fanatics Christine Orlando, Elizabeth Harlow and Carissa Pavlica and take your seat at The Good Wife Round Table. Get in on the conversation by sharing your thoughts in the comments and on social media!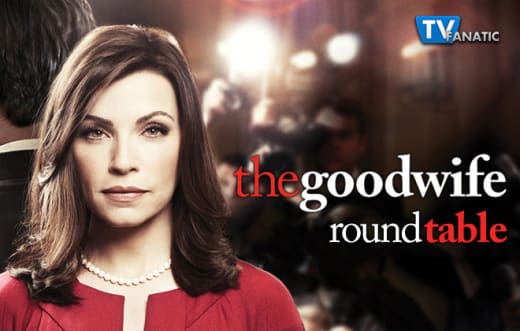 Does Alicia being married to Peter strengthen her career or weaken it?
Christine: It's definitely a double edged sword. For as much as being the wife of the governor can be a plus, Peter's shady tactics and history have certainly hurt Alicia as much as it's helped her. Maybe more. Personally, I don't think either of them need to be married any longer.
Elizabeth: Maybe she did at one point, but that's long past. She built up her own professional (and public) reputation. Honestly, Peter has done more to hurt than to help – although to be fair, she hasn't always been aware of that.
Carissa: I think it weakens it. I'll never understand the need to stay married for any reason, so I'm probably the wrong person to ask.
Should Alicia tell Cary about Diane's offer?
Christine: Personally, I think Cary is owed Alicia's loyalty and she should tell him. Whether she chooses to throw in with Diane is another story, but I think Cary deserves the heads up from Alicia about what's going on in his own firm.
Elizabeth: Cary's had Alicia's back time and time again, so I think she should tell him. But the firm could use a good relationship therapist on staff – so much time and energy wasted on intrigue, almost all of of the self-fulfilling prophecy variety. If they'd talk to one another instead of plotting and counter plotting, maybe the firm would already have that identity it's in need of.
Carissa: I agree with Christine. Alicia once trusted Cary so much she started a firm with him. Something about what's going on now just feels all kinds of wrong.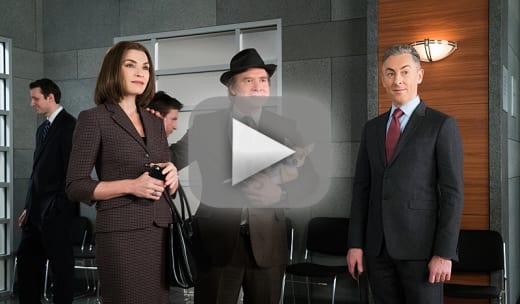 What do you think of Alicia and Jason as a couple?
Christine: It was the first time I can recall Alicia having fun in a long time. I liked these two together as a couple much more than I thought I would. I don't know if they're meant for the long haul, but for now, they look good together.
Elizabeth: I'm pleased to see that it's going to be more than just a quick roll in the hay (or on the couch as the case may be). This just adds more points to the "divorce Peter ASAP" column though.
Carissa: It feels forced to me, especially because Alicia used Jason's name in the place of Will's while speaking with Lucca. I'm glad they're having fun, but I think Jason will get hurt.
Do you hope to see Diane and Alicia team up at their own firm?
Christine: I like the concept but I hate the thought of ousting Cary from his own firm. No, he's no Will Gardner but no one ever will be. Will and Diane had a solid partnership, and I don't see her duplicating that with anyone else, be it Alicia or Cary.
Elizabeth: Yeah, that's a tough one. If they're going to oust somebody, can't it just be David Lee? I feel like Cary is still so young that trying to compare him to Will isn't really fair. I think the Florrick/Agos/Lockhart partnership would be the most balanced and probably profitable.
Carissa: It feels like a play to create a spinoff because they've finally come to the realization naming the series The Good Wife left them in a bit of a tough spot. The husband hasn't been in the picture for years, so how long do that drag that out? Well, Diane hasn't been in the picture for two seasons now, and it doesn't feel genuine either. So...no. Not anymore.AT one time, yes. But not now.
What was your favorite scene from this episode?
Christine: I loved the beginning when Veronica and Owen barged in on Alicia and Jason's weekend of sex and bad movies. Both Veronica and Owen ogling Jason was very funny and I loved how Jason just went with it and enjoyed the bagels.
Elizabeth: And when Veronica invited the guy who served Alicia in for bagels! God, but I love Stockard Channing. Eli waiting for the bathroom to open up and climbing on to wastebasket to eavesdrop was hilarious and an excellent callback to earlier episodes.
Carissa: Eli trying to get into the bathroom again, especially when he looked at the people who needed to use it and huffed, tossing his arms into the air. That's the Eli I'm really going to miss. Why can't he get a spinoff?
Carissa Pavlica is the managing editor and a staff writer and critic for TV Fanatic. She's a member of the Critic's Choice Association, enjoys mentoring writers, conversing with cats, and passionately discussing the nuances of television and film with anyone who will listen. Follow her on Twitter and email her here at TV Fanatic.