The Good Wife Season 7 Episode 16 Review: Hearing

Christine Orlando at . Updated at .
Alicia and Jason attempted to have a weekend of honesty, bad movies, and sex on The Good Wife Season 7 Episode 16, but life got in the way. Alicia's life, at least.
We have no idea what else Jason has in his life besides his job…and Alicia.
This was one of the funniest installments of The Good Wife Season 7. When Veronica showed up at Alicia's door, I knew she'd find Jason in that bed.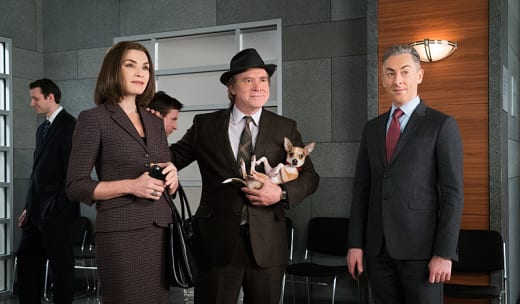 Before we knew it, Veronica and Owen were both ogling the handsome investigator. Too bad they hadn't been there when he was parading around in Alicia's pink robe. 
One minute, Alicia was feeding Jason chips in bed and the next, she was sucked into the middle of family dramas involving both her mother and Peter. Isn't Alicia allowed to have any fun? 
Veronica's predicament was typical of her. She made a stupid decision and invested her money in a con. That Jason determined that she'd ended up on some sort of sucker's list was no surprise. What is a surprise is that she's got any money left at all. 
Elsewhere, Alicia figuring out that you could hear the grand jury testimony through the bathroom vent was hysterical. I loved the way she dragged Eli in there and told him she couldn't listen because she's an attorney but that Eli could. 
It was fun watching Michael Tascioni keep people off kilter while getting them to say more than they meant to, much like his wife. I'm enjoying his character far more than I expected. 
It didn't sound as though Ruth had made a deal with the prosecution, at least not from the portions that Eli overheard. I do wish we'd been able to see more of the grand jury procedures but I suppose the audience is to be kept in the dark in the same way Alicia is. Obviously, Eli is the person putting the pieces together the fastest. 
One of my favorite scenes was between Diane and Alicia. Diane was certainly splitting hairs when she said she wasn't trying to oust Cary but buy him out. I'm not sure he'll see much of a difference.  As Diane told Alicia in this The Good Wife quote…
I've been working with Cary as a fellow named partner for a year. He's learned a lot. I respect him a great deal, but he is no Will Gardner.

Diane
No, he's not, and I don't think that Alicia is either, despite what Diane said. No one can replace Will, however both Diane and Alicia are missing him in different ways. 
Will Alicia choose to join Diane in an all-female-partner firm? Should Alicia tell Cary about Diane's plan? And is this whole thing setting up for some sort of spinoff once The Good Wife ends?
Check back in later in the week to see what our The Good Wife round table team has to say, and if you can't wait, you can watch The Good Wife online here at TV Fanatic. 
C. Orlando is a TV Fanatic Staff Writer. Follow her on Twitter.