That first scene packed a punch, didn't it?
It's hard to think of anything more gruesome than watching someone jump into a shower, only to find herself being covered with the slime of some decomposing bodies.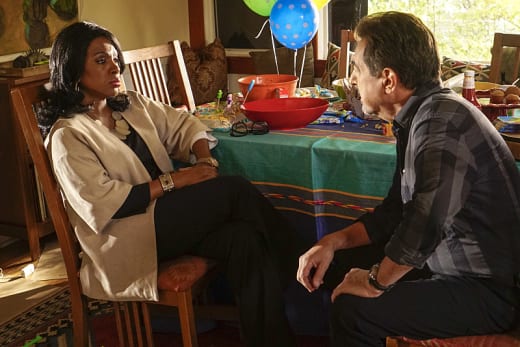 Criminal Minds Season 11 Episode 20 gave us the story of a grieving Unsub who, after discovering the suicide death of his girlfriend Sarah, decided he needed a relationship do-over, so that he could try again without making the same mistakes.
Only Sarah was dead, so he had to perform extensive makeovers on substitute women and re-create them into images of Sarah. He did this by butchering their faces, with the intent of re-creating Sarah's deformed face.
When the women didn't live up to his fantasy, he killed them in a way that mimicked Sarah's drowning.
The show certainly lived up to its reputation for eerie unpleasantness when it showed Danielle's ordeal in painful detail. You could feel her pain as he slowly unwrapped the bandages from her mangled face.
As cases go, it wasn't all that intriguing: it was essentially a hunt for an Unsub who was abused as a child. A guy who developed some mental issues that resulted in him being triggered into delusional psychopathy.
The fact that JJ could suddenly cut through his fog of dementia and help him realize he wasn't truly with Sarah just didn't seem all that real.
The more compelling side of the episode was Rossi's reunion with ex-wife number two: Hayden Montgomery.
After twenty-nine years, he finally got to find out why Hayden hid Joy from him for so long. She says it was because nothing would come between him and his job.
I say that's a very poor excuse. It is self-pitying pap, for which she ought to be ashamed.
Regular people face issues like this all the time. Is she saying he would have messed up his kid that badly?  Would that have been worse than Joy not having a dad at all?
Still, after all those years, finding blame wouldn't have made any difference, so it's great that they made up.
The other aspect of Rossi's story is the brightness of his friendship with JJ:
JJ: You told me what you were like, back then. Nothing came between you and the job.
Rossi: Yeah, but I might have put it on hold, if it meant I got the chance to raise a daughter like Joy.
JJ: Well, yeah, it's easy to say that now, because you know who Joy turned out to be. But thirty years ago....would you have really put your career on hold for diapers, and teething and all night crying fits? Look, Hayden had to make a call, and maybe it was the wrong call, but...don't pretend like you don't understand why she made it. You know I say this out of love, right?
Rossi: Yeah, I do. Thanks.
Only a real friend will tell it like it is, and hold your feet to the fire like she did. There was no malice in her words, just straight talk. I think I liked that scene the most.
Final thoughts:
You couldn't help but love every scene with Rossi and his grandchild. That little guy was perfect, and the genuine love between grandson and grandfather was very evident.
I wanted to see Danielle post-op, after the surgeons performed their magic on her. Her ordeal was so painful to watch, right up until we saw her bandaged up and in the hospital.
There is still a Derek-sized hole in that cast. The man really left his mark on the series before he left. Garcia isn't 100% Garcia without him.
Be sure to read our review next week of Criminal Minds Season 11 Episode 20, entitled "Devil's Backbone."
You can always catch up on missed episodes when you watch Criminal Minds online.
Now it's over to you. What are your thoughts on the case of the week? What did you think of Rossi's awkward reunion with Hayden? Will they stir up their old flame? HIt us up in the comments!
Douglas Wolfe was a staff writer for TV Fanatic. He retired in 2016. Follow him on Twitter
.