Rosewood Season 1 Episode 18 Review: Thorax, Thrombosis & Threesomes

Rachel Miller at .
Can Rosie handle the heat of another successful pathologist invading his space? 
It was an epic battle of the pathologists on Rosewood Season 1 Episode 18. The mysterious death of two men led the Miami P.D. to bring in some new blood to help solve the crime. This, of course, created trouble for the self-proclaimed Beethoven of pathology.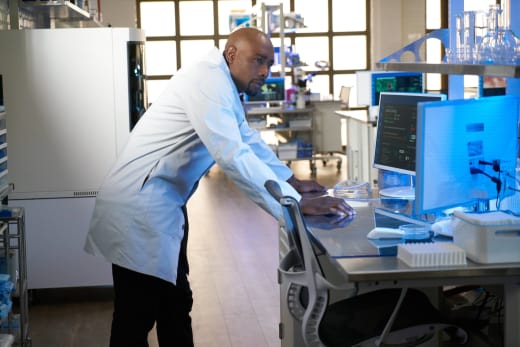 Looks like the fishes had a snack.

Mitchie
We were introduced to a new pathologist by the name of Mitchell 'Mitchie' Mendelson. Due to recent budget cuts, Miami P.D. thought it'd be resourceful to hire Mitchie as their new pathologist. Miami P.D. claimed that Rosewood's services were too pricey for them to be able to hire Rosie.
But we all know sometimes going the cheaper route isn't the best option.
Upon first impressions, Mitchie definitely seemed like the perfect competition for our beloved Rosie. Mitchie's quick to think on his feet, and like Rosie, is able to look at a body and immediately surmise what went wrong. 
Rosie and I have a thing. Not that kind of thing, but a thing.

Villa
Rosie, being the territorial man we know, didn't like having to share his beloved Villa with Mitchie. In fact, Villa was a bit skeptical of working with the enthusiastic Mitchie herself. 
Mitchie and Rosie were competing to see who could solve the murders of the two men first and correctly. Rosie doesn't like to be challenged, especially by another pathologist, so it wasn't a surprise that Rosie didn't take the competition with Mitchie lightly.
While Mitchie was great at his job, I was hoping he'd lose to Rosie. If Mitchie was successful at solving the crime, chances were Miami P.D. would try to permanently replace Rosie with him. This meant the partnership Rosie and Villa worked so hard to establish would go to waste.
Rosewood: Capt., is this some kind of joke?
Hornstock: No, it's nothing personal between us. Mitchie is on top of it.
Let's face it, none of us want to see Villa solving crimes without Miami's best pathologist, Rosewood. These feelings were obviously mutual between Rosie and Villa.
Villa and Hornstock had to continuously remind Rosie that they had no parts in hiring Mitchie; they were just following orders from their bosses.
Death has its own language Rosie, and I want to be able to speak it.

Mitchie
Much like Rosewood, a personal experience led Mitchie on the road to a career in pathology. In reality, Mitchie never wanted to compete with Rosewood. He just wanted a chance to prove to himself that he was capable of being good at his job.
What better way to say you're great at pathology than to go up against one of Miami's best?
While Mitchie didn't solve the crime correctly like Rosie, he still showed he has potential. The guy just needed a little more guidance. Rosie obviously saw something in Mitchie and decided to give him a job at his Magic City Lab. I sense a future mentorship happening between Rosie and Mitchie.
Rosewood: Why do I feel like this hangover isn't the only thing that gave you a headache.
TMI: Cassie and I have nothing in common.
There was another battle going on, this one was between Cassie and TMI. Due to Cassie and Pippy's history, TMI felt out of place while hanging with the two and rightfully so. Cassie basically helped Pippy out during a traumatic time in her life.
If it weren't for Cassie, Pippy might not be the lovable woman she is today. Part of TMI feels empty when she's around Pippy and Cassie because she can't relate to things they've endured together.
The feelings I had for you never went away. The truth is, I was trying to win you back.

Cassie
Thanks to a brief talk with Rosie, TMI gained the confidence to approach Cassie to tell her how she felt. Unbeknownst to many of us, this talk also gave Cassie the courage to tell Pippy how she truly felt. 
All this time, I was thinking Cassie was trying to reunite with her old best friend. Instead she was trying to rekindle the love they used to have. Like a true friend, Pippy rest assured she'll always have love for Cassie, but her heart belongs to TMI. It was a bittersweet moment that needed to happen to give Cassie and Pippy closure on any lingering feelings.
If Villa finds out about us, I'm a dead man.

Hornstock
Another bombshell moment was discovering Daisey's mystery man is none other than Hornstock. Villa will lose her mind once she realizes her mom and Capt. Hornstock are now a thing. Villa will most likely feel betrayed by both Hornstock and Daisey when she discovers their love affair.
Your mom and your boss hooking up is the perfect recipe for drama!
Were you surprised that Rosie invited Mitchie to join the team? How do you think Villa will react when she finds out about her mom and Hornstock? 
Don't forget you can watch Rosewood online right here at TV Fanatic!