The Good Wife Season 7 Episode 19 Review: Landing

Christine Orlando at . Updated at .
Things came full circle on The Good Wife Season 7 Episode 19 as Alicia stood by Peter's side as he faced a possible prison term.
It was ironic that after asking Peter for a divorce, Alicia slipped right back into the role of the good wife as she scrambled to find him a tie and covered his handcuffs with a jacket as he did his perp walk.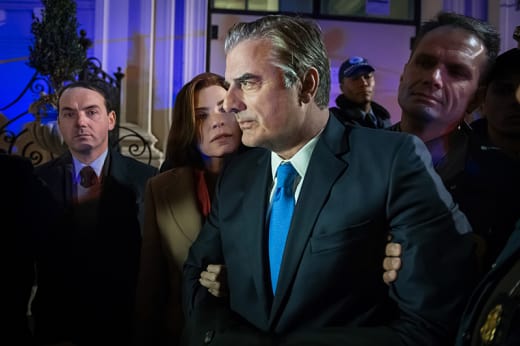 In some ways, I understand it. Alicia may not want to be married to Peter any longer, but she doesn't hate him. They've been partners, of a sort, for over two decades and been to hell and back together. That kind of bond doesn't disappear. 
It also helped that immediately before he was arrested, Peter made the decision not to put their kids in the spotlight. As a father, he chose to protect them as much as he could, and I think Alicia respected him for that. 
But watching Alicia play her role by Peter's side had to be confusing for Jason. One moment she says she's ending their marriage, but the next she's on TV looking very much like the spouse who has his back. 
Jason becoming the investigator on Peter's case was an entertaining twist, and his interactions with Tascioni, like with this The Good Wife quote, actually made me laugh out loud…
Michael: What's the difference between inept and incompetent?
Jason: About six letters
I did have one question. When Jason was talking to Cary about the Locke case, Cary said that jeopardy applied to the case even though the judge called a mistrial. I thought that a mistrial meant that the case could be refiled and that jeopardy only applied if a verdict was rendered.
Perhaps a reader with more law expertise can help clear that up for me. 
Alicia and Lucca's case in Toronto revealed that Alicia's phone was being used as a hot mic. I wonder how she'll handle that moving forward. Are their sound proof cases that you can keep your cell phone in so that the NSA can't listen in on your random conversations?
The best part of the hearing quickly turned into the worst as the "that's not how we do things in Canada" slant was overplayed. The joke was worth a chuckle in the beginning, but by the end, it had me rolling my eyes so much that I almost hurt myself. 
And I enjoyed that they showed that other countries have their versions of the NSA as well, even if they aren't advertising that fact. 
Lucca's point that Dillinger was actually guilty of espionage was valid, but as his attorneys I'm not sure that it mattered. They were hired to defend him to the best of their abilities. That's the job. 
Elsewhere, It was great to see Kurt and Diane back together. We haven't seen nearly enough of Kurt in The Good Wife Season 7. 
I loved their initial scene where she's basically trying to seduce him and he said they need to talk. The panic in Diane's expression was priceless as she tried to figure out what was so wrong that her husband was turning down sex. 
Diane's reaction to Kurt selling his business to Holly was completely unfair yet not at all surprising. 
As a vocal feminist, it was a bit unexpected to see Diane judging Holly because she was a young and beautiful woman; however, as a human being, her jealousy was understandable.
I was proudest of Diane when she admitted to Kurt that she was wrong and that he had the right to sell his business to whomever he chose. I love that these two are such a smart and loving couple, even in their unflattering moments. 
So will Peter take the plea deal or take his chances at trial? Does Cary know more of the truth than he's saying? And with three episodes left, will Alicia still be the good wife when it's all over?
Check back later this week to see what our The Good Wife round table team has to say, and if you can't wait for more, you can watch The Good Wife online at TV Fanatic. 
C. Orlando is a TV Fanatic Staff Writer. Follow her on Twitter.