It's entirely possible we're on the tail end of the whole Passkey fiasco!
Hallelujah!
The fallout from said fiasco will likely continue on down the road, though. How much to do you want to bet Summer won't be brought up on perjury charges even though she perjured herself just like everyone else who took the oath and gave a deposition?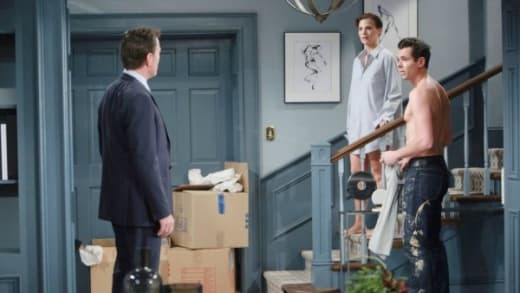 Because I sure don't think there won't be consequences to Summer telling Aunt Vicki she lied, and everyone else did, too. Do you? 
Victoria and Jack are now using their businesses, which are, from everything we know, massive world-wide corporations, to fix their love lives. The Newmans should have had second thoughts about letting Victoria run Newman Enterprises, and the same goes for Jack and Jabot.
Cutting Billy out of Jabot to try to teach him a lesson, a lesson that will somehow send him back into the arms of Victoria? In what world does she see that happening?
And how does Jack see it working out for him and Phyllis? Phyllis did everything in her power to get back the Passkey deal for Billy after he lost it. She will not stand for Jack and Vic conspiring against Billy or her so that he's out again.
It's hard to imagine how that's all going to play out, but the compromising position Jack found Phyllis and Billy in will probably get the ball rolling!
The little demon seed was in rare form this week, too. He went from turning his new pal into an ally by pulling the fire alarm to wanting to throw Abby a Baby Bath. But the look on his face as he eyed the staircase means he aims to throw her down them.
We still have to wonder: why did wonder Doctor Stitch never take the kid to counseling? That was a really bad call. 
On the other hand, Sharon still has a bad feeling about her dreams, and she's not letting them go lightly. She's going to wind up being Sage's hero in the long run, but might just be her own worst enemy.
Now that Ashley has her life back, she's told some of the family about her condition. She got her office back and her position on the foundation.
But Ashley also made light of the flowers Simon sent to her. She appears to be doing it out of fear Simon is swept up in the situation and might not really feel for her what he's saying he feels. 
We see Simon in the hallway feeling the complete opposite, and it makes me wonder if Simon might get spooked away from the lab for a while putting their project at risk. That might prompt Ashley to be a bit more open with Simon.
It was also Victor and Nikki's anniversary (one of them) and they did some flashbacks. Victor felt put out because his family turned on him. He forgot, yet again, that he committed actual crimes to get into prison. Thusly, he refused to see Nikki when she went to visit him.
For that, Nikki got drunk and stumbled all over town for ages. She has to be the only alcoholic who didn't learn the rule that when you're feeling like taking a drink you're supposed to call your sponsor or go to a meeting. 
Honestly, Nikki's falling off the wagon is getting old. There has to be a better story for her than alcoholism and being an accessory for Victor.
Everyone feeling sad about Victor being in prison without recalling they didn't actually put him in there is nuts. It's not like Victor is in an asylum. He's being punished for crimes. Nobody did it to him, he did things to other people.
Actions have consequences, and the people in Genoa City are all suffering from that this week!
Carissa Pavlica is the managing editor and a staff writer for TV Fanatic. She's a member of the Broadcast Television Journalists Association (BTJA), enjoys mentoring writers, wine, and passionately discussing the nuances of television. Follow her on Twitter and email her here at TV Fanatic.