Chicago Fire Season 4 Episode 21 Review: Kind of a Crazy Idea

Stacy Glanzman at . Updated at .
My goodness, Chicago Fire is killing us with cute little kids lately, aren't they?
Louie was absolutely adorable, and it's hard to blame Dawson for wanting to take him home on Chicago Fire Season 4 Episode 21.
But, kids are not puppies, and the long process for fostering a child means Dawson and Louie are not meant to be.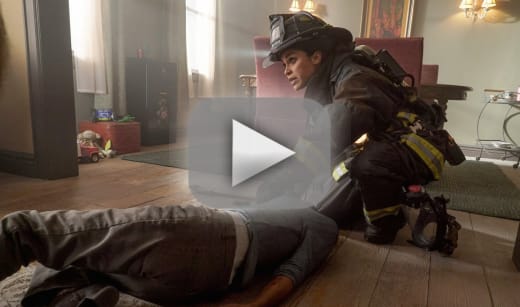 The whole situation really solidified just how much Casey cares for Dawson. He calmly listened to her with understanding when she asked him to be Louie's foster parents. His reasoning for not wanting to do it made total sense. As he said, just weeks ago she wasn't ready to get married. This is a huge step.
And then when she told him that she planned to foster Louie by herself, Casey didn't try to argue or talk her out of it. He immediately tried to figure out how he could make the time to help her. He had his doubts, but for her, he would do just about anything. 
That's true love right there. 
I hope this whole thing makes them realize that they are ready for marriage and a family. There's never a right time for these things. People's lives are always busy, and there are always reasons not to, but if it is what they both want, they should just go for it. 
Speaking of "going for it," I forgot to keep track of the pool for how many episodes it would take Kidd and Severide to hook up. Let's just say we're all winners, because we knew it was definitely going to happen before the Chicago Fire Season 4 finale. 
I think we all knew it was going to happen tonight as soon as he walked into that locker room wearing nothing but a towel. She gawked just a little too long for it to not be completely obvious. 
Not that I blame her. He looks good in a towel.
The ice machine was a total disaster. No surprise there, but I think the best thing that came out of it was Herrmann being put in his place by Cindy, and we didn't even see it!
Just watching him repeat everything she said on the phone was hilarious enough. Herrmann's got to admit she put everything in perspective. 
Brett: If he said the bruises went away...
Cruz: I don't buy it. Otis gets a hang nail, he doesn't shut up about it for a week. This he says is nothing?
Cruz brought out the big guns to finally get Otis back to Chicago Med and Dr. Halstead. 
I'm glad it wasn't cancer, but I'm also kind of glad it was something. I think most of us were expecting an anti-climatic resolution to this where he would turn out to be just fine. 
I'm sure he will be fine, but watching him go through treatment with the house supporting him will be interesting, especially since he can't return to work until he's better. 
At least he still has Molly's to focus his attention, and once repairs are done,  they can re-open. Where are all the cops and doctors supposed to drink in the meantime?
It was kind of a cheesy coincidence that Brett and Jimmy's patient related to Otis' situation, but I liked it anyway. Sue me. 
Casey seems to be getting better and better at this alderman gig, and now the house has fancy new masks. The political consultant was nowhere to be found, but I assume she will be back. 
Your turn, what did you guys think? Are you hoping Dawson gets to foster Louie just so we can see more of that cutie? 
If you need to catch up, you watch Chicago Fire online any time!
Stacy Glanzman was a staff writer for TV Fanatic. She retired in March, 2019.