Jon Snow is back, but did anyone think he was really gone?
On Game of Thrones Season 6 Episode 2, Melisandre decided to put her powers to good use, and brought the lord commander back to life. 
After all the reports saying Jon Snow is dead, he seems to be very much alive. 
Well, his corpse is. 
We're privy to the nuts and bolts of what's going on for Kit Harington's character. For all we know, he could be playing someone completely different. 
Might the Lady Stoneheart plot actually be given to Jon Snow? That would be an interesting twist!
There were some good moments on this hour, but there were some pretty dull ones, too. 
Most of the good stuff took place Castle Black. I almost thought we were in for a big battle episode when the wildlings showed up to stand by Jon. 
Alliser seemed to think he'd just fall into power after his big betrayal, so it was fantastic to see him get some sort of comeuppance. 
Also, the reaction on his face that the person he got murdered has returned should be priceless. Let's face it, Alliser won't be making it out of the next few episodes alive. 
What does death mean on a show that just brought someone back? Not very much. 
Is it just me who thinks Theon made a miraculous recovery after Game of Thrones Season 6 Episode 1? Obviously not much time had passed between the two installments, but he seemed so much like the original Theon we met way back on Game of Thrones Season 1.
It all felt a little off. There didn't appear to be a natural progression for him. It was more of a "We need to get this plot moving" kind of thing.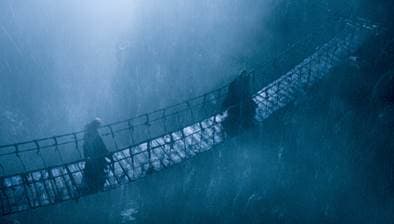 Either way, I am glad that he's returning home. He has a lot of explaining to do to his sister. Remember that time she nearly died trying to save his life and he chose Ramsey instead?
She won't be taking Theon back in anytime soon. 
The fact that their father was just murdered won't help things either. You can thank Euron for that. 
I've come to the realization while watching this show that if a new character appears in the dead of night, someone is probably about to get the pink slip. 
The scene with Euron's entrance was great. He seems like a great addition to the characters, but I struggled to get on board with Yara and Balon because we haven't seen them in so long. 
You can't really sideline characters and then expect us to be invested in them. 
Unless, of course, they're Bran Stark. Bran's storyline really has the most potential on the show right now.
There are a lot of different directions in which it can go, but that nod to the past was very intriguing. Bran wanted to spend more time there, but the Raven was right to take him away when he did. 
There is such a thing as getting too caught up in the past, and that's probably what would have happened to the not-so-young-anymore Stark child. 
Some of the more cumbersome scenes of the night came from present day Winterfell. I can't say I'm surprised at Ramsey killing Roose. 
It was always a matter of when. Ramsey is as power hungry as Cersei. 
The main thing that shocked me about all of this was that he actually pushed forward and set the hounds on Walda and his brother. 
It just goes to show that in these times, family means nothing. It's all about the power. Ramsey will get his comeuppance eventually, and it won't be a moment too soon. 
He really needs to go. The character has pretty much become a laughing stock. His actions are for the most part predictable, and his scenes on the show are a chore to watch. 
Speaking of Cersei, she found herself in quite the pickle when she was uninvited from her own daughter's funeral. 
That had to sting at least a little. 
Tommen's decision was very understandable, but you'd think he would have sought revenge for what happened to his mother. 
Tomman: Mother?
Cersei: Did they put her in the red gown, or gold?
Tomman: Gold.
Cersei: Good, that was always her color.
Maybe he's rethinking letting his mother talk him into voting the high sparrow back into power. 
Anyway you look at it, Tommen is not fit to be King. He needs to grow a backbone before he winds up dead. 
He needs to make decisions of a King, not of a boy. 
That said, he genuinely seems to be missing Margaery. Viewers probably are, too. She's one of the brighter characters on the show. 
There was a complete lack of Daenerys, but that doesn't mean her dragons weren't around. 
Yes, Tyrion (who was as hilarious as ever!) managed to set the two chained up dragons free. I'm surprised they trusted him without putting up too much of a fight. 
Next time I have an idea like that, punch me in the face.

Tyrion
It remains to be seen where they will go. Could they be heading off to help Daenerys flee from the Dothrakis?
Hopefully!
"Home" wasn't the greatest episode. There are a lot plots this season that are just plain boring and shouldn't be given the time of day, but the good ones are well worth watching. 
Other tidbits from the episode:
Arya has been woefully underused thus far. Hopefully she's much more prominent next week. 
Have Cersei and Tommen got the same haircut? It sure looks that way. 
Melisandre was hilarious when Davos asked her for help. She's had many years to perfect her wit. 
The dude boasting about flashing to Cersei was just horrid. 
Did anyone think Jaime was going to swing his sword at the high sparrow? That would have made the episode. 
What did you think of the episode? How do you think the next few weeks are going to play out? Hit the comments!
Here's your first look at the next episode:
Paul Dailly is a staff writer for TV Fanatic. Follow him on Twitter.