Game of Thrones Season 6 Episode 6 Review: Blood of My Blood
Paul Dailly at . Updated at . Comments
Welcome back, Drogon!
On Game of Thrones Season 6 Episode 6 Drogon finally returned, and it sent things in an interesting direction for Daenerys. 
Daenerys wasn't in much of the hour, but the most exciting stuff seems to happen with her. In this case, it was her appearing on the dragon and then giving the same speech Khal Drogo gave.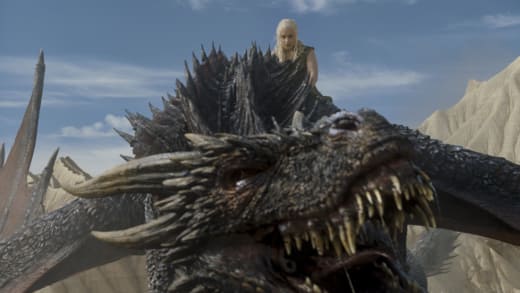 It was an immensely powerful speech, so why wouldn't she use it again? It was a promise that was made before, so it would make sense she would use in this instance to ensure that her men knew she meant business.
She officially has the Dothrakis under her thumb and knows she has a huge army that will help her out with all of her enemies. But how long will it take her to get to Westeros? She may have a dragon that can fly her around the place, but that won't help her army. 
Meanwhile in King's Landing, Margaery and Tommen found a way to prevent Margaery's atonement. I can't deny that it was shocking and all, but it was a bit of a let down. 
Maybe it's just because I was expecting a huge fight in King's Landing, but I feel like this High Sparrow storyline should be over by now. 
He has way too much power, and it's just going to get worse now that he's in Tommen's ear. Tommen hasn't been the best king to date, and as much as I respect him for finally making a big move, this was a terrible one and made the character even more annoying. 
Tommen: Is there no other way?
Sparrow: You're afraid for her?
Tommen: Of course I'm afraid for her.

Olenna was absolutely furious when she witnessed it all playing out before her. I don't doubt for one minute that her reaction to it all was similar to that of most of the fanbase. Like I said, it's time to move on from this storyline. 
The drama with Arya finally kicked up a few gears. I was genuinely shocked when she decided to spare Lady Crane and got ready for a fight. 
She seemed way too committed to the House of Black and White, so this new direction for her is pretty darn intriguing. I don't think I'm the only one that's worried about her safety now. There's no way she's escaping Bravos without a fight, but will anyone pop up to save her?
She's known for being a resourceful young woman, so it would be great if she found a way to make it back to her family.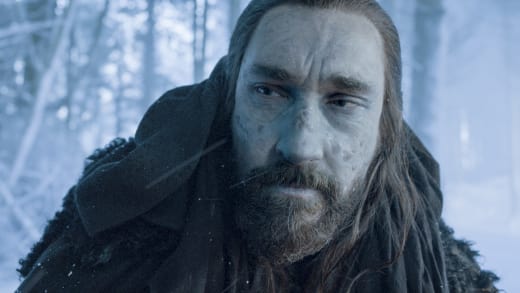 There was also a huge reveal about the White Walkers. This was all thanks to Benjen Stark, who returned and totally saved Bran and Meera. It all came out of nowhere, but he revealed that a shard of dragon glass to the heart saved his life after being attacked by a White Walker. 
He did look a ill, but it's obviously down to the fact he was turning into one of those dreaded creatures and was stopped right in the nick of time. It should be interesting to see where all of the stuff with Bran and Benjen goes. Bran's visions are getting more crazy by the episode. 
We got a glimpse of the mad King, and I hope that we get to see more of these different time periods. It's doing wonders for bringing everything we've heard about these characters to life. 
Did anyone else feel horrible for Samwell and Gilly? They traveled for so long and the welcome they got from his father was outrageous. It was clear Samwell knew what to expect and that's why he had Gilly promise to lie for him, but It was great when he returned to tell Gilly they were running. 
That also meant he was stealing the sword. How will all of this play out for them? Could they really escape without becoming another casualty?
"Blood of my Blood" was another first class episode of this addictive HBO series. Everything is falling into place for what is sure to be a thrilling conclusion to Game of Thrones Season 6.
Other tidbits from the episode:
Gilly in the dress was hilarious. She was so uncomfortable because it isn't her usual attire. 
How will Cersei and Jaime cope with being apart from one another? That should make for some interesting TV!
I was so sure we would lose another big character in King's Landing. All of the scenes there were anti-climactic. 
What will become of Lady Crane? Might she aid Arya in her quest?
What did you think of the episode? How will things play out as the season winds down? Hit the comments below!
Get your first look at Game of Thrones Season 6 Episode 7, "The Broken Man," with the video below!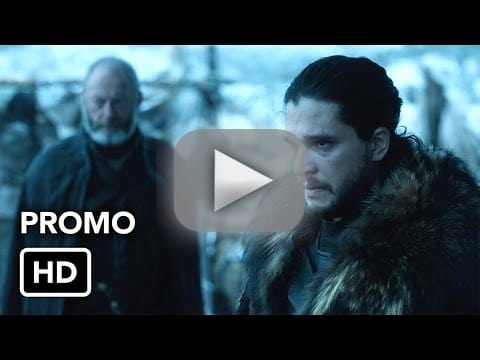 Paul Dailly is the Associate Editor for TV Fanatic. Follow him on Twitter.