Ramse can be irritating, sure, but at least this mission turned out to be worthwhile.
I am sure I'm not the only Monkeys' fan waiting patiently to learn Olivia's origin story. Man, did 12 Monkeys Season 2 Episode 10 deliver a fascinating timey-wimey tale for the Tall Man's little sister. It was simultaneously heartbreaking and unpredictable. 
With the coordinates to Titan ripped from the map, will Ramse go after the Witness alone? He better not kill anyone breaking out of the facility.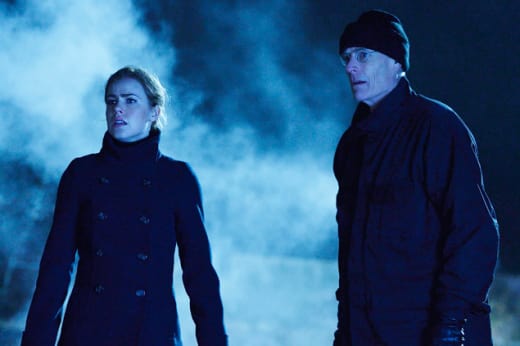 It was clear this was going to be another fast-paced installment. We learned on 12 Monkeys Season 2 Episode 9 that a German doctor "supposedly" knew the whereabouts of the Witness.
Well, this episode hit the ground running in Berlin 2016. That said, in true Monkeys fashion, Olivia was the last person I expected to see there. What was her connection to the mysterious doctor and that lab? We got the Tall Man's story, so I was excited to learn more about his sister.
Back in 2044, Jones warned Cole that the red storms would consume the facility in just five days. Naturally, preventing the final Primary paradox in '57 was the way to go, but where's the fun in that? The adventure would be over in 10 minutes.
Instead, Ramse and Cassie (with Adler's help) went rogue, drugging Cole in 1961 to locate the German doctor. That was a low blow, especially after Cole's kind words. Damn, that Ramse is a pain in the ass, isn't he?
Anyone else a bit disappointed that Cassie turned on Cole like that?
Report mentions a place called Titan and a man called the Witness. This is it.

Cassie
I did love that Dr. Adler put Ramse in his place bringing up the plague and the guy's place in all of that.
Still, it was surprising that he punched in the coordinates for 1961 instead of 1957. Very sneaky on Ramse and Cassie's part. If I were Cole, I'd have a really hard time dealing with that betrayal moving forward. How about you?
Wasn't it great that 1961 gave us a chance to check in with an older Agent Gale? Honestly, I never imagined back on 12 Monkeys Season 2 Episode 3 that the character would play an important role later.
I remember wondering how the knowledge of time travel would affect him, so it was great he mentioned life took a "gloomy" turn. Knowing the world was going to end would be enough to make anyone go all Jennifer Goines. Good thing Gale hung on for one last hurrah.
Matt Frewer's got the mad scientist thing down, and he fit perfectly here as Kirshner. Ramse and Cassie had no trouble locating the doctor, but another Orphan Black alumn (Daniel Kash) showed up to crash the party. Naturally, Cole would pop in soon enough to save the day. He should have left Ramse behind for being an a-hole.
Speaking of which, boy, was Jones pissed at Adler. Can you blame her?
Jones: 1961? What have you done?
Adler: I've encrypted their return sequence. They'll be back in 4 days.
Jones: Then we're out of time.
Adler: Our best option is to find and kill the Witness. So, you'll just have to wait.
Clever of Adler to prevent Jones from bringing the gang back too early. That gave Cole plenty of time to locate his "friends."
I thought it was great that the only reason the redacted report mentioned TITAN was because Ramse and Cassie had mentioned it. Time travelers are always screwing things up, aren't they?
Cole was fairly sympathetic towards Cassie, considering her betrayal. Still, I kept wondering about the connection between Kirshner and Olivia. He had to know something, right?
Luckily, Dr. Kirshner did indeed have ties to the Witness. Otherwise, can you imagine what a total waste of time this trip would have been?
Then the old man shared his story, and we learned he was responsible for creating the Messengers. What?!? Just when you think the answer to stopping the Witness is Titan, another path reveals itself. Kill Kirshner, save the world. No Messengers, no paradoxes.
Ramse's usually so hot headed, I'm surprised he didn't just shoot Kirshner and ask questions later. I guess there's always the chance the doctor's work would live on, so opting to destroy that was a smart choice.
Sadly, the gang's big escape cost Agent Gale his life. That dumbass doctor just had to trip, didn't he?
Gale definitely died a hero's death, but his words about his granddaughter were haunting, "Her world dies, and there's not a goddamn thing I can do about it. But you can, Cole."
My research was just a theory. Then the Witness sent me a woman. She was different. Perfect. I used her eggs as research.

Kirshner
Holy crap, Olivia! And the Word of the Witness map? Don't you just love how ingeniously the puzzle pieces come together on this show?
It's safe to say this little trip to 1961 was no waste of time. Then, of course, Vivian appeared with her goons and Kirshner was killed just as our heroes splintered off.
So, it was Ramse who ripped off the location of Titan on the map. Okay, so we can't hate on him too much after that move. Nice work dude!
You know, I feel sorry for sci-fans who discover this show once it's too late. There are only three episodes to go and we have zero renewal news. I know I say this all the time, but the writing on this series blows my mind. We need more 12 Monkeys, Syfy.
We knew Olivia was special, but now we know her story. What role will she play in the downfall of the Witness? Any theories, guys?
I'm glad Cole had Ramse and Cassie locked up. He can't afford them screwing up the final mission, time's run out. Nineteen Fifty-Seven here we come! Who is the last Primary anyway? Wouldn't it have been fun to go even further back than '57?
What did you think of "Fatherland"? Was Kirshner's story captivating? Is Olivia a good guy now? How pissed were you at Ramse and Cassie? Did they deserve to be locked up? Your turn! Hit the comments below and share your thoughts on the episode.
As always you can watch 12 Monkeys online via TV Fanatic if you need to catch up.
NOTE: 12 Monkeys Season 2 Episode 11 is titled "Resurrection" and airs on June 27.