American Gothic: Creator and Star Preview Summer's Newest Mystery

Carissa Pavlica at .
American Gothic kicks off tonight.
And we were in New York for their summer press tour to speak with series creator Corinne Brinkerhoff (Jane the Virgin, The Good Wife) along with one of its stars, Juliet Rylance (The Knick) who plays the eldest daughter, Alison.
The series focuses on a prominent Boston family and the consequences of learning someone in their midst is in some way connected to a string of infamous murders in the area.
Find out a little bit below extra about the show below, and tune in tonight at 10/9c on CBS to fall into the summer's newest mystery!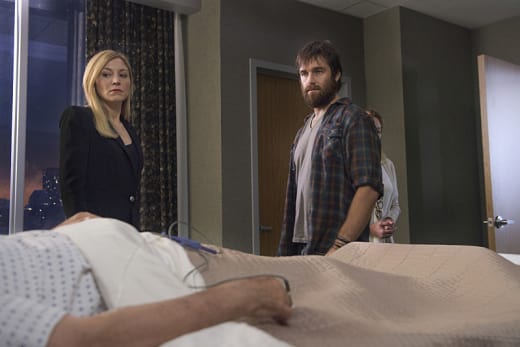 At first glance, the American Gothic family seems idealistic, but the details start to unfold slowly that all is not what it seems. Rylance explained, "The setup is really clever. It's a family that have come up from not having much money to extreme wealth."
"The patriarch has made his money from the big dig in Boston, you know, this concrete empire, and so you have this situation where the eldest children, Garrett (Antony Starr) and myself remembered being poor and the two youngest children have never experienced being poor."
Rylance's character is also running for mayor, and all told, it seems they're quite perfect. She continued, "Like with any family, the more you delve in, the more you discover the flip side to every character, and I think that's what Corinne does really well with the show. You get to see everybody fully drawn."
Because none of the actors know the outcome of the story, they've all taken the stance of "it could be me," and decided to play the complexities of that.
As an actress, Rylance finds that compelling because she usually has some idea of who her character is and can pull from her toolbox in any given moment for a scene, but on American Gothic, they're asked to flip their performances and pull from someplace else, so the character remains a mystery.
You can expect from Rylance's character, Alison, an a "ruthlessness that goes hand in hand with ambition and drive that you see often in political figures. They're doing something brilliant with one hand and then with the other hand, you're thinking, 'well, how could they have done that?' So, I find that a really interesting part of my character. So, yes, her moral conduct is questionable."
The element of nature versus nurture will be prevalent throughout this story, not just with the adults, but at a younger level with the character of Jack (Gabriel Bateman). "Do I have the right to have children if I know my father had this tendency or not." Rylance said to pay particular attention to Episode 9 and believes Gabe will, ultimately, steal the show.
Unlike the star of her show, Brinkerhoff does indeed know the full arc of the season. "How I always pictured it and what I pitched it as, is an anthology where every season is its own story, like True Detective or American Horror Story, with the same cast. I love that idea, with sort of a reparatory theater aspect." Six seasons, all dealing with family and some sort of drastic twist in the middle.
Since Rylance mentioned filming the same scenes different ways, Binkerhoff explained a bit more about that. "One of the things we're playing with on the show is memories, and the idea that after so many years as a totally functional family these benign memories are put through this haunting new filter as this suspicion emerges among these family members."
"We're talking about an episode where one of the family members is having these vivid hallucinations and/or memories and/or maybe not. We can't tell if what they're seeing is real or not." It brings to light the complexities of trying to remember exactly what you see in you memories and whether or not you're replacing the original images with new ones years later.
It's incredibly important to Binkerhoff to see women in power both on and off screen, and although the show has a patriarch, the family is run by dominant women. "It's really interesting to me, and I think we're in a really exciting time for the emergence of women, particularly in this business, and I'm thrilled about it. It's been very important for me to have women well represented in terms of writers and directors."
While it may not be prevalent on the pilot episode, Binkerhoff notes there is a nice dose of dark comedy that creeps into the script beginning with American Gothic Season 1 Episode 2, and the cast she has on hand is so incredible that they're able to weave a tapestry with their scripts based not only with words on the page, but through their incredible talents with simply a look.
Binkerhoff jumped on board the Gabriel Bateman bandwagon when she said not only is he a seriously a genius, but he can finish a Rubik's cube in about 29 seconds and remember the lines of other cast members when they forget them.
"Every episode is titled after a great American work of art and somewhere there is a thematic resonance in the episode. There's also somewhere in the episode where we'll have an homage to the painting we're referencing in the title," Binkerhoff said.
"Gabe, being the little genius that he is, after shooting the pilot said, 'you know what else you could do, another sort of literal interpretation of this is an actual floral arrangement in grey and black flowers,' and so he made that for me and the director, which was so clever and charming and cute, and we ended up doing the same thing on a larger scale and incorporating it on the set deck for the pilot." She hopes that gives us a better understanding of the type of talent they have in Gabe.
Part of the fun of the show for Binkerhoff? "Every time you think you've got [the mystery] figured out, you're wrong. That has to continue the whole season. That's the fun and the challenge of it all. To seed in those things that feel curious, but not definitive and then twist it again right when you think you've got it all figured out. It's been a challenge, but an incredibly enjoyable one."
American Gothic Season 1 Episode 1 airs on CBS tonight at 10/9c. 
Carissa Pavlica is the managing editor and a staff writer and critic for TV Fanatic. She's a member of the Critic's Choice Association, enjoys mentoring writers, conversing with cats, and passionately discussing the nuances of television and film with anyone who will listen. Follow her on Twitter and email her here at TV Fanatic.