Devious Maids Season 4 Episode 3 Review: War and Grease

Yana Grebenyuk at . Updated at .
Devious Maids introduced some new characters, and it's already starting to shake things up.
Devious Maids Season 4 Episode 3 brought Peri's sister into the mix and showed us how threatening Ben really can be. He has ears everywhere, and the more Rosie shares her suspicions, the more dangerous it will get.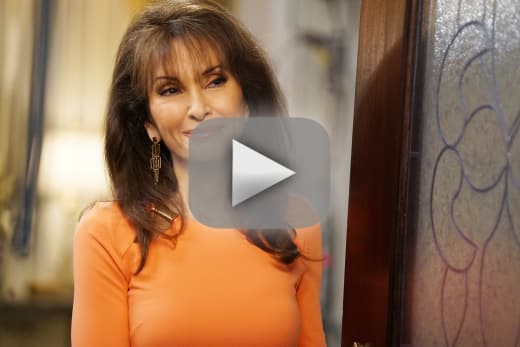 There were  some groundbreaking moments in this episode that finally gave us some answers about Peri's murder.
Perhaps she can have a little doggy bag in the car.

Genevieve
Genevieve blacklisting Marisol was exactly what I hoped to see happen. As much fun as it is to see the women on the show have each others' backs, schemes and secret plots are the real essence of the show. And Genevieve is the perfect person for the role.
Genevieve is a standout character and at her best when she has something up her sleeve. And even though this is about Peter, is it really? We don't know much about him. Are we supposed to care about him staying in Marisol's life?
He has been hot and cold before. I can definitely imagine Peter being the true bad guy in the situation. 
Genevieve cheated and was in the wrong, but that doesn't mean that Peter is Marisol's happily ever after.
And Genevieve admitting that she misses Zoila makes me think they will be brought together sooner rather than later. They mean too much to each other and are both lost now that they aren't in each other's lives. 
And while I get that Marisol is still reeling from her relationship with Jesse, she needs to stop falling for guys so quickly. First Jesse and now Peter? You don't know them well enough to get this attached, Marisol!
Before you say anything, that massage therapist placed my hand there himself.


Evelyn
Seeing how far Adrian would go to keep Evelyn is romantic...in a creepy kind of way.
I get that from a humor point of view Adrian trapping Evelyn in a corner is gold. But from Evelyn's point of view, having a man trying to make sure you don't leave him is just unfair. 
Evelyn is a strong woman, so while, for a second, it looked like she would go back to Adrian, her choice to move on was the best one for her.
Evelyn and Marisol having a temporary sleepover promises to be entertaining. Evelyn needs some girl time away from Adrian and his schemes. 
Plus, maybe Adrian is the one who needs to see what his life without his wife would be like. Evelyn could live without money, but could Adrian live without companionship? 
The black one. The gold one makes you look like a pimp.


Carmen
Rosie is the only one fighting for Spence, and I am tired just from watching her do whatever she can to help him. If Spencer wants to give up just like that, Rosie should probably let him.
The fact that Rosie doesn't even know about Ben means this conspiracy has been happening for a while. How brainwashed is Spence? Or is he just weak?
As for Shannon, she is a breath of not-so-fresh air. Her distaste for children makes sense, especially when the kid yells as loud as Tucker, but wow. 
But if Shannon being on the show means Jesse gets more scenes, I am all for it, because Rosie and Jesse as a team is a nice touch. Rosie will need someone on her side since even Spence doesn't seem to care what happens to him.
Shannon and Ben working together to take down her sister actually adds up. Being greedy for money isn't a new concept on the show, so if Ben staged all of this to get the money Peri left, it adds up.
And I'm guessing Shannon has no soul if she was okay with her sister dying just for the sake of her money.
Number 32 is perfect! Put laxatives in her coffee.

Carmen
Zoila struggling to prove  she is really rich could be both a good and a bad road to take for her this season. 
On the one hand, her mind isn't focused on her pain, but on the other, I don't get how she thinks this will work. This won't play out well, and it might hurt Zoila even more. 
Zoila can't hide behind her new group of friends and new life forever. Her relationship with Carmen should matter more than her fake-rich lifestyle.
If Zoila isn't careful, she will lose everything that is actually real in her life because at some point her boss will come back, and then what?
That's just her natural expression. Evelyn has resting murder face.

Adrian
Carmen and Daniela together are my least favorite this season. Carmen trying to act cool for her daughter would make more sense if Dani was someone we could root for. 
But Daniela is spiraling, and Carmen has to deal with the fall out which isn't fun to watch. Carmen wants Daniela to like her before Carmen tells Daniela that she is her mom, but is it worth it?
Daniela is coming off as a bit bratty, so I don't see her reacting nicely to the news that Carmen is her mother. 
As for Daniela and Jesse? No thanks.
Daniela is bad news and Jesse needs to stay away from that. The only person who could help Daniela figure her life out is Daniela. Or her mother, which Carmen figured out all on her own. Calling Josephina to LA was the best decision Carmen could have made for Daniela, and I am glad to see her go there.
But with Daniela's other mom showing up, how will Carmen react to their relationship?
Where do you think Daniela's story will go now that her mother is coming to town? Do you think Rosie will get to the bottom of this or will Ben come out on top? Whose story are you most interested in so far? Let us know what you think below.
Watch Devious Maids online right now at TV Fanatic if you want to refresh your memory before an all new episode next week! 
Yana Grebenyuk was a staff writer for TV Fanatic. She retired in April 2021.