Supergirl Season 2 Poster: A New Hero Heads To The CW
Paul Dailly at .
Supergirl will be making her way over to The CW this October. 
The CW will no doubt be a better fit for this exciting superhero series. Airing on CBS was a rather bizarre move in the first place, but at least Kara is making her way to her rightful home. 
There's a lot up in the air since production moved from Los Angeles to Vancouver, but we know we'll still be seeing Cat Grant a fair amount of time, so that's great news!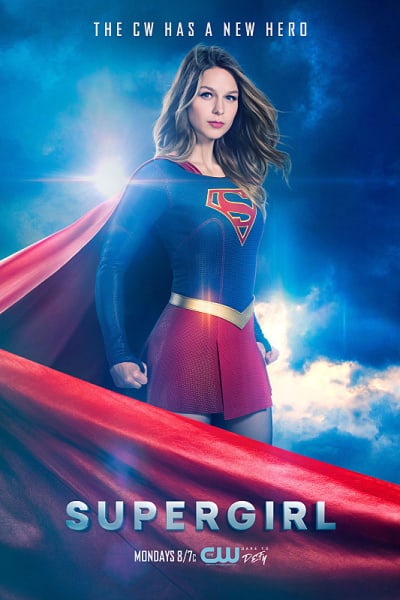 Unfortunately, Calista Flockhart will not be returning as a series regular for Supergirl Season 2. This came as a huge blow to fans of the series. 
But we have a new poster to celebrate all of the good coming our way!
It's pretty basic for a CW series. It's all about Kara. After all, it's her show. Fly, Supergirl, fly!
This time, they want the focus to be taken away from Supergirl. It makes sense.
A lot of the news recently has centered on the addition of Superman. Tyler Hoechlin will be portraying Kara's cousin, Superman for a couple of episodes, beginning with the premiere. 
Hoechlin is no stranger to teen dramas. He appeared as Derek Hale for five seasons on MTV's Teen Wolf. 
Apparently, Kara will turn to Superman as she works to integrate both of her lives together. 
It's not easy being a superhero, and Kara realized that on multiple occasions throughout Supergirl Season 1. 
There's something about the above picture of both of the heroes together that's nostalgic. Thank goodness we're not stuck not saying Superman for another season!
Who would have guessed both Superman and Supergirl would be sharing the TV screen again?
We really hope that after his initial stay, there will be other opportunities for Superman to soar into town on down the line. 
It will be interesting to find out just how he winds up in National City. 
How will the citizens react to both heroes ridding the city of bad guys?
It will be really exciting to find out where this is all heading when the show returns. 
If you recall, Kara and James finally admitted their feelings to one another, followed by a kiss. A kiss!!
Everything seemed wonderful, but as is the norm for a season finale, a new twist reared its ugly head and suddenly it seemed like aliens were heading straight for the city. 
The CW is betting big on Supergirl. It should perform pretty well for them in the ratings. There are already musical episodes in the works with The Flash, and a four way crossover with The Flash, Arrow and DC's Legends of Tomorrow.
Where else should Supergirl call home other than The CW? Mark Pedowitz even revealed he would be happy if the show emerged as one of their top three shows. 
What do you think about the new poster? Hit the comments below!
Remember you can watch Supergirl online to get up to speed with the latest drama. 
Paul Dailly is the Associate Editor for TV Fanatic. Follow him on Twitter.