The "true" villains of American Horror Story Season 6 (and what they are after) remain shrouded in mystery but American Horror Story Season 6 Episode 2 actually gave us two known villains to focus on: ghostly nightmare nurses Bridget and Miranda.
The two women were intent on murdering their elderly patients, after opening up an assisted care facility in what is now Shelby and Matt's North Carolina home. They used the first letters of their victims' first names to spell out their favorite word – "Murder" – but stopped short of the last letter.
The working theory? That they were stopped by someone (or something) far more evil than either of them.
For all of those who have been noting eerie similarities between American Horror Story Season 1 and the current season, there is one distinct difference: the first season took place in a Murder House, while the most recent takes place in a "Murde" House.
In our most recent roundtable discussion, TV Fanatics Amanda, Yana, and Paul break down that gruesome second hour of the season and react to Flora's super creepy disappearance.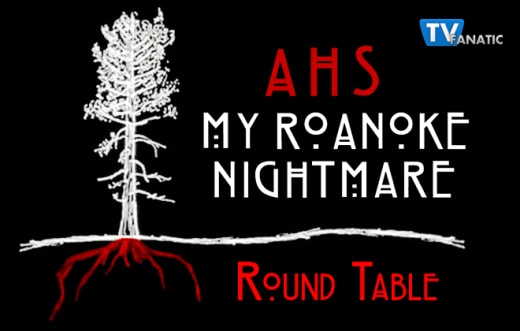 What was the creepiest moment of the episode?
Amanda: I prefer subtlety in horror, so just the distorted image of the woman off in the distance outside the window gave me the chills.
Yana: The beginning, where a man was roasted while wearing a pig mask. Anything related to pigs on this show has me freaking out for a while after.
Paul: The HUGE tree at the end of the episode. What even was that?
What did you think of the sister-nurses and their horrifying murder-y back story?
Amanda: They were super creepy, and I'm curious what got to them before they could finish spelling out "murder." I also found the parallel to Murder House interesting since there was a history in that house of two nurses being killed.
Yana: It gave me such Murder House vibes and I'm glad we are going back to that creepy back story type of show. But I am hoping this doesn't become too much like the first season because the possessed house arc is very similar and it could get boring quickly. I'm hoping that Ryan Murphy wasn't exaggerating when he said there will be more than one story this season, maybe with them officially finding this Lost Colony and becoming trapped there?
Paul: It gave me Murder House vibes, too. They were twisted as heck, but I like that they are fleshing out all the characters.
We got another, longer glimpse at Kathy Bates and Lady Gaga's characters, during the opening sequence when Shelby spotted them in the forest. What do you think of that group and what the heck's up with the ritual?
Amanda: I'm not sold on Kathy Bates' accent right now, but I was loving how unglamorous Lady Gaga looked, considering how her character dressed during American Horror Story Season 5. I have no idea what they are up to, but their rituals seem anything but friendly.
Yana: They might create their own random spin on this event, so I have no idea what to even guess. There is obviously some significance with the pigs but I might need to watch more before I start piecing it all together.
Paul: I seriously have no idea what the heck is going on with them. We need to get some insight into those characters pretty soon.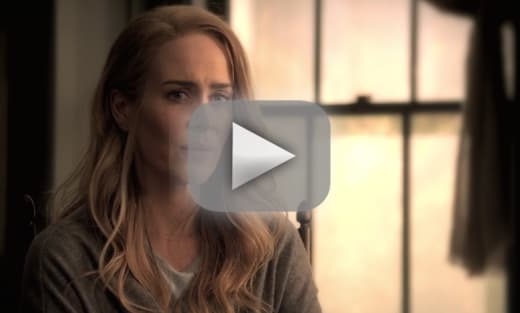 Aside from the ghost-nurses tormenting Matt and the colonists appearing to Shelby in the woods, there was another ghost who made herself known – Priscilla, the little girl "in the funny clothes" who appeared to Flora. What are the ghosts up to?
Amanda: Right now, their motivation seems only to kill. However, there must be something more to it or else they would have just killed them all already.
Yana: They must be tired of being stuck there. Maybe they aren't at peace, even if they come off as the bad guys. That family might have moved in, and they got killed in that house by actual evil spirits.
They were innocent but now they are a part of something sinister and they aren't okay with that, so they might turn to murder to free themselves? I can't help but wonder if these are two different stories already forming, the haunted house and the lost colony as separate ideas. 
There could be one source of evil on the inside and the outside has this other evil that leaves them no room for safety.
Paul: Again, I have no idea. I just hope the season does not conclude with the family as ghosts. That would suck.
Flora is gone! Where is she?
Amanda: No clue, but if anyone took her it was probably Priscilla. No clue how her sweater got all the way to the top of that tree, but at least it wasn't Flora hanging up there. That means there's still a chance she'll turn up alive.
Yana: Maybe Priscilla led her somewhere, but I am starting to doubt that. The ghosts are inside, they called to Flora from inside the house, and she didn't leave the property before. This might be another character that we don't know yet, probably from the Lost Colony, who showed up and convinced Flora to go outside.
Paul: She won't have gone far. Let's hope she didn't climb the tree and think she was in "Jack and the Beanstalk."
The cast has remained pretty small so far, with new actors being introduced week by week. Which cast member do you hope to see next returning as a new character?
Amanda: I'm loving how contained the cast has been so far this season, but I'm curious to see who Evan Peters will be playing when he eventually shows up.
Yana: I am waiting for Finn Wittrock and Evan Peters. It's funny because I saw an article talking about Evan Peters being the one in the pig mask that was on the video. That's something I really don't want and yet I wouldn't mind if it happened.
Paul: Evan Peters. I have a feeling the documentary format will end soon and we'll get to meet up with the other characters.
And now, it's your turn! What did you think of "Chapter Two"? Hit the comments below with your responses to our round table questions!
American Horror Story Season 6 Episode 3 airs on Wednesday, September 28th at 10/9c on FX.
Caralynn Lippo is a staff writer for TV Fanatic. Follow her on Twitter.