Rizzoli & Isles Season 7 Episode 13 Review: Ocean Frank

Jack Ori at . Updated at .
Saying goodbye can be so hard.
Rizzoli & Isles Season 7 Episode 13 mixed heartfelt video tributes with one last case. There were lots of tearful goodbyes as Jane, Maura and Vince all quit the police force to move onto new adventures.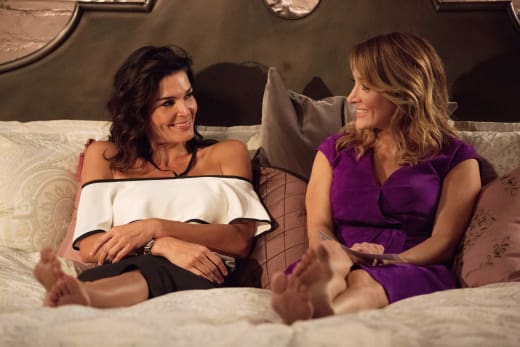 Jane will be teaching FBI recruits, Maura will be in Paris writing a novel, and Vince is retiring.
After seven years with these characters, I almost wish there was a spin-off series showing what everyone is doing next.
I hate endings. The truth is, I hate beginnings too. I like middles, the comfortable steady sameness.

Vince
I agree with Vince and several others – goodbyes are hard and not fun.
Almost all the video tributes talked about how these people are family to each other, and not just the Rizzolis. The characters have really become a workplace family and that's why seeing them all go their separate ways is so sad.
The scene where Maura turned out the lights was reminiscent of the end of the final episode of The Mary Tyler Moore Show. That was probably the most emotional scene of the whole hour.
That and Jane giving the toy that reminds them all of Frost to Frankie for his new desk.
He'd probably be your partner by now. He should be here to look after you.

Jane
A lot of Jane's difficulty with saying goodbye seemed to be related to having had to permanently let go of Frost well before any of them expected.
She had a hard time letting go of his desk after his death, not wanting anyone else to sit there, and giving up the memorial robot was a big deal for her.
Maura: So it's really coming to an end.
Jane: Yeah. We had some good times though.
I also really appreciated the montage of scenes with Jane and Maura. The last year or so hasn't had enough of them to begin with, and seeing a bunch of them all in one place was surprisingly moving.
It's my gang, it's my normal. I don't know if my lasagne will taste the same without everyone at the table.

Angela
Angela's tribute was the most heartfelt.
Who doesn't have the experience of sitting down to Sunday dinner or some other special meal with the entire family and realizing that some people who used to be there every week are now going to only be able to come in from out of town once in a while?
There was plenty of time for humor mixed in with the pathos of everyone leaving. The leopard pattern suitcase Angela gave Jane was typical Angela. She gave a silly gift that Jane would not really like just to make sure Jane had something of hers.
Jane put it to good use at the end, traveling to France with Maura before starting her new job. Can we please have a web series about their adventures in Paris?
In between all these goodbyes, there was one last case. It wasn't all that interesting as cases go, but the case wasn't really the point anyway. It was backdrop.
Having the weird neighbor turn out to be involved in the murder was a nice touch. He was a quirky guy who didn't seem relevant to anything, while Elaine's aunt seemed like a natural suspect.
The case was wrapped up a bit too quickly. Apparently the victim fell and hit his head on the car. Everyone sort of shrugged at that and went on with leaving the squad room for the last time.
Did you enjoy the series finale of Rizzoli & Isles, or did it leave you unsatisfied? What would you have liked to have seen? Weigh in below!
The series may be over but you can always watch Rizzoli & Isles online whenever you need a visit with Jane, Maura, and the gang.
Jack Ori is a senior staff writer for TV Fanatic. His debut young adult novel, Reinventing Hannah, is available on Amazon. Follow him on Twitter.