While both Sheldon and Bernadette manage to admit their weaknesses, Penny learns that Amy is the most popular girl in school.
For real.
On The Big Bang Theory Season 10 Episode 3, Sheldon, Howard, and Leonard are under pressure to get their project done in a ridiculous amount of time, and that pressure is taking a toll.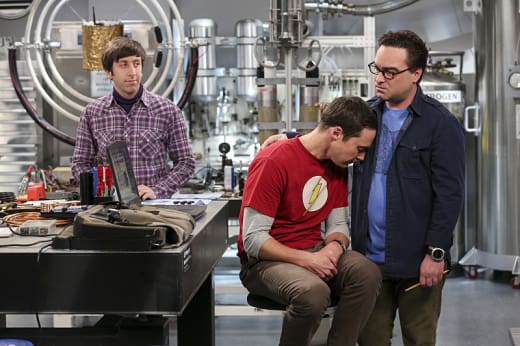 Sheldon can't handle working the late nights necessary to get it done. After all, this is a guy who has a detailed bathroom schedule. Bed time is important. He finally falls asleep in front of the drink machine, where he dreams of seeing The Flash. 
Apparently, The Flash gets his super speed from drinking energy drinks. Who knew?
I'm actually disappointed we don't get to enjoy more of caffeinated Sheldon. It's pretty hilarious, but it doesn't last long, and it still doesn't beat drunk Sheldon. 
What's most significant about all of this is that a sleepy Sheldon, after he's come down from the caffeine high, admits weakness. He says he isn't able to figure out the math needed to move forward on their project, and even begins to doubt his intelligence. 
Sheldon: I can't figure out the math. I've been wracking my brain for days. I've got nothing.
Leonard: Seriously?
Sheldon: I can't do it. I'm not as smart as I think I am. I'm so sorry. This is all my fault.
For a guy who always insists he's smarter than his friends (and well, everyone) and who never seems to lack confidence when it comes to academia, this is an important moment. And it's lucky he has Leonard to lean on.
Literally.
Meanwhile, Bernadette admits her own weakness. She's anxious about the pregnancy because she's not feeling the excitement she sees in other moms. 
Not every girl dreams about being a mom. Sometimes you think you're never going to have kids, and one day you wake up and you're pregnant, and it doesn't matter that your career's going great right now and that you and your husband never even got to go anywhere taped to a dog!

Bernadette
I really appreciate the way Bernadette's pregnancy is being handled. She's dealing with very real issues, like the concern over how this will affect her job on The Big Bang Theory Season 10 Episode 2, and now, the fact that you know what? Not all women are baby crazy.
And just as Raj's dad points out, that doesn't mean she won't love her own.
Raj is sweet for trying to be there for Bernadette, even though it is a bit much. What strikes me most is that he leans toward understanding when he realizes she feels conflicted. He doesn't know what to say, but he gets her someone who does.
As for the "party" Amy and Penny attend, it's funny that we learn how "popular" Amy is on campus, and by extension, Sheldon is too, but otherwise this is definitely the least interesting plot of the episode.
Bonus points for Penny's granite joke, though. 
What did you think of this episode of The Big Bang Theory? Share your thoughts in the comments below!
Need to catch up on past episodes?
You can always watch The Big Bang Theory online right here via TV Fanatic! Watch online now!
Ashley Bissette Sumerel was a staff writer for TV Fanatic. She retired in September 2017. Follow her on Twitter and on Google+.