No wonder little Randall was having such a hard time adjusting to his new family.
Not only was he ripped away from the only mother he had known (she wasn't a good one), but he was wearing the name of another much-loved and lost child. Randall wasn't Kyle. Jabecca knew this, and so did the baby, who refused to take his new mommy's breast milk.
Jack: I was a complete stranger and look how quickly I took to your breast.
Rebecca: You're an idiot.
Sure, Jack had something lovingly funny to say about it, but it was a genuine issue and was causing pain for all involved. This Is Us Season 1 Episode 3 gave us the full story behind Randall's birth and initiation into the Pearson family, as well catching us up with Kate and Kevin and what's next for them.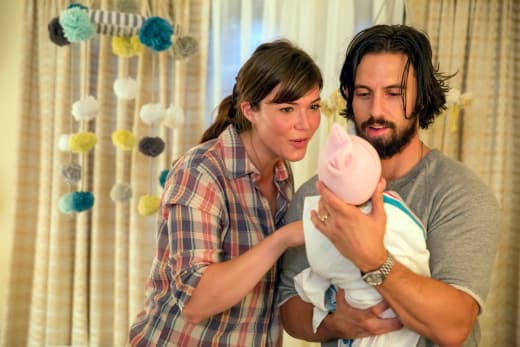 As I don't have children of my own, I can only imagine from years of babysitting that having one is overwhelming the first time out of the gate.
Having multiples must be absolutely mind blowing.
Doctor K: This is the scariest part. Some people think the scariest part is coming to the hospital to have a baby. The scariest part is leaving the hospital with the baby.
Rebecca: The babies.
Doctor K: Babies.
Add to that stress that you're taking home a baby that wasn't yours by birth who is, no matter which way you look at it, replacing one you lost during childbirth, and it's hard not to imagine you're going to have a family in crisis.
No matter how much the couple in question loves each other, they're going to have so many emotions and virtually no time to deal with them. And a new mother also has the added excitement of new hormones rushing through her system.
All in all, what we've seen so far of the Jabecca saga shows their love almost trumps all and they've got some pretty incredible heads on their shoulders.
They might be keeping some secrets from each other, but under the circumstances, it's nothing too earth shattering. By showing Jack the book, we were left wondering if she was going to share the rest of her day with the man she loves.
It's highly unlikely William will go off into the sunset without telling his son the whole truth about his birth, though. How did Jabecca explain how they came to pick that particular book of poetry as his namesake?
With William's death pretty much confirmed, Randall wants to know as much as he can about the father he never knew. And he should. Before William met Randall's mother, he had his live together. He was prolifically writing poetry. We can surmise it was his dream to be a writer.
But something happened when the two halves that created Randall came in contact, and it wasn't good. William's writing suffered until it was unintelligible scribbles on a page and the bus rides were drugged out embarrassments of their former selves. Some people are not better together. 
But at least they had Randall, and William did the right thing with him.
When Rebecca and William talked at Randall's house, it occurred to me that William is still not ready to fully commit to parenthood. His decision to pack up and leave without a word is not something a good parent would do in those circumstances. A good parent would stay the course. Get to know his son. Stop falling back into self pity. 
Standing out in the middle of the neighborhood, it was Randall acting as William's father, and that's not fair. Randall deserves for the man who had him and couldn't be the man his son needed at the time to stand up and be the man his son needs now.
And Rebecca has to deal with the consequences of thinking on behalf of her son when he was younger. Why she never told him the truth when he became of age to hear it is her own cross to bear. She'll have to live with that when the truth comes out. Something tells me Randall will understand. Their bond is such that he still calls her mommy. 
When it comes right down to it, Randall's birth father has always been a part of him and not just through his blood and the blanket in which he was wrapped. Each time Rebecca, at least, speaks his name, she is reminded of how he came into the family. Doesn't Randall deserve to know that?
The twins, meanwhile, are busily miscommunicating in Los Angeles. Toby is appalled when he hears how easily Kate is willing to just go with Kevin's flow, even if it means moving to New York when her life is in LA, when HE's in LA. 
So he pulls one of his sweet things and makes Kate a star for a day. She's hardly going to get the itch to start frequenting karaoke bars because of one song at an old folks' home, but nobody has ever put Kate first. With Toby, she feels so special.
Yet, Kevin seems to have no idea he doesn't make his sister feel special. He tells her again and again how much he needs her and can't do things without her, but I finally realized it's not out of a need to have her as a security blanket, but because she's so special to him.
Wait a minute. I called at that very moment, and you actually answered the phone?

Kevin
Kate missed the sincerity of that remark, but it was delivered with genuine surprise. Like, who would answer the phone during such a cool moment with the guy you're totally into? 
She was also taken aback when he "fired" her. Was she even in his employ? If not, it seemed as if she was acting as his manager, even if she wasn't. So firing her was probably the right term. Kevin doesn't want to hold her back from being happy. She may have always been there, but if she can't tell where they separate, he'll do it for her.
Kate: I don't even know who I am if I'm not your sister.
Kevin: I do. You're gonna love her.
Kate's a lucky girl. She has a man who is willing to do just about anything to show her how much he cares about her and to make sure she cares about herself as much as he does her, and her brother is willing to go it alone so she can grab onto her own slice of the pie. 
We are on the third episode and I didn't cry. Whew! There are episodes where we can just watch and not be moved to tears. Then again, maybe you were. What are your thoughts on "Kyle"? 
Get a conversation started!
If you're new to all of this, you can watch This Is Us online to become a part of the family.
Carissa Pavlica is the managing editor and a staff writer for TV Fanatic. She's a member of the Broadcast Television Journalists Association (BTJA), enjoys mentoring writers, wine, and passionately discussing the nuances of television. Follow her on Twitter and email her here at TV Fanatic.