Chicago Fire Season 5 Episode 4 Review: Nobody Else Is Dying Today

Brittany Frederick at .
Season 5 of Chicago Fire has not been great for Matthew Casey, but Chicago Fire Season 5 Episode 4 puts the character back front and center as the hero fans fell in love with him as. Unfortunately, his fiancee Gabby Dawson is still an outspoken troublemaker who's now causing headaches for other people, so not everything has changed.
"Nobody Else Is Dying Today" is a great episode if you're a Casey fan. There's no political mess and relatively little Louie drama, just Casey saving some lives. And he does it in really cool fashion, manufacturing solutions out of Windex bottles and baking soda. It reminds us that first and foremost Casey's a firefighter.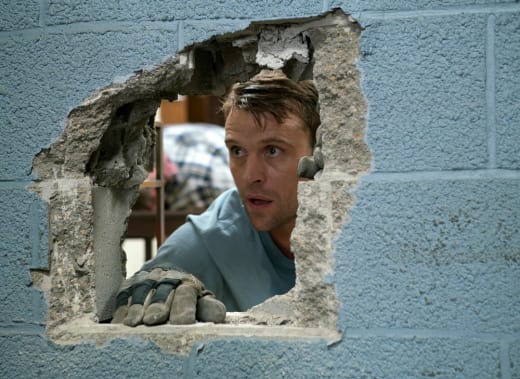 If CBS hadn't already rebooted MacGyver, Jesse Spencer's performance in this episode would've warranted some serious consideration. Not only is Casey coming up with these solutions but Spencer explains them so well for the benefit of the teenage character (and the audience). We understand why he's doing what he does and not just "Oooh, that looks cool."
(What didn't look cool: that poor guy dying from massive acid burns in the teaser. First we burn half of Jimmy Borelli's face off, now we acid kill a guy. Ouch.)
Plus, Casey finds time to give some family-reconciliation advice, too. He just accomplishes all kinds of things in this episode without any of his usual baggage.
He's your dad. Of course he cares.

Casey
Speaking of baggage, not to harp on Dawson but Season 5 hasn't painted a rosy picture for her either. She wildly overreacts when Casey forgets that she expected him to pick up Louie, then goes off on the "senior advocate" and gets both herself and Brett in hot water with the higher-ups.
It's not that Dawson doesn't have a right to be upset, but that she seems to jump from zero to ten so easily. She's jumping down Casey's throat, snapping at Severide when the issue comes up with him, and then throwing cell phones. Although to be fair, the cell phone "drop" was definitely worth a laugh.
Great, let me talk to her. (throws cell phone) We're going to Med.

Dawson
Dawson can't be stirring things up all the time. One of the things this episode points out is how her behavior then impacts others, whether she's expecting Casey to fix her potential Louie issue or now getting Brett in trouble along with her. Maybe almost losing Casey will calm her down a bit.
By the way, was I the only one disappointed that Dawson's declaration of "We're going to Med" was not followed by another Chicago Med cameo? Because that would have been fun.
It was fantastic to see everyone pitching in at the end to rescue Casey and the injured father. With so many characters on Fire and so many different cases, it's always a lovely change of pace when all the characters can be in the same place at the same time.
Can we also take a moment to applaud the crew members who actually put the fires together on Chicago Fire? They do a wonderful job every week of creating these suspenseful sequences and this was a great one, especially considering the number of characters that they had to involve.
The humor in "Nobody Else Is Dying Today" came from Otis, who was apparently plotting his way to Mars much to the amusement of the rest of the firehouse. Mouch summed the reaction up perfectly:
What's going on here? You having a mental event of some sort?

Mouch
Admit it, you were wondering if Yuri Sardarov was being written out when Otis told Cruz he was moving to Australia. But never fear, it turned out to be a prank Cruz was playing on his friend - one that Otis had figured out several hours earlier and decided to turn back on Cruz. Touche.
And the crazy Mouch/Brett romance novel plot actually got funny this week, thanks to a last-scene cameo from Chicago P.D.'s Amy Morton. Having intercepted a text from Brett that sounded terrible, Platt marched down to Molly's to confront her, only to laugh in Mouch's face when the truth came out.
Then she calmly reminded him that her college roommate's husband works in publishing - game, set and match Trudy Platt.
Otis stuck a zinger in there too, as Mouch and Brett are the worst at sneaking around the firehouse, making their secret meeting with a would-be publisher absolutely not secret:
My breakfast is a federal case, but that we're just going to ignore.

Otis
Overall, "Nobody Else Is Dying Today" was a great episode because it had its focus in all the right places. The show has gone off on its fair share of tangents, from Casey's political career to Dawson's parenthood to even Severide's recent buddying up to a social media star.
But those things take screen time away from what makes Chicago Fire wonderful. We watch the show to see these people fight fires, save lives and support one another. This episode had all of that and didn't let anything else get in its way. Let's hope there are more like it in the rest of Season 5.
If that's a fight, he'll be fine.

Severide
Chicago Fire is pre-empted next week because Tuesday is Election Day, but the series returns in two weeks with Season 5 Episode 5, "I Held Her Hand." Casey is front and center there as well, arguing with Severide over whether not a fire that killed a woman was arson or an accident. Having those two at odds always produces some sparks so don't miss it Tuesday, Nov. 15 at 10/9c on NBC.
In the meanwhile, if you want to watch this week's episode again or catch up on any of Season 5 so far you can watch Chicago Fire online. The one good thing about pre-emptions is time to watch the episodes you may have missed!
What did you think of "Nobody Else Is Dying Today"? Did you enjoy Casey as psuedo-MacGyver? Do you think Mouch and Brett will ever actually get published? Let us know your thoughts in the comments.
Brittany Frederick is a staff writer for TV Fanatic. Follow her on Twitter.