It's one thing to play a member of the DAR, but to realize you could actually BE a member of the DAR?
Surely that means the role was meant to be.
Just ahead of Gilmore Girls: A Year in the Life's premiere, we talked with Carolyn Hennesy about her role as Toni, the head of the local chapter of the DAR, who helps Emily confront what it is that she really wants out of life.
Hennesy is no stranger to playing wealthy women with questionable intentions, and with experience from Revenge, True Blood, General Hospital, and Once Upon a Time, sipping tea with Emily Gilmore came quite naturally to her.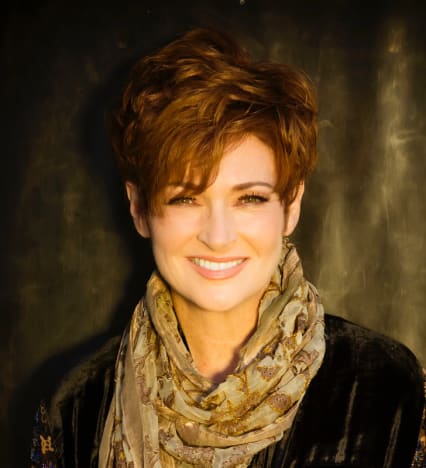 TV Fanatic: What can you tell us about your role in Gilmore Girls: A Year in the Life?
Carolyn Hennesy: Well, my character's name is Toni, and I'm just head of the local chapter of the DAR, the Daughters of the American Revolution. I give Emily a run for her money.
And then she gives me a run for mine — everything you'd expect from a member of the DAR, certainly as the head of the chapter. The Daughters of the American Revolution are very prim, very proper, very uptight — old money, and what they seek is a lot of class. 
Is Toni an ally to Emily, or an enemy?
It's a bit of a roller coaster...it runs the gamete, and where it ends up, I can't say.
You've worked on some great shows between soaps, Once Upon a Time, Cougar Town, and Revenge. Did any of those experiences prepare you for becoming a member of the DAR as Toni?
Oh, for heavens sake! Well, first of all, I actually COULD be, me, myself, a member of the DAR.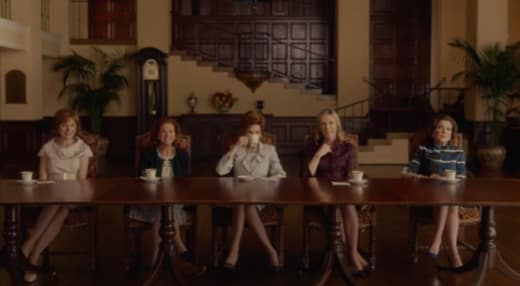 Really?!
Yes because my great, great — I couldn't tell you how many greats it goes back - but my great plus grandfather was Benjamin Rush, who signed the Declaration of Independence. Right above, either above or below, his fellow delegate, Benjamin Franklin. So yes, I could be a member of the DAR as a legacy.
I think there's a lot of what I've done that's prepared me to be an uptight, monied individual. Certainly Rosalyn Harris on True Blood. I mean, for heaven's sake, she was a youngish Barbara Bush in a fabulous Chanel suit, so there's that. 
I wouldn't say that Cougar Town helped me at all, because Toni's not a — she's not necessarily out for the young boys, or at least she's not going to let on that she is. 
But yeah, I do a lot of monied, wealthy women, so this was not a challenge.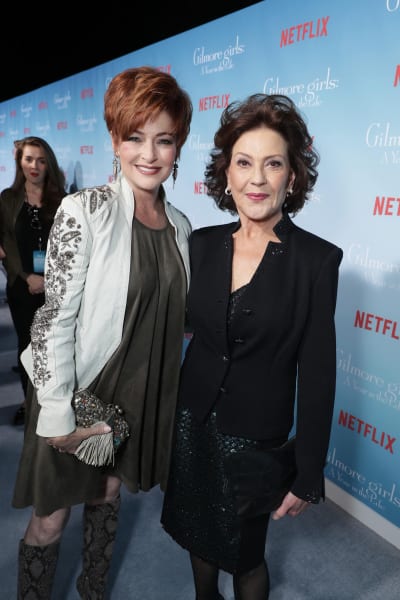 Were you familiar with Gilmore Girls prior to signing on for the revival?
I had watched some of it. I had not been a devotee the way that so much of the world was; I did not catch it in 2000-2007. I had to kind of go back and do a little bit of research. I had friends who were on it, but I just caught snippets here and there. 
But believe me, I understand how spectacular this role is, and really how seminal this moment is — bringing something back that people just can't get enough of. And probably with A Year in the Life they still won't be able to get enough of it. Fingers crossed they bring it back again!
What was the energy like on-set? Did you feel any pressure coming into this established universe?
No, I didn't feel a lot of pressure. Again, it's a world that's very familiar to me, and they haven't really explored a lot. The key element was Kelly Bishop, and basically, we all follow her lead. She herself is such a class act. I mean, a true class act. So it really wasn't at all hard. 
It was hard to deal with her the way that Toni had to deal with her, for me, Carolyn, the actress, because I worship Kelly Bishop. I saw her on Broadway. I saw her in A Chorus Line. I saw that Tony Award-winning role.
So when we'd have a go on set, it was like, "oh!" and then I'd have to say this line, and that line, and this line, and I sort of shudder...But afterwards, she was gracious and tough and not jaded, but just — she's what I call a 'great broad' in the best sense of the word. And incredibly powerful, wise, funny, dry-witted woman. 
Where can we expect to see you next? What projects do you have coming down the pipe?
Well, I've got, for Time Warner, it's part of a series called Two Sentence Horror Stories, and mine is called 'Second Skin,' and it's like no one has ever seen me before. I play, not a flesh peddler but a skin peddler. There's some skin auctioning going on. It's incredibly gruesome and wonderfully written and brilliantly directed.
And we just had a premiere last night for a series on TBS called Business Doing Pleasure, and I've got a movie for PixL called The Wedding Do-Over and then I'm on General Hospital!
Gilmore Girls: A Year in the Life is streaming now on Netflix.