I was ready to speculate about some of this week's stories, or maybe talk some more about Christian and the secret of the missing Sully, but none of it matters.
That's right. We're in a holding pattern.
We're stuck with old stories from a head writer (or two or three) who had us swirling in plot devices, dopplelgangers, and when things got too confusing, shuffling characters off to Fairview with a mental illness, because being crazy is about the best you can hope for when the writing is that terrible.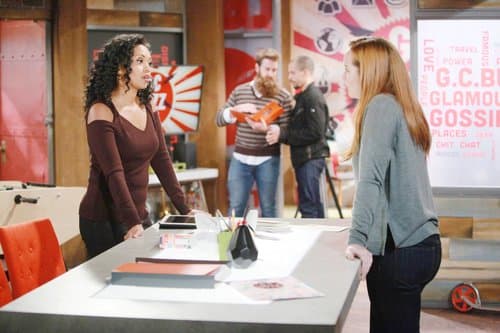 Well, on December 7, Sally Sussman takes over as Head Writer and with her first scene, she says, you'll see the changes. She did an in depth interview with TV Insider, so let's see what she has planned.
She's a fan of the style Brad Bell uses to make The Bold and the Beautiful contemporary. I tried watching The Bold and The Beautiful and got so sick of the same who told my lover storyline being told with the same characters over and over I couldn't turn it on again inside a year. I hope that's not what she means by contemporary
The very first scene on December 7 begins with an Abbott family breakfast, a "real" scene that will harken back to days of old, "topical multi-level storytelling with extended scenes." She's not a fan of quick scenes and cutaways, and I am thinking of the recent scene between Adam and Nick right before Justin Hartley left.
Sally hasn't been watching the show and doesn't intend to, but I hope someone shows her that amazing scene so she knows there has been some good work of late.
Sussman has eight characters she considers indispensable. Nikki, Victor, Jack, Ashley, Nick, Sharon, Billy and Victoria. Those are not in any order, and no, it doesn't mean they're all going to be coupled up. More on that in a bit.
The couple she does like together are Victor and Nikki, who she considers "extremely viable." She intends on using the characters as they were 10 years or so ago, because it's been that long since she watched. When she was fired from the Y&R writing team, she closed the door. I can't say I blame her.
She wants to do away with the "Stefano DiMera mustache-twirling villain stuff" they've been doing with Victor, too. As for Nikki, she'll be the stylish matriarch. She's been leaning in that direction of late, and the couple has been solid, so Sussman should have found them in a good place.
Sussman is not interested in driving major story with the Jack and Victor rivalry, although it will always remain. While she's taking some plot developments into account because she simply has to, she's going to be ignoring others that seem absurd to her. Really.
Jill may not be Katherine's daughter for long, nor may she be Lauren's sister. Sussman found it impossible they could have made a man the same age as Jill her father. Additionally, Jill will be undergoing a "serious personal crisis that will cause her to reevaluate her entire life," while Lauren "will return to the feisty and clever Lauren we knew."
She's also not keen on Devon as Katherine's grandson, inheriting billions. That left him without drive and goals, something she hopes she can find for him.
Hilary as a villain is a dream and GC Buzz a decent contemporary story. Seems we'll be seeing a lot more of that.
Ashley hasn't had a love life because Eileen Davidson is so much better than her contemporaries and had always done her best against her brother. But she's creating for her an "unexpected soulmate story – a story with someone who is not going to be the love of her live, but that someone is going to leave her open to one day having the love of her life."
Sharon will have a new goal that surprises everyone in town.
She hopes to build some long-term romantic couples, admitting there aren't any to root for at the moment. She's open to bringing in people from outside to see if she can create sparks. She doesn't want to throw the available people together just because they're single. There are more single women than men, too, which makes it even more difficult.
She suggests couple possibilities of Phyllis with Neil, Billy and Hilary or Nick and Hilary, but they would really have to sizzle, not just be paired for the simple fact of pairing a couple.
As for the news that Nick isn't Christian's father? "I'm not playing it at all. Adam is off the show. And Justin Hartley will never be back." She sees no reason to recast and "Nick believes this baby is his and for all intents and purposes, it is."
She has no love (or like) for Billy and Phyllis, so don't ever expect that ship to sail. She's giving them a break for motives, but believes it was wrong to use the word love. That's that.
So where does that really leave us until December 7? Burning off story, if you ask me. She has a core eight characters to whom she's attached, and will be interested, I'm sure, in keeping their family members around as family has always been a core value of soap operas. 
Characters and not plot are what will drive the show going forward and we need to expect contemporary stories. I'm not sure exactly what that means, but if we're looking to The Bold and The Beautiful for ideas, I'd expect LGBTQIA to on the agenda.
I'm surprised at least one of the Winters weren't in the core eight, but perhaps Hilary can be considered indispensable as our resident villainous. Once she's been on board for a while, changes may be afoot where the Winters are not the only family of color on the canvas. 
Personally, I'd love to see an Asian family on a daytime soap. Maybe Y&R will be the place to do it. Japanese, Filipino, a culture we don't always see, would be really interesting to see as a business oriented family to give the Abbots and Newmans a different adversary and/or partner.
It's interesting Sussman considers everyone single. She seems to believe the biggies like Victoria and Billy, and Sharon and Nick are ruined at least for the foreseeable future and is willing to find partners for them that will allow them to fly again.
She's wrong, however, that Nick and Billy are the only single men in town. They have use of Noah, Travis (who I really like), Devon (since Hilary is apparently single in her mind) and Kevin. Watching the GC Buzz stuff this week, I'd like to investigate Mariah and Devon.
But new blood is definitely welcome, and I hope we get a nice infusion to go with all the new sets we have in town. It's time. 
So tell me. Now that you know Sally Sussman hasn't even watched The Young and The Restless in the last 10 years, she has plans to erase things that have happened in her absence and stories that were important last week will have no implication into December, what would you change?
Hit the comments with your inspired changes for Y&R. Couples? Breakups? It's all on the table. In less than one month, we're in a new world. What excites you most?
Carissa Pavlica is the managing editor and a staff writer for TV Fanatic. She's a member of the Broadcast Television Journalists Association (BTJA), enjoys mentoring writers, wine, and passionately discussing the nuances of television. Follow her on Twitter and email her here at TV Fanatic.