Carrie Fisher, Beloved Star Wars Actress, Dead at 60

Lisa Babick at . Updated at .
There has been a disturbance in the Force.
Beloved Star Wars actress and writer Carrie Fisher has passed away at the age of 60.
Fisher has been entertaining since she first appeared on one of her mother, Debbie Reynolds', television specials in 1969 at the age of 12.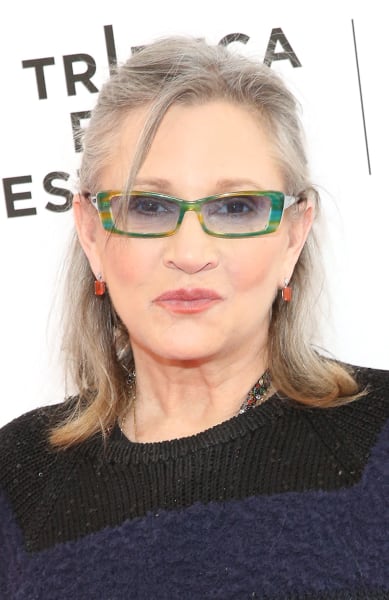 Fisher experienced a medical emergency on Friday on a flight from London to L.A. After landing, she was taken to a Los Angeles hospital where she remained in critical condition. 
She passed away on Tuesday morning. 
Fisher is best known for her iconic performance as the beautiful and feisty Princess Leia in the original Star Wars trilogy: Star Wars, The Empire Strikes Back, and Return of the Jedi.
She also appeared in Star Wars Episode VII: The Force Awakens which was released in 2015 as well as Star Wars Episode VIII which will be released in theaters at the end of 2017.
Though best known for her portrayal of Princess Leia, Fisher also appeared on numerous television shows going as far back as 1969.
Most recently she's appeared on Catastrophe (as Rob Delaney's hilarious and heinous mother, Mia), A Girlfriend's Guide to Divorce, Legit, and The Big Bang Theory, among others.
But, her most well-known television role has been as the voice of Angela, Peter's boss, on Family Guy where she has appeared in more than 20 episodes since 2005.
Besides her film and television work, Fisher was an accomplished writer known for her no-holds-barred account of her struggles with addiction and mental illness.
She wrote four fiction novels including the 1987 semi-autobiographical Postcards From the Edge which was later made into a feature film for which she wrote the screenplay.
The film starred Meryl Streep, Shirley MacLaine, and Dennis Quaid.
Her three non-fiction novels include the recently released, The Princess Diarist, where she admitted to having an affair with Harrison Ford during the filming of Star Wars.
Fisher comes from Hollywood royalty being the daughter of actress Debbie Reynolds and singer Eddie Fisher.
She was once engaged to her Blues Brothers co-star, actor Dan Aykroyd and was married to singer Paul Simon for nearly a year.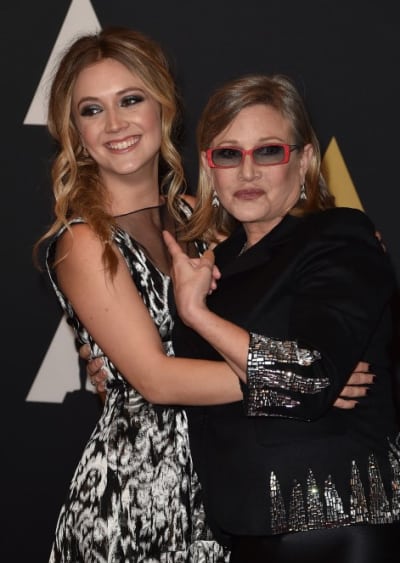 She is mother to 24-year old Billie Lourd, who currently plays Chanel #3 on Fox's Scream Queens, during a relationship with talent agent Bryan Lourd. Lourd left his relationship with Fisher for another man.
Fisher is survived by her mother; her daughter, Billie; her brother Todd Fisher; and half sisters, actresses Joely Fisher and Tricia-Leigh Fisher; and her beloved French bulldog, Gary.