Shameless Season 7 Episode 12 Review: Requiem for a Slut
Paul Dailly at .
Did Shameless tie things up a little too well?
Monica's death brought the Gallagher family together on Shameless Season 7 Episode 12 as they tried to decide how she would be laid to rest. 
Fiona just wanted the whole thing to be over with. Deep down, it's clear that Fiona blames Monica for making her life a living hell every time she showed up. Fiona has spent most of her life looking after her siblings and even her father.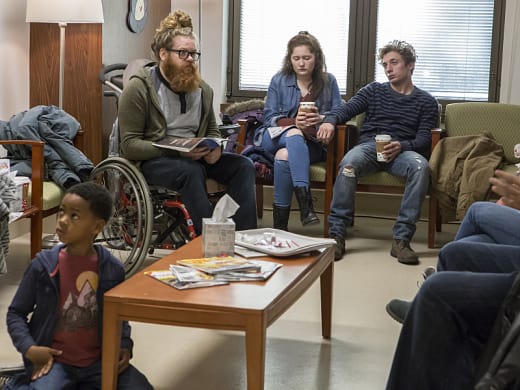 Monica's death irked Fiona because she knew there was no way she was ever going to be relieved of her motherly duties to her siblings. 
It sucks, but that's Fiona's life, and it has been for all of those years. Fiona hitting Monica's lifeless corpse was her way of venting her frustration about Monica bringing all of the children into the world without even looking after them. 
Funeral Director: Have you had a chance to consider what sort of arrangements you'd like to make for your loved one?
Fiona: Yeah, how do we get her into the ground as soon as possible?
Put yourself in Fiona's situation. If Monica had not been hooked on drugs and alcohol, maybe she could have looked after her kids and not left it to other people. 
Heck, if she had her head screwed on there would probably not be as many Gallaghers out there. Fiona has gone through a lot during her seven-year run on the show, but I'm thankful we know Emmy Rossum is returning for Shameless Season 8. 
Fiona: What can you give me for $500 or less?
Funeral Director: A cardboard refrigerator box and a gallon of gasoline in our parking lot out back.
Fiona: I'll take that one.
Funeral Director: No love lost, huh?
Fiona: It was an eventful childhood.
While it would be good to give the other actors time to shine, Fiona is just so integral to the show that it would be odd without her. Other characters, like Carl and Liam, can disappear for a handful of episodes at a time, but Fiona could not. 
Fiona may have been dealt a bad hand being a Gallagher, but you can't say she's not making the best of her life. Making a profit on the laundromat helped her move over to property. 
Buying the building seemed a little premature. Ryan seemed so eager to get her to make her sign on the dotted line that I think there's going to be something seriously wrong with what Fiona bought and no way to actually turn a profit. 
Maybe that will pave the way for Lip to chant to Fiona about her poor decisions. I can't believe Lip was on board with keeping the meth. 
I mean, who the heck dies and decides to leave their kids meth? That's such a Gallagher thing to do, right? Fiona knew what could go wrong, and I'm glad she stuck to her guns and stayed on the straight and narrow. 
Somehow, the whole meth plot will probably play a part during Shameless Season 8. Frank was hilarious as ever as he tried to explain the features and benefits of the meth to his family. 
I genuinely thought, by the end of the episode, that Frank would have a new outlook on life, but instead, all he wanted to do was get Carl to spray paint Monica's name on a wall while they shared a bottle of beer. 
It was very reminiscent of Shameless Season 4 Episode 12. The father and son have had a strained relationship in recent years, but it seems like they are finally getting back their strong bond. 
Carl being in the military has definitely changed him for the better. It was clear he was going to be making breakfast as soon as walked down the street with the ALDI bag. 
It's crazy to think this is the kid who was poisoning his cousin a few years back. Like the rest of his siblings, he could have turned to drink and drugs, but after a few missteps, he's back on track. 
The most shocking development for me was how well Ian handled Monica's death. Out of all the siblings, he's always seemed the closest to his mother.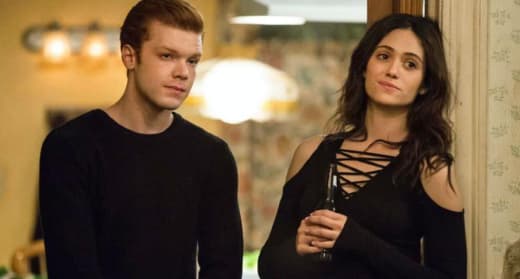 That said, it was absolutely terrible of him to run back to Trevor after leaving Mickey behind. I'm glad Trevor gave him the cold shoulder. 
He has a whole lot of groveling to do before Trevor would ever entertain the idea of getting back into a relationship with him. 
"Requiem for a Slut" was Shameless at its finest. It was a poignant hour full of emotional drama, but the end result was great. It showed just how far these characters have come since Shameless Season 1, while paving the way for an exciting change next season. 
Other tidbits from the episode:
I totally wanted Lip and Mandy to be endgame, but Sierra has really won me over. Ruby Modine is an excellent actress, and I hope she becomes a series regular. Sierra still has a lot of story left to tell, and it should be explored. 
Carl grabbing the gate while it was closing put him right in view of the camera, so expect the DEA to come looking for him whenever the show returns. 
Did anyone else want some resolution with Svetlana stealing the bar? It's not the type of storyline I'm going to care about after a long break. Svetlana is a breath of fresh air, but if Isidora Goreshter has to leave the show for Kev and V to get the bar back, I'd be okay with that. 
Debbie becoming a welder was one of the more shocking developments. In fact, the whole montage was freaking awesome. It's clear there was a chance the show was not returning and the finale was crafted in a way that worked as both a series and season ender. 
Will Joan Cusack ever return? We need to know what's going on with Sheila. It's been far too long. 
The characters breaking the fourth wall at the end credits was a fresh way to end the season. 
Monica's father was a hoot. Why the heck did it take so long to get him on the show?
If you want to relive any of the show's best moments, you can watch Shameless online right here on TV Fanatic. 
Note: Shameless will return to Showtime sometime in 2017.
Paul Dailly is the Associate Editor for TV Fanatic. Follow him on Twitter.